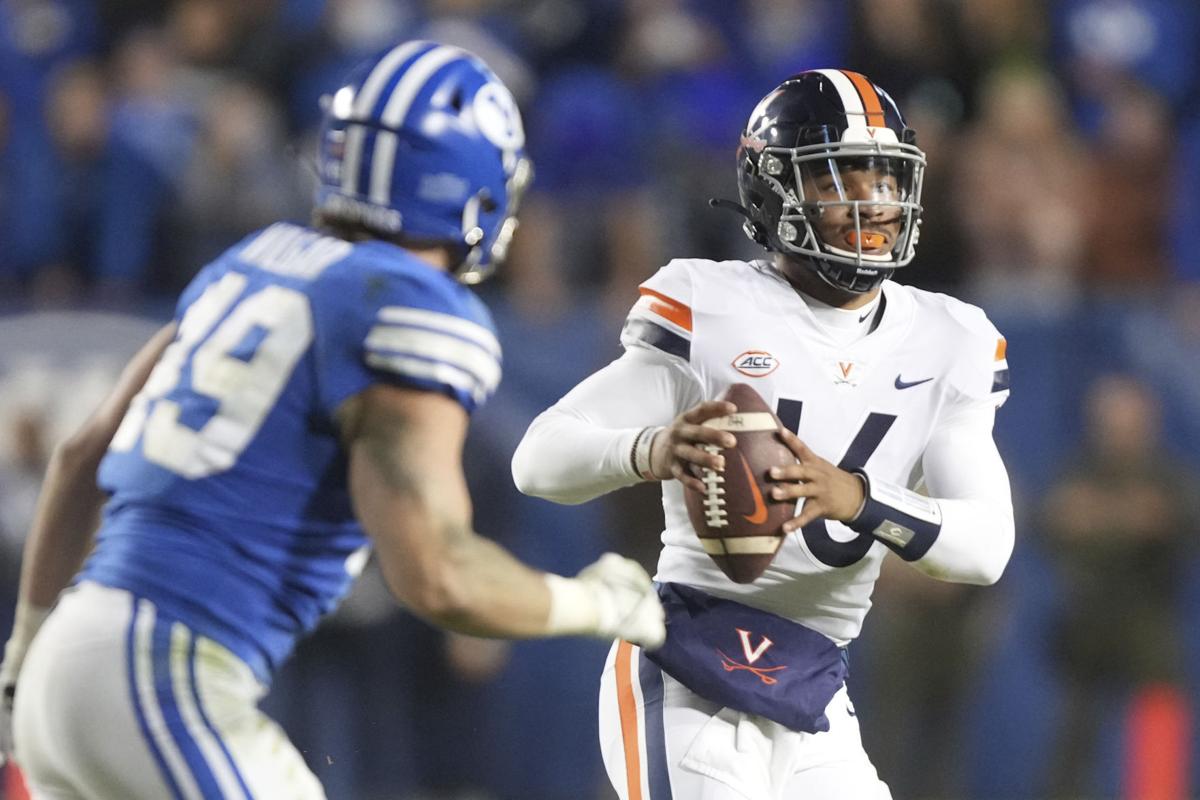 One of the first signs Greg Lilly saw that told him Jay Woolfolk might be a special athlete came when Woolfolk was quarterbacking his middle school football team.
"They were losing by four or five touchdowns," said Lilly, who coached Woolfolk, now a freshman at Virginia, at Benedictine. "He got the kids together at halftime and basically said, 'We're not losing this game. And then he goes out and continues to score touchdowns and throw for touchdowns. And this was in eighth grade."
That's the same fire and moxie that Woolfolk's UVA teammates have seen from him this year, and it's among the main reasons they're confident he'll be up to the challenge if he's called on Saturday night against No. 7 Notre Dame (8-1).
Virginia's starting quarterback, Brennan Armstrong, is dealing with a rib injury he suffered in the team's Oct. 30 loss at BYU. Woolfolk played the final possession after Armstrong — who ranks second in the nation in passing yardage — was hurt.
UVA (6-3) doesn't make freshmen available to the media, but Woolfolk's teammates had plenty to say about the man the Cavaliers could turn to behind center on Saturday night in this nationally televised game.
"He's really confident," said senior wide receiver Keytaon Thompson, a converted quarterback. "That's, I think, one of his best attributes. He exudes confidence. And he can flat out throw the football."
And like the quarterback he may be tasked with replacing, Woolfolk brings a competitive intensity to the field.
"He's feisty. Really feisty," sophomore quarterback Ira Armstead said. "Just like Brennan. I think he's ready."
Equally important, Woolfolk's similarity to Armstrong doesn't end with his disposition. Virginia's coaches believe that with Woolfolk's arm strength and foot speed, they won't need to change the offense drastically if Armstrong is unavailable against the Fighting Irish.
"He's shown some really good stuff for a true freshman," offensive coordinator Robert Anae said. "We look forward to his continued growth and development. Not a lot changes when Jay is the quarterback from where Brennan was. Those skill sets with Brennan and Jay are similar. They're not exact, but they're similar."
That's significant for the rest of Virginia's offense, Mendenhall said, because it "allows us to train consistently or more consistently."
The 5-foot-11, 200-pound Woolfolk, who was also a top recruit in baseball and is expected to pitch for the Virginia baseball team this spring, has seen action in three games this season. He's 2 for 6 passing for 35 yards and has run seven times for 44 yards.
The television broadcast of the BYU game showed him smiling confidently as he got loose before entering the game with Virginia down 66-49 with 7:12 to play.
"I think he's confident because he's always prepared," Lilly said. "It's one thing to be confident and almost naïve. He's not confident and naïve. He's confident and prepared."
And, Lilly noted, Woolfolk has a solid understanding of competition, growing up the son of a former college basketball player and leading Benedictine to state titles in football and baseball.
Woolfolk's one possession against BYU started promisingly. He completed his first two passes, a 15-yarder to wide receiver Ra'Shaun Henry and then a 20-yarder to tight end Jelani Woods.
He picked up 6 yards on a run but the drive stalled there. His final three throws were incomplete.
Will he get the chance to build on that Saturday night, or will UVA get its starter back? Mendenhall indicated that decision may not be made until close to game time.
If Woolfolk does end up playing, his high school coach believes there's no limit to what he could get done.
"I'm not surprised by anything Jay accomplishes," said Lilly, recalling what he told college recruiters four years ago when they asked about Woolfolk. "We've had a lot of really good football players and a lot of really good athletes here in the 17 years I've been here. He's the best. There's only been one Jay here."