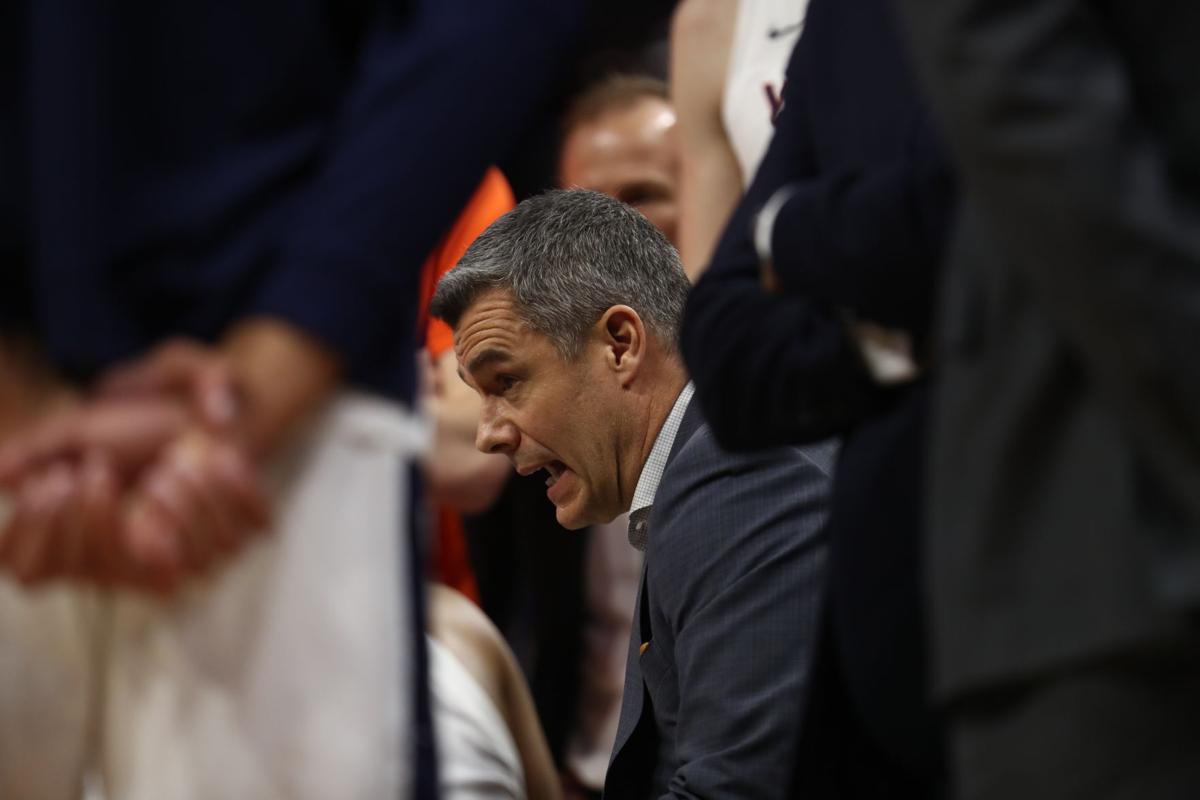 INDIANAPOLIS — His team arrived in Indianapolis on Sunday, has been practicing since Monday and is riding a three-game win streak that made them MAC champions.
His opponent was scheduled to arrive in Indianapolis on Friday, with just one practice under its belt since a positive COVID-19 test knocked it out of the ACC tournament last week.
So even though Jeff Boals' 13th-seeded Ohio team is a 7-point underdog against fourth-seeded Virginia on Saturday night at Indiana's Assembly Hall, Boals doesn't see any tightness in his players going into the school's first NCAA tournament game since 2012.
"I think our guys will be loose," said Boals. "They'll be ready, and they'll be excited to play."
It remains to be seen what kind of shape Virginia will be in when it arrives. The Cavaliers were scheduled to practice Friday morning in Charlottesville, then fly to Indianapolis and begin testing. It needs to clear two rounds of testing to be able to walk-through Saturday and then play the game at night.
UVA (18-6) will be without at least one player, the one who tested positive in Greensboro. The school has not revealed who that player is or if there have been any other subsequent positives.
They've been preparing for Ohio (16-7) by meeting virtually over Zoom.
"They're really playing great basketball from their conference tournament," said Virginia coach Tony Bennett. "They really went through that tournament and looked terrific, sound defensively and scored in a variety of ways."
The Bobcats have a classic inside-outside attack led by point guard Jason Preston and a pair of capable post players in Dwight Wilson and Ben Vander Plas. Wilson transferred to Ohio after three seasons at JMU and Vander Plas' father was a college teammate of Bennett's at Wisconsin Green Bay.
Preston leads the team scoring 17.1 points per game, but Wilson and Vander Plas combine for 27.7 points and 13.2 rebounds an outing.
At JMU, Wilson played a more secondary role in the Dukes' offense, but at Ohio, Boals has featured him on the low block and on pick-and-rolls with Preston.
"I said, 'Hey, your role's going to be different," said Boals. "You're going to be counted on as a go-to guy. Focal point in the post. It took him a while to get used to that because that's not who he was at JMU. Our offense is a lot better when we throw the ball into the post."
Virginia's pack-line defense is, of course, designed to make post touches hard to come by. It's a system Boals learned about facing while working as an assistant at Ohio State. Bo Ryan, then the Wisconsin coach, ran the pack.
"You play a Bo Ryan team, you better make jump shots or you better have a great post guy you can throw the ball in to and try to create shots out of," said Boals. "We know we're going to have to make shots. When you have a shot, you better shoot it, because that might be the best shot you get on that possession."
The Bobcats finished fifth in the MAC during the regular season, though 2-5 in the league was a cluster of teams with five or six losses, and beat three teams that had defeated them during the regular season on their way to the conference tournament title.
"We're going to have our hands full, for sure," said UVA senior forward Sam Hauser.