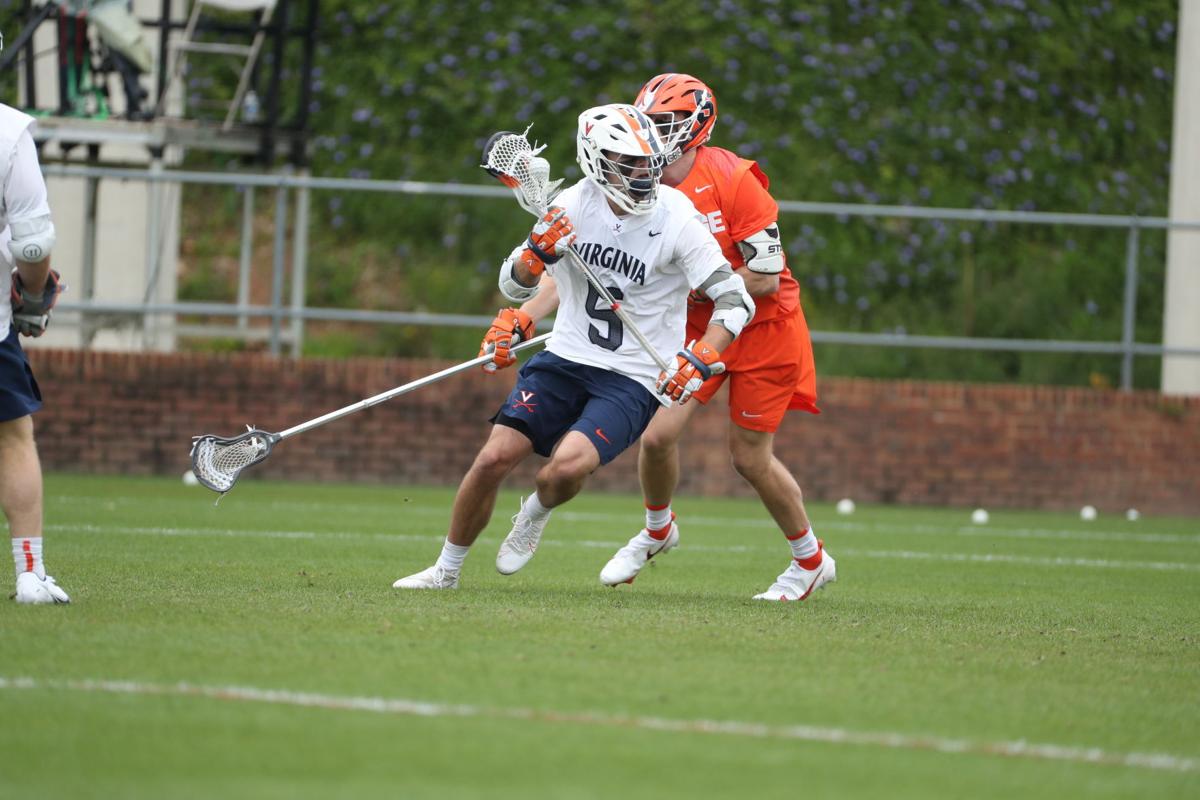 CHARLOTTESVILLE — Lars Tiffany hadn't given it much thought until the first graphic that popped up during ESPNU's Sunday night broadcast of the NCAA lacrosse tournament bracket included a reference to Virginia winning the last national title, back in 2019.
So, with the 2020 tournament canceled, does Tiffany's team enter this year's event with a championship bull's-eye on its back?
"That goes up there on the graphic and I was like, 'Oh yeah,'" said Tiffany, whose team is the No. 4 seed in the 16-team tournament and opens play at home on Sunday against NEC champion Bryant. "I really don't think about it. I'm sure Mike Pressler and Bryant they have a big ol' bull's-eye on the Virginia Cavalier uniform right now."
For everyone else, Tiffany said top seed North Carolina and undefeated Maryland, the No. 3 seed, probably are the teams that will receive the most attention going into the tournament, not his UVA squad which went 10-4 this season. For the rest of the country, and for himself, the 2019 championship doesn't make the Cavaliers a marked team this month.
"Because of the year off in between, it just doesn't seem that way," Tiffany said. "It doesn't feel that way to me."
All five ACC teams made the field, with North Carolina as the No. 1 seed, Duke the 2, Notre Dame the 6 and Syracuse — which beat UVA twice this season — unseeded.
Virginia hosts Bryant (9-3), which upset the top seed in the NEC tournament — Saint Joseph's — on Saturday to get its NCAA bid, at noon on Sunday at Klockner Stadium.
In 2019, despite a 1-2 start, the Cavaliers won the national championship. The 2020 tournament was canceled because of COVID-19, and now, Tiffany sees parallels between this year's group and the title-winning squad.
"I saw the similar progression," said Tiffany, whose team lost its first two ACC games this year. "It started revealing itself to me. 'Wow, we're starting to do what we did in 2019.'"
It's not exactly the same, of course. The 2019 champions didn't end their regular season with a loss to Syracuse as this year's team did. And while the 2021 team may be even deeper in the attack and midfield, especially thanks to getting Dox Aitken back for an extra year and adding transfer Charlie Bertrand, that has presented problems for Tiffany as he juggles his lineup.
"We're not quite the '19 team," Tiffany admitted. "The '19 team, we were probably more cohesive because there was less sharing of playing time. It was obvious who the starting attack was in '19. It was obvious who the midfield was."
That, Tiffany said, has impacted the culture and chemistry of this year's team.
"We're never going to make everyone happy," he said. "I can feel a little bit of that tension."
Having three weeks between the end of the regular season and its first NCAA tournament game may have helped on that front.
In addition to a week of focused conditioning work and a week of practice designed to sharpen UVA's end-of-game execution and its defensive transition pressure, Tiffany's team engaged in a good amount of team building.
At the end of the first week, the team played softball. Aitken hit on of the team's home runs and freshman star Connor Shellenberger hit Tiffany — who was pitching — in the leg with a line drive back up the middle.
This past Sunday night, after scrimmaging earlier in the day, Tiffany had 10 players to his house for dinner. A vegetarian, he served them Impossible burgers and sausages, along with corn, salad and his wife's bean salad.
His 6-year-old daughter added S'mores and chocolate chip cookies with M&M's to the menu.
Starting Monday, Tiffany said, the team would be back to a normal week of game preparation. This time, for Bryant.
UVA women get NCAA tourney matchup against UConn
Virginia's women's team also saw its name pop up on the television Sunday night. Despite a six-game losing streak, coach Julie Myers' club will compete in its 25th straight NCAA tournament. The Cavaliers (8-8) play Connecticut (12-6) in the first round on Friday at 5 p.m. in South Bend, Ind.
"It is such an amazingly crazy year, so to be one of the teams picked in the end is obviously a huge relief and a big accomplishment," Myers said.
"There is a lot of work to be done, just great appreciation to the school for helping us get here and the NCAA for continuing on with this tournament. We train a lot of months of the year to be able to get to this point of the year, so I am excited to be training and pushing for more games."
The winner of the UVA-UConn game, the schools' first women's lacrosse meeting, faces the Notre Dame-Robert Morris winner.