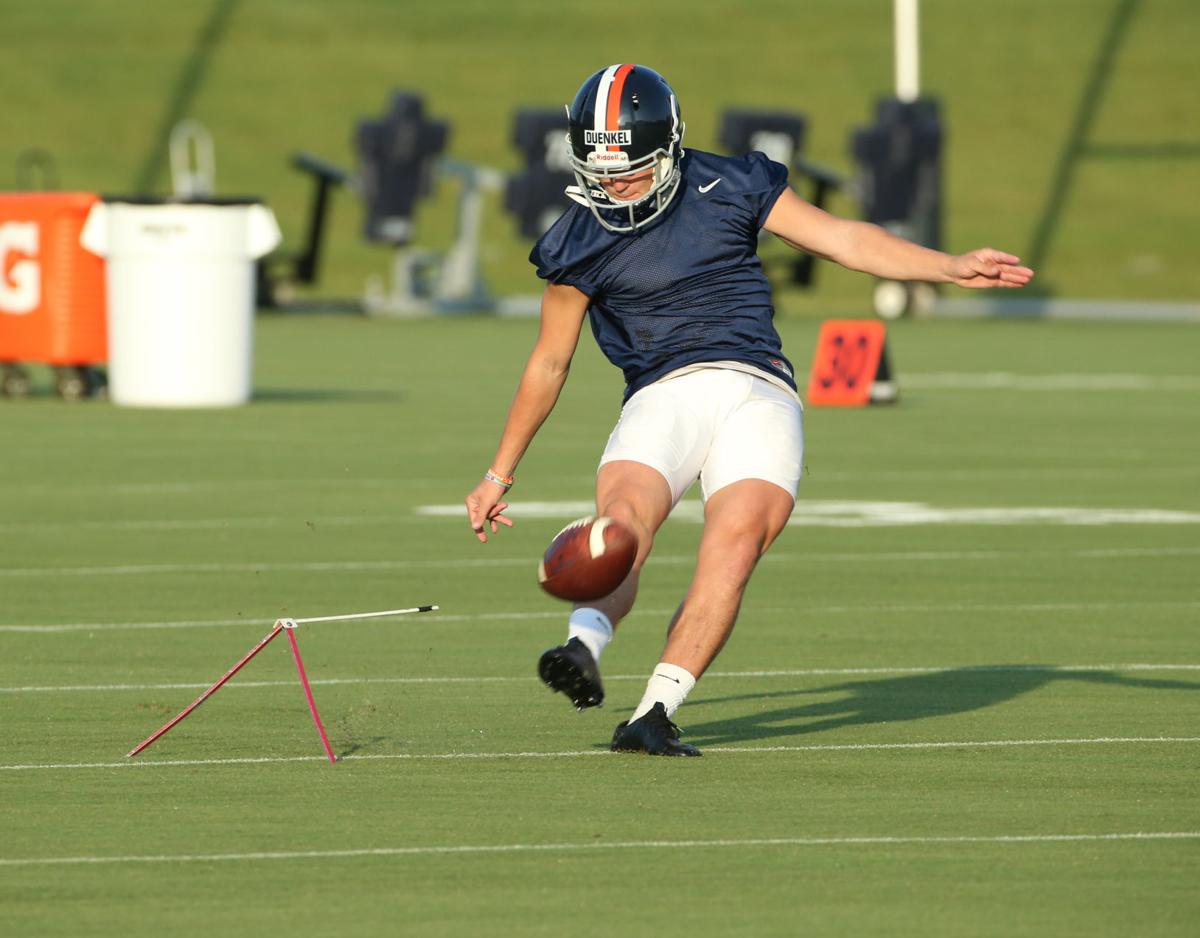 CHARLOTTESVILLE — For Jacob Finn, a Florida graduate transfer who holds bachelor's and master's degrees in finance, his football work can be evaluated empirically.
Finn, Virginia's starting punter, appreciates the statistical nature of his position. Punt averages and hang times are numbers that can't be argued with.
"It's like running 100 meters," Finn said. "If you run a 10-second 100 and the other guys running a 10.2 or 10.3, you can see that pretty clearly. Things are pretty binary. You either hit a good punt or a bad punt."
Justin Duenkel, UVA's sophomore kicker and the son of a former Virginia player, has a more emotional approach to the game.
"Sometimes, he gets kind of wound up," special teams coordinator Ricky Brumfield said.
The duo constituted one of the biggest question marks for Virginia football going into this season. The team had to replace kicker Brian Delaney and punter Nash Griffin off last year's roster.
Hunter Pearson and Brendan Farrell manned those spots for most of the spring, with Pearson locked in a tight battle with Duenkel.
Finn came to campus in July and by midway through fall camp, he had worked himself atop the depth chart at punter, while Duenkel — entrenched as the team's kickoff specialist — pulled away from Pearson for the kicking job.
The kicker and punter had issues in Saturday's 42-14 rout of Illinois. Finn finished far from satisfied with his punting efforts, despite averaging 46.7 yards per attempt. He noted his second punt looked better statistically thanks to some bounces than it actually was from a pure punting standpoint.
Duenkel's day was a mixed bag. He went 6 for 6 on extra points and sent six of his seven kickoffs for touchbacks. But he also missed a pair of field goal attempts — a 46-yarder in the first quarter and a 31-yarder in the second.
On the first miss, Duenkel had to contend with a crosswind and on the second, he had to rekick the try after a penalty.
Still, he said the close misses were "100%" his fault.
UVA's coaches said Duenkel would still be the team's starter on field goals going into Saturday night's game at No. 21 North Carolina.
"He's still the guy," Brumfield said. "I even told him right after he missed it, I said, 'Hey, I believe in you and I trust you. You've earned the position.'"
Duenkel said the vote of confidence will help him.
"Confidence is everything in this sport," he said. "Kicking is 10% physical, 90% mental. Having someone mentally there with you is awesome, on your side."
Duenkel's passion for UVA football comes from his father, Doug, a safety at the school from 1988 to 1992, playing in three bowl games with the Cavaliers. As a kid, Justin Duenkel attended games at Scott Stadium, his first around the time he was a year old.
"We have some hilarious, awesome pictures when he's dressed up in little UVA jerseys," Doug Duenkel said. "We laugh and say he didn't have any alternative, but we would have been happy wherever he went to school. We were overjoyed when he went to Virginia."
Justin Duenkel still recalls looking at photos from his father's playing days.
"He was a safety, big neck roll, big helmet, old school," Duenkel said of his dad. "I've always wanted to be like him. He's my role model."
At just 5-foot-2 and 110 pounds as a high school freshman, college football didn't appear to be in Duenkel's future. But he had a growth spurt before his junior year and played safety as well as kicker for his high school team.
For Duenkel, now 5-11 and 205 pounds, his love for Virginia football may come from his father, but his kicking leg? That he might get from his mother, a former soccer player at James Madison.
In fact, Duenkel's family is full of athletes, including one grandfather who played college football and one who played college baseball, an uncle who was an All-America swimmer and an aunt who was an Olympic gold medalist swimmer.
His older sister played lacrosse at James Madison.
While Duenkel is only a sophomore — his two field goals in the opener against William & Mary were the first of his college career — Finn came to UVA after playing in 17 games over five years at Florida, serving as the Gators' starting punter in 2020.
In Virginia, Finn said he picked a school that brought him closer to two financial centers — Washington D.C. and New York — and had an opening at punter. He was the Gators' backup in 2019 when they beat UVA 36-28 in the Orange Bowl.
Finn said he came away impressed with the Cavaliers' effort, something he considered when he decided to transfer.
"Florida was definitely the more talented side that evening, but I think you could kind of get the Virginia culture real quick," Finn said. "Their effort was more than Florida's that evening."
Now, he's a part of that effort.