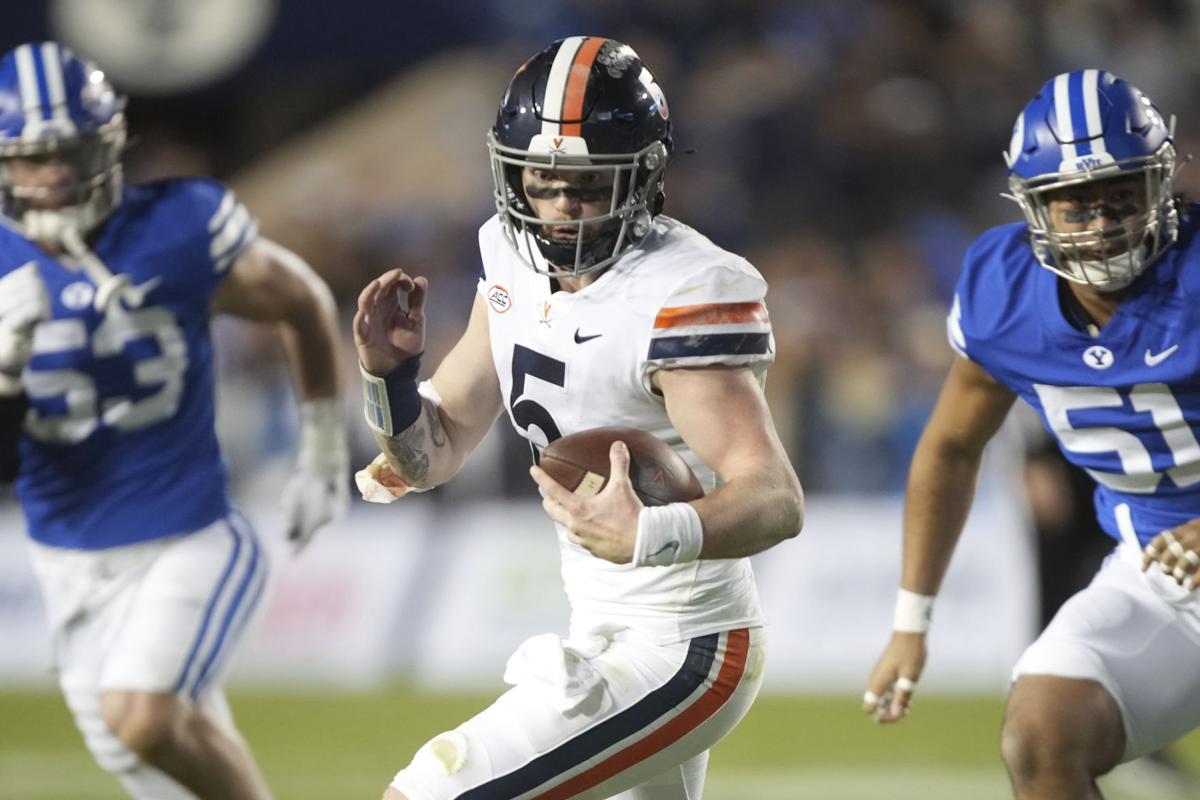 CHARLOTTESVILLE – Virginia football coach Bronco Mendenhall said Monday he's "planning" to have star quarterback Brennan Armstrong available Saturday night against No. 7 Notre Dame, though he declined to share much about the sophomore's status as he recovers from an apparent rib injury suffered Oct. 30 in the loss at BYU.
"It literally is day-to-day and we're going to give him every minute, right until the ball is kicked off, to be our quarterback," said Mendenhall. "The team knows that, I know that, he knows that and he's earned that chance."
Armstrong has thrown for 3,557 yards – the most in the nation this season – and 27 touchdowns in leading UVA to a 6-3 record. The Cavaliers, who had an open date last week, host the Fighting Irish (8-1) in their final nonconference game on Saturday night.
After that, Virginia plays at Pittsburgh and then hosts rival Virginia Tech. If it wins both those league games, it would clinch the ACC's Coastal Division title.
Mendenhall said, even if Armstrong can't practice this week, there's a chance he could play against the Irish.
"Brennan's earned every opportunity to play even, if he just looks out over the field from the balcony," said Mendenhall.
If Armstrong can't play, Mendenhall indicated freshman Jay Woolfolk is capable of running a similar offensive game-plan in his place. That, Mendenhall said, is important because preparing multiple plans for different quarterbacks can cause problems.
"You try to find everything that's similar and use all of that. And then if there happens to be a change you're ready either way," he said. "Even with the bye week, once you start designing two different plans, you run out of practice time."
The Cavaliers also have Keytaon Thompson, who moved to wide receiver from quarterback last fall after transferring to UVA but suffering a shoulder injury in camp, and Ira Armstead as options at the position.
Last season, when Armstrong missed the team's game at Wake Forest with a concussion, Virginia played former backup Lindell Stone, Armstead and Thompson in the game. This time around, Mendenhall doesn't think it will need a quarterback-by-committee approach.
"That's not nearly as much of the hodge podge-ish (scenario) that we had a year ago when we were trying to do whatever we could," he said. "This is much more intentional, and I think our succession plan is better."
Another advantage over a year ago? Virginia's offense is loaded with playmakers, from wide receivers Thompson, Dontayvion Wicks, Billy Kemp IV (Highland Springs) and Ra'Shaun Henry to tight end Jelani Woods. 
"It's built around being able to get the ball to playmakers," said Woods. "So, whoever's at quarterback will be able to have the same success."
Also Monday, Mendenhall threw cold water on the hopes that injured wide receiver Lavel Davis Jr. (knee) could return this season.
"I don't think he's close," said Mendenhall of Davis, who injured his knee in the spring after catching 25 passes for 515 yards and five touchdowns as a freshman. "If I'm looking after him like I do and will as my own son, it just doesn't make sense. Doesn't mean he's not willing and trying hard, et cetera. It's just the possible gain, which would be significant when we talk about the next three, but contextually and for him and his future, yeah, I don't see that happening."