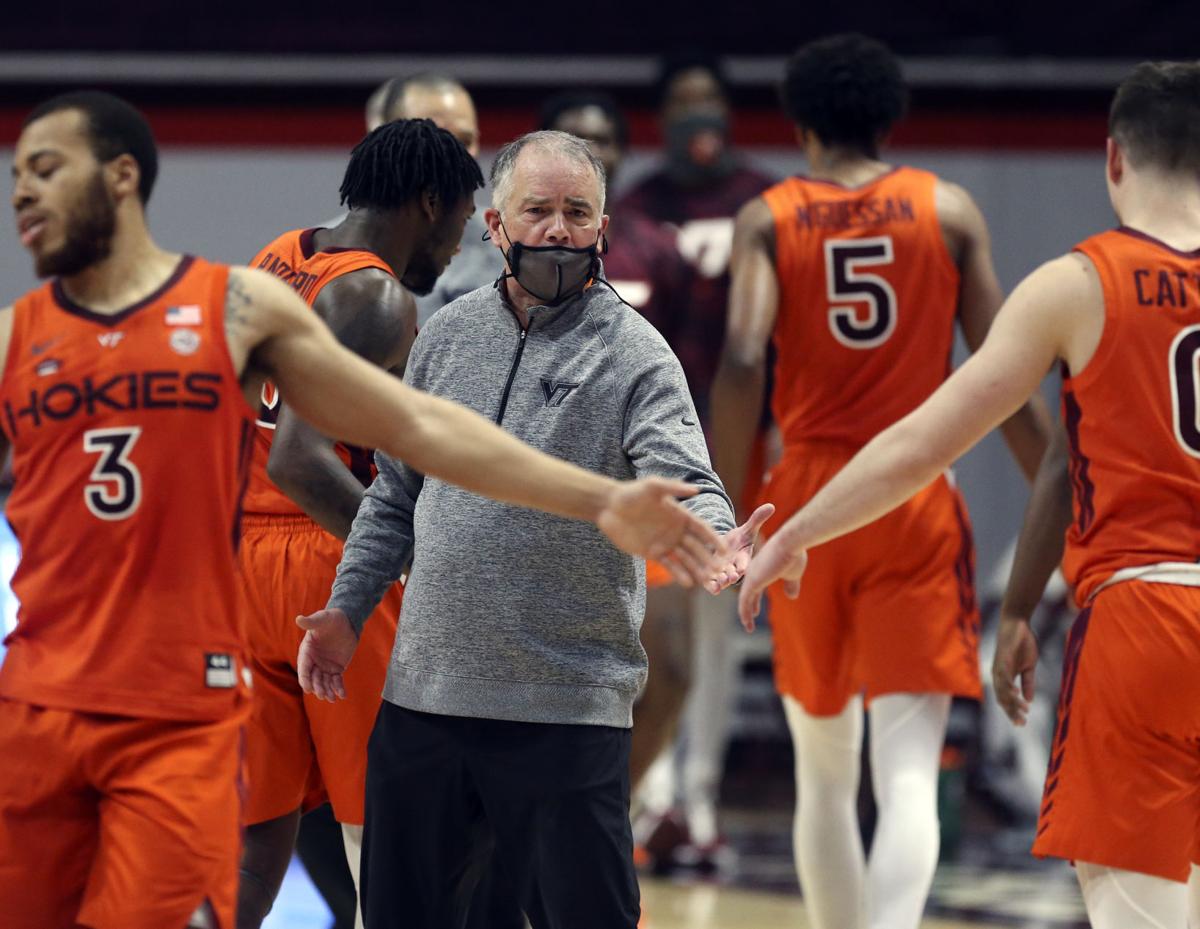 Virginia and Virginia Tech are headed to Indianapolis to take on opponents they haven't faced in decades, all while the COVID-19 pandemic looms over the entire event.
"Young people are so resilient," said Virginia coach Tony Bennett on Sunday night. "You see that in a lot of ways. They want that opportunity. Friday, you could see the look in their eyes. So I think this breathed life into them. They're certainly hungry, certainly looking forward to that chance in Indy."
UVA, the ACC regular-season champion, earned a No. 4 seed in the West region and will open play Saturday against 13-seed Ohio. The Hokies, who finished third in the conference, are the 10 seed in the South region and face Florida in their first game Friday.
The Cavaliers (18-6) have not played Ohio since 2003, while Tech (15-6) hasn't met the Gators since 1991.
All of this year's games are being played in the Indianapolis area due to COVID-19 concerns. Last year's tournament was canceled because of the spread of the virus.
If UVA – still the defending national champions after winning the 2019 title – advances, it would face the winner of fifth-seeded Creighton and 12-seed UC Santa Barbara on Monday. A possible Sweet 16 rematch with undefeated and overall top seed Gonzaga looms beyond that.
The Bulldogs ripped Virginia 98-75 on Dec. 26 in Fort Worth, Texas, a game the Cavaliers added to the schedule after having to cancel dates with Villanova and Michigan State due to COVID.
The Hokies' second-round matchup would be against the winner of second-seed Ohio State and 15-seed Oral Roberts.
"This is an opportunity for us in March to come out and make some noise," said Virginia Tech forward Cordell Pemsl, a transfer from Iowa. "Everyone knows at this point that anything can happen. If we play hard and leave it all on the table, we will be able to go down and get some wins."
Both UVA and Tech had essentially locked up a bid with strong regular seasons. Virginia won the ACC regular-season championship and the Hokies finished third, earning both squads double byes into the quarterfinals of last week's ACC tournament in Greensboro, N.C.
Tech lost its first game to North Carolina, while Virginia nipped Syracuse on a buzzer-beating 3-pointer by freshman Reece Beekman.
But the Cavaliers left Greensboro without playing their semifinal game against Georgia Tech, dropping out of the event after a positive COVID-19 test that left their NCAA future uncertain. A Saturday night deadline to notify the NCAA if they would be medically unavailable for the tournament came and went, signaling UVA could be included in the 68-team field.
Sunday night, Bennett said the "majority" of the team is in quarantine due to contact tracing and that it won't be able to practice until Thursday at the earliest and isn't likely to fly to Indianapolis until Friday, the day before its game.
"Not ideal," Bennett said. 
Greensboro served up a bumpy end for teams that had endured plenty of adversity over the regular season.
Virginia's year was twice disrupted because of the virus, leading to the cancellation of games against Villanova, Michigan State and one of two matchups with the Hokies.
Tech hadn't played since Feb. 27 before its loss to North Carolina. The Hokies ended the season on a COVID pause and, over the course of the year, they missed games against UVA, Florida State twice, North Carolina, Louisville, North Carolina State and Boston College.
Tech also dealt with other issues, including Kansas State transfer guard Cartier Diarra's December decision to opt of the season, sophomore guard Tyrece Radford's January suspension for a DWI and concealed weapon arrest, and sophomore guard Jalen Cone's ankle injury.
"This has been one most enjoyable groups I've had in my 30-plus years as a coach," said Tech coach Mike Young. "These guys have always been about the team and they have improved over the long haul of the season. They have weathered every storm thrown at them and I expect them to continue to do the same as we get to Indianapolis."
In all, seven ACC teams made the tournament field. Florida State, the runner up in the regular season and the conference tournament, is a 4 seed. Tournament champion Georgia Tech earned a 9 seed.
Clemson is a 7 seed, North Carolina is an 8 seed and Syracuse is an 11.
Louisville was one of the last four teams left out of the field, missing a spot when Georgetown won the Big East tournament and Oregon State took the Pac-12 title, taking up two bids as teams that would not have received at-large invites.
The Cardinals are the top replacement team, if any teams from a multi-bid conference have to drop out by Tuesday due to COVID-19 issues.
Duke had its streak of 24 straight NCAA tournament appearances snapped.
Five teams from the Commonwealth made the tournament field with 10th-seeded VCU, 13th-seeded Liberty and 16th-seeded Norfolk State joining the two ACC programs. Norfolk State, the MEAC champion, plays Thursday against Appalachian State in a First Four game.
With the Ivy League opting out of this year's tournament there were 31 automatic bids and 37 at-large spots.
NOTES: Virginia Tech's game against Florida on Friday will tip off at 12:15 p.m. from Butler's Hinkle Fieldhouse and be televised on CBS. ... Virginia's game Saturday against Ohio will tip at 7:15 p.m. from Indiana's Assembly Hall in Bloomington and air on TruTV.