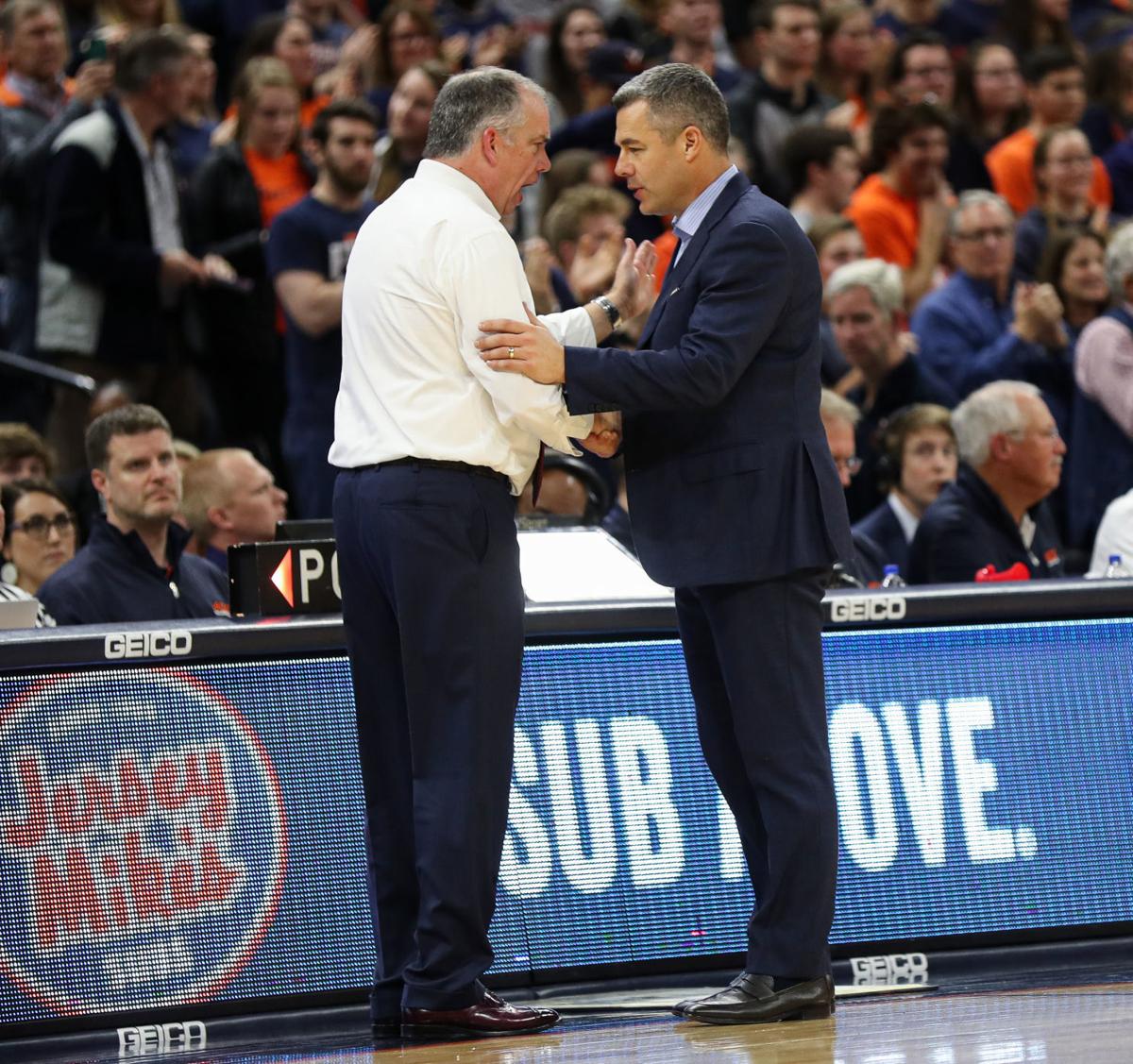 CHARLOTTESVILLE — Virginia's matchup with rival Virginia Tech on Wednesday night features the ACC's top two scoring defenses. But don't tell the two coaches that.
When UVA's Tony Bennett heard North Carolina coach Hubert Davis refer to his team's defense as "great" during a weekly Zoom press conference, Bennett respectfully disagreed.
"He was being nice," said Bennett, whose team allows 58.8 points per game this season, second fewest in the conference. "We're not a great defensive team. We've been inconsistent. It's something you just keep working, you keep going."
Mike Young's Hokies, who visit John Paul Jones Arena for a 9 p.m. game Wednesday, lead the ACC yielding 58.7 points an outing. But Young came across as equally unimpressed with his team's play on that end of the floor when asked this week.
"We've been really good for the most part, but when it matters most, and certainly in the last cluster of games, we've faltered a little bit," Young said. "And not any one person. More of our team than anything else."
He said that about a team that is second in defensive efficiency in the conference, per the basketball analytics website Kenpom.com. (The Cavaliers check in at fifth.)
Of course, Bennett and Young can be excused for not kvelling over their teams' ability to stop opponents from putting the ball in the basket, considering their most recent outings.
UVA (9-6, 3-2 ACC) was coming off Saturday's 74-58 loss to Davis' Tar Heels, a game in which UNC sophomore forward Armando Bacot, the former Trinity Episcopal star, score 29 points and grab 22 rebounds, both career highs.
Virginia Tech's last game was a 68-63 home loss to North Carolina State in which the defense allowed the Wolfpack to score 39 points in the second half while shooting 45.5%.
Tech's defense was most dialed in during wins over St. Bonaventure (86-49) and Maryland (62-58) in December. Young would like to see his Hokies (8-6, 0-3) get back to that level of stifling opponents.
"I thought we were so connected throughout the course of both of those games," Young said. "We looked like our team. We've seen it. We've done it. Now, to do it night in and night out, that's what we're all striving for around here."
Both Tech and UVA — who will meet again on Valentine's Day in Blacksburg — rank in the bottom third of the ACC in offense, but both feature a versatile low-post scorer who figures to test the opposing defense Wednesday night.
Hokies forward Keve Aluma scored 29 points and had 10 rebounds in Tech's 65-51 win over UVA last season in Blacksburg. This year, the 6-foot-9 senior averages 15.2 points, 12th most in the conference.
"Last year, we didn't have an answer for him when we played them," said Bennett, whose team has won four of the past five and seven of the past 10 meetings in the rivalry. "I'm sure he saw what Bacot did to us and was probably saying, 'Hmmm.' He really is a complete player offensively. He'll shoot the 3, he can score in the post, passes, plays out of a bunch of different spots and is real competitive and very experienced."
Competitive and experienced could serve as a scouting report on Virginia's leading scorer, East Carolina transfer forward Jayden Gardner.
While the Cavaliers' have struggled with turnovers and ineffective outside shooting, Gardner has been the team's offensive constant. The 6-6 senior averages 15 points, one spot behind Aluma in the league rankings.
"He's a load," Young said. "Does a really nice job around the basket, second shots, gets his body into you. I'm really impressed with his ability to shoot the thing from 15. … He's just a really good player. The more I watch, the more I admire him."
Virginia, with three home losses already this season, would have a four-loss home record for the first time since 2016-17 if it can't find a way past the Hokies — with home games against surprising Miami and Wake Forest and league-favorite Duke still remaining.
UVA, which has reached the past seven NCAA tournaments, figures to be in a climb to get back this season.
Meanwhile, for Young's club, a loss could bury the Hokies, who — despite being picked to finish fifth in the league in the preseason — have started 0-3 in ACC play.
"We understand the situation that we're in," Young said. "It's not ideal, but this is where we are. We make this better one day at a time, one practice at a time."