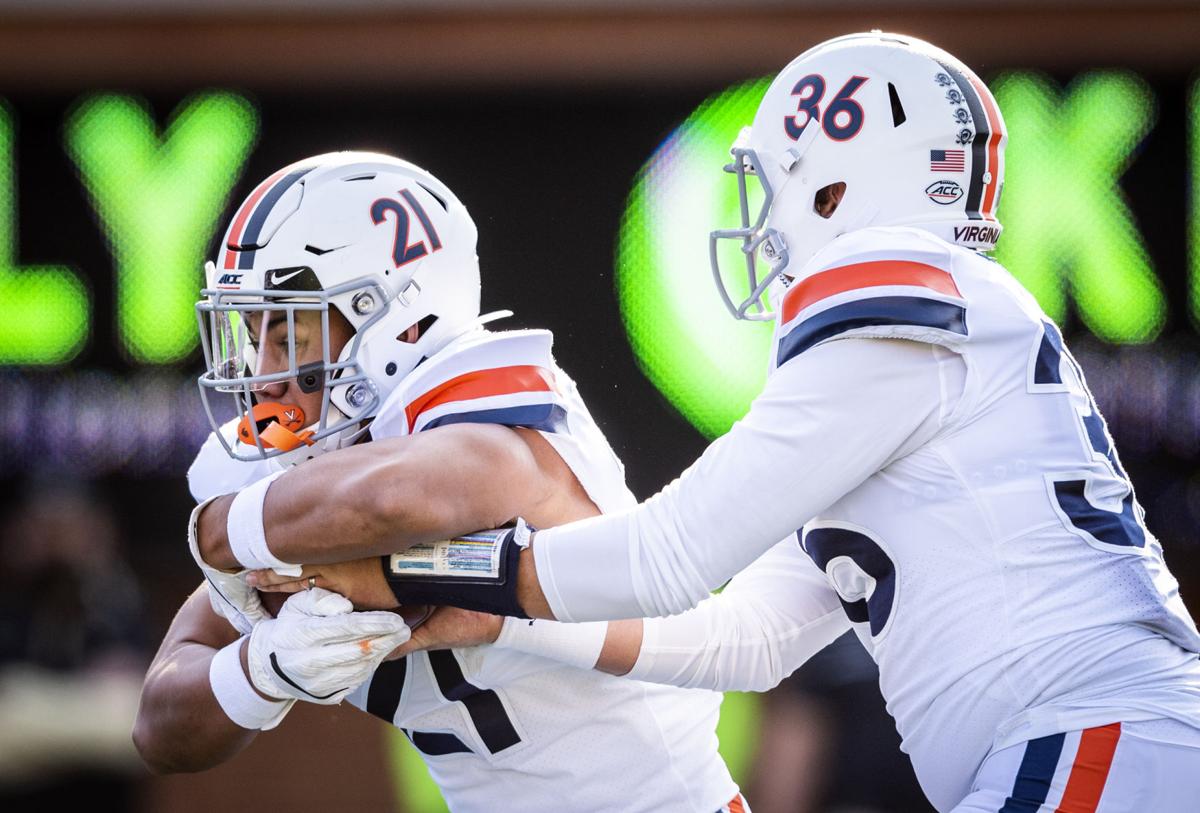 WINSTON-SALEM, N.C. - Sometimes offensive creativity isn't about flea-flickers or misdirection, not dazzling play designs or big gains. Sometimes, it's simply about cobbling together a game plan to give a team a chance to win a game it desperately needs.
Some days it means combining the game-tested readiness of a Mississippi State graduate transfer with the exuberant running of a freshman and the learned passing of career backup.
Virginia needed all of that creativity on Saturday at Wake Forest. And it might have been enough for a victory had it not been canceled out by bad defense and a pair of mental errors in the fourth quarter that ultimately doomed it, 40-23.
"I thought collectively our approach gave us a chance," UVA coach Bronco Mendenhall said. "We didn't execute well enough to finish the game."
With starting quarterback Brennan Armstrong out with a concussion he suffered last weekend against North Carolina State, UVA used three players — transfer Keytaon Thompson, true freshman Iraken Armstead and junior Lindell Stone — to take his place, fell behind 14-0, then rallied to tie it 23-23 before a late collapse.
The Armstrong-less offense that coach Bronco Mendenhall, offensive coordinator Robert Anae and quarterback coach Jason Beck put together for Saturday was less a work of art than it was Frankenstein's monster.
But the team's three quarterbacks had enough pieces to put a scare in the Demon Deacons (2-2, 1-2 ACC), until the home team came with its torches and pitchforks in a decisive fourth quarter.
"I think it did give us a chance to win, but we just made a few critical mistakes at the end," Thompson said.
Stone, who has been Virginia's safe backup the past two seasons, started and finished the game. But in between, UVA's offense got a spark from Thompson and Armstead, who combined to run for 108 yards and a touchdown. The Cavaliers ran for 218 yards, their most in an ACC game since the 2018 season.
Thompson and Armstead lined up at receiver at times, as did offensive lineman Dillon Reinkensmeyer, who split out wide as if to set up a screen pass. Thompson, who suffered a shoulder injury in the preseason that took him out of the quarterback competition, didn't attempt a pass. Armstead went 1 for 3 throwing the football.
Stone, not a threat as a runner, finished 24 for 42 for 193 yards with a pair of interceptions.
Wake Forest coach Dave Clawson praised Virginia's success "manufacturing offense."
"I thought it gave us the best chance to move the football and to lead our team," Mendenhall said. "Each has a different skill set and we were looking for complete play at quarterback after losing Brennan. We tried to innovate."
With far more daunting matchups with Miami, North Carolina and even Louisville looming, this was a game Bronco's bunch had to have, and the offense found a way to give it a chance.
When Virginia (1-3, 1-3 ACC) needed complementary football, it got an effort that was more contradictory from its defense and special teams.
Coaxing 23 points out of a makeshift offense is admirable but futile when a defense allows five pass plays to go for more than 30 yards. It's rendered downright irrelevant when that defense misses a tackle and allows a 75-yard touchdown run in the fourth quarter, as UVA did when corner Nick Grant missed a tackle on Kenneth Walker, who scored the winning touchdown with 13:14 to play.
It didn't help that tight end Grant Misch's personal foul early in the fourth quarter derailed a potential go-ahead drive. Or that earlier, kicker Brian Delaney, who had made 17 straight field goals dating to last season, missed from 36 yards out.
Or that a creative play call from the Wake Forest sideline resulted in a sky kick catching Virginia off guard, leading to a fumble by Perris Jones that Wake recovered to set up the touchdown that put the game away.
Now, Virginia heads into this stretch of back-to-back games against top 10 opponents on a three-game losing streak. Armstrong, who didn't practice all week, could be back for the Miami game. This is his first concussion of his college career.
Virginia's coaches found a way to get by without him. And they might have gotten out of Wake Forest with a win, if not for those other mistakes.