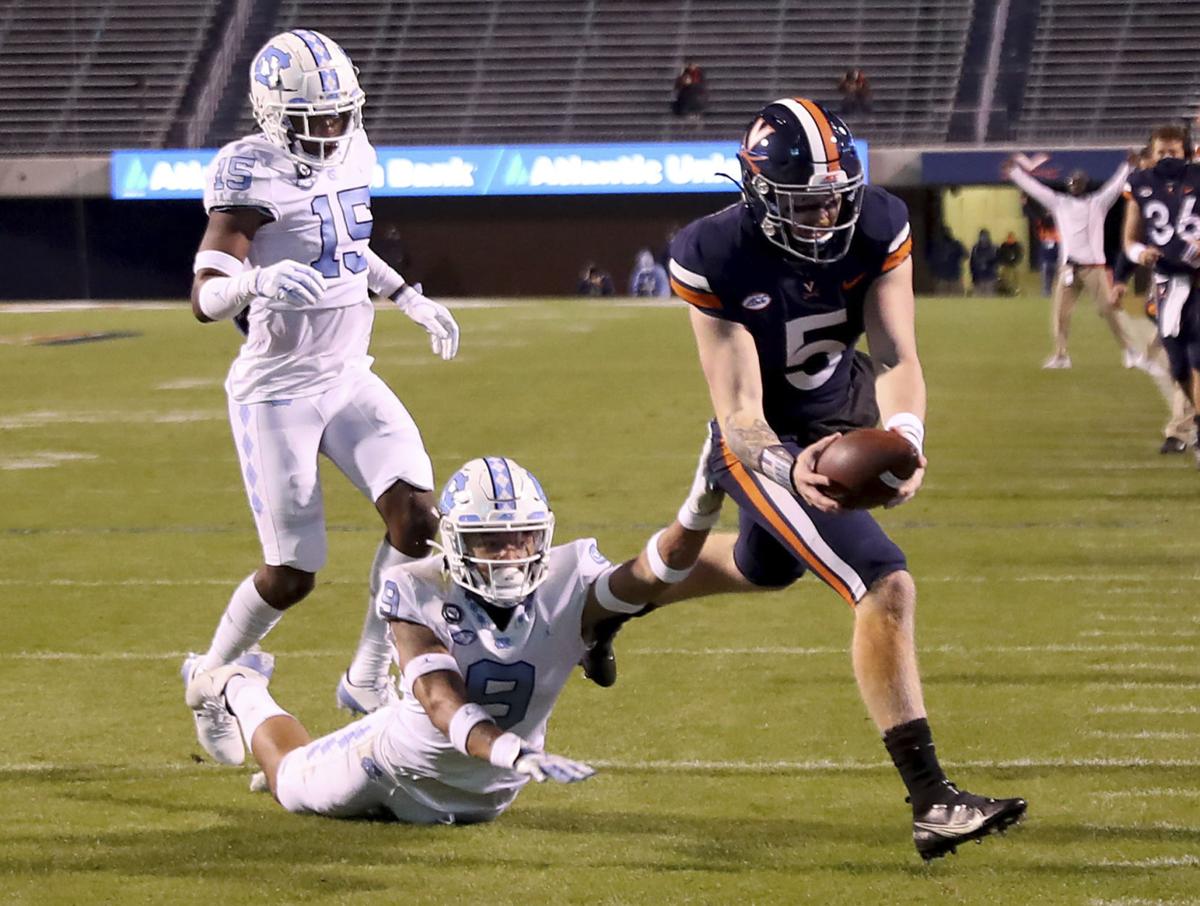 CHARLOTTESVILLE — Perhaps no one in the Virginia football program benefited more from last week's unexpected weekend off than battered and bruised quarterback Brennan Armstrong.
The sophomore left-hander, who had previously missed time with a concussion, was coming off a knee injury in the Cavaliers' last game, an upset of North Carolina.
When a COVID-19 outbreak in Louisville's program forced the postponement of the teams' game from last weekend to this one, Armstrong got some extra time to get healthy.
"I'm feeling good," Armstrong said after practice Tuesday. "I feel refreshed."
It's unclear whether Armstrong could have played last weekend, but the postponement meant he didn't have to push it.
Armstrong said he will wear a brace on the knee he injured in the 44-41 win over the Tar Heels, but said doctors found no significant damage to the knee.
Virginia practiced Monday and Wednesday last week, taking off Tuesday for election day. The team had already installed much of its plan for the Louisville game, a contest that wasn't called off until Wednesday evening, giving it a head start on its preparation this week.
The Cardinals shut down their program last Wednesday, calling off all football-related activities. The team resumed practice Monday, and both sides expect to be able to play Saturday.
"The reality is, they've had additional staff test positive, but their testing over the weekend allows them to move forward as if it's like any of the rest of us that are getting ready to play a game," UVA coach Bronco Mendenhall said. "So both teams are anticipating playing now."
For the Cavaliers, the weekend off meant a chance to recover for a number of players besides Armstrong.
"It's been a pretty long season so far," defensive tackle Adeeb Atariwa said. "Everyone's body is starting to feel up there with the amount of reps they're taking and practice gets to you."
Now, the Louisville game marks the beginning of the homestretch, a run of games where UVA won't face the same level of competition it did to open 2020. Its front-loaded schedule — which included games against Clemson, Miami, North Carolina and a surprising Wake Forest team — is in the rearview mirror.
Its five remaining opponents are a combined 14-20 this season. Three of those having losing records, including FCS Abilene Christian.
Louisville lost 42-35 to Virginia Tech its last time out, a game the Cardinals played down nine players, eight on defense.
Offense, however, is where Louisville figures to be a handful. Running back Javian Hawkins leads the ACC in rushing, averaging 117.4 yards per game. He's scored seven touchdowns and gets 6.2 yards per carry.
"They're very dynamic at the running back spot, at the quarterback spot, at the receiver spot and it's a run-based offense," Mendenhall said. "It's an ACC, Top 10 explosive offense, in the country."
Adding to the challenge, UVA doesn't know if it will have safeties Joey Blount and Brenton Nelson again this week. The duo has missed the past the two games. Virginia has played JMU transfer D'Angelo Amos and sophomore Antonio Clary in their places.