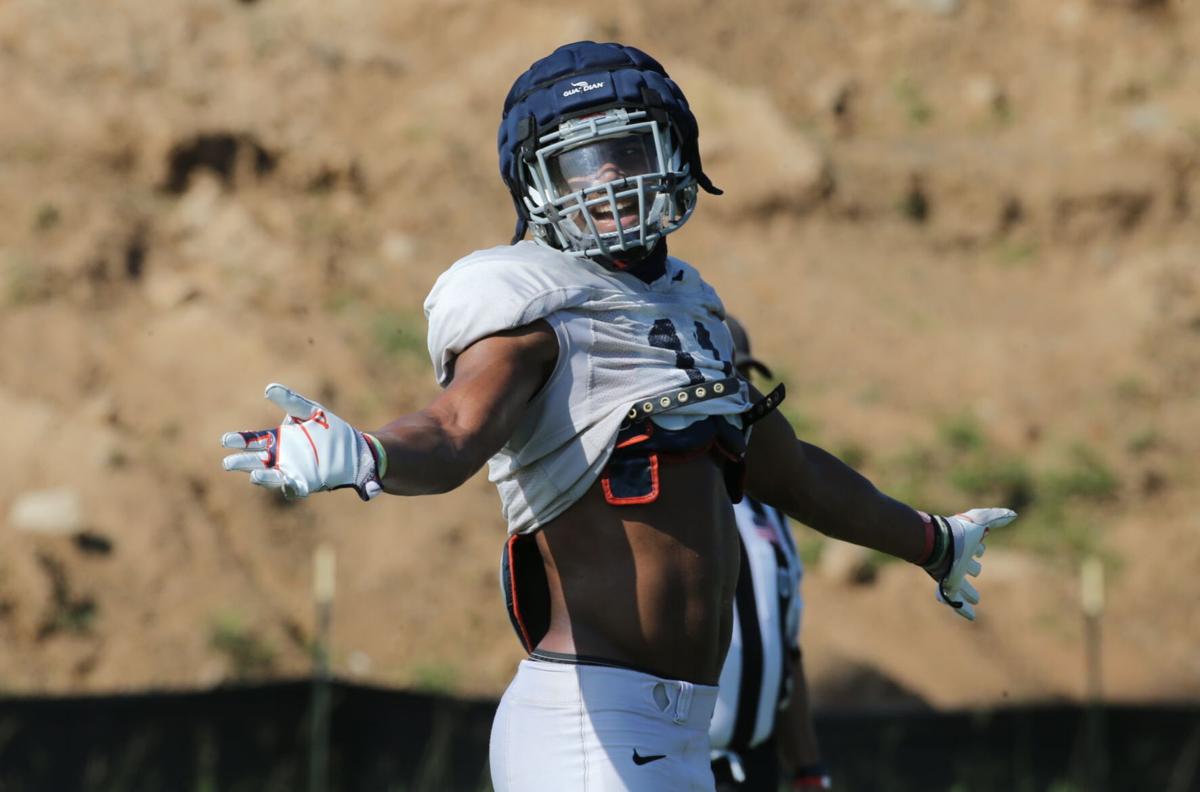 CHARLOTTESVILLE — Virginia's athletes have spent most of the past two months proving they could stay safe from COVID-19 while preparing for their seasons, isolating themselves on campus and following social-distancing and masking protocols.
Now, a sharp needle is pointed at the UVA athletics bubble, and there's nothing the school's coaches or athletes can do to get out of its path.
In-person classes at UVA are set to begin Sept. 8 and campus housing move-in starts Sept. 3.
"That is what I'm losing sleep over right now," Cavaliers football coach Bronco Mendenhall said. "We've been staying in the same dorm as a football team, eating all our meals in our rooms and really have almost complete isolation from the outside world in our bubble. Our players are getting ready to move off grounds and the students are coming and some of our classes will be in person. And so, by that very design, the bubble is broken."
Will bursting the bubble spread the virus, or will the program's measures be enough to allow UVA to play football next month?
Virginia athletes began returning to campus the first week in July. Since then, 282 of them across 10 teams have been tested for the coronavirus, with approximately 1,400 tests administered. That testing has yielded just four positive results, three among the 117 football players tested. UVA hasn't had a positive test to report since July 24.
"Coach Mendenhall said early on, 'The bubble is what you make it,'" senior linebacker Charles Snowden said. "Dudes have just found different ways to have a good time within the bubble and to make sure that we're keeping each other safe."
Mendenhall said all three of his team's positive tests were cases of COVID exposure prior to returning to campus, and all were caught by testing before the virus was spread to other players.
In addition to the testing, Virginia has used social-distancing and masking procedures, but most of the program's success has stemmed from the team being essentially isolated from exposure.
That changes in two weeks, when players will begin moving into off-campus apartments and taking in-person courses.
"Once students arrive and our players are asked to go outside the bubble to class, outside the bubble for residence, it becomes an entirely different management issue which the world and the nation hasn't solved," Mendenhall said.
In early August, UVA delayed the start of fall classes by two weeks because of national and regional COVID-19 statistics.
At North Carolina, the return of students this month led to an immediate outbreak and the decision to move all courses to online classes after just one week. North Carolina State made the same decision, while Notre Dame moved to virtual classes for at least the first two weeks of the fall semester.
All three programs had to pause preseason work.
At Virginia, the concern is the return of students could lead to a similar uptick in positive tests, one that could affect the football program as its athletes are exposed to other students. The players are acutely aware of the risk.
"We can only control ourselves and what we do," senior safety Joey Blount said. "Our commitment is to playing this year and there's going to have to be some sacrifices that are going to have to be made to play. We are all aware of that, but we have to just take the protocols, do the precautions and hope for the best. A whole university coming back to school, it's just another obstacle that we got to get over."
The return of other students will mean heightened temptation for UVA athletes.
"Once the students come back, I mean the reality of it is, we're still college kids that have been in quarantine for months on end," Snowden said. "And so when students get back there will be that increased temptation to kind of burst the bubble and it will be tougher, but like we kind of talked about earlier, just kind of hunkering down and hard things together — it'll be tough for all of us, but I mean, I think we got to give it a shot and I believe in us."
To be successful, veterans such as Snowden will need to take an increased role policing their teammates.
"The only thing we can control, that's masking, washing our hands, staying socially distant. Being our brother's keeper," junior center Olu Oluwatimi said. "We don't see one of our teammates put their mask on, tell them to put their mask on. If we see them about to do something dumb, try to reel them in. Tell them to stay on the straight and narrow so we can have a successful season and actually get the season started."
Mendenhall and his players still hope that if they handle themselves properly and continue following CDC guidelines, they'll remain coronavirus-free and kick off their season on Sept. 19 at Virginia Tech.
"It's gone from kind of a collective effort to, now it's going to be much more individualized," he said. "That will take a higher level of commitment that we're talking about at least every day if not multiple times a day."