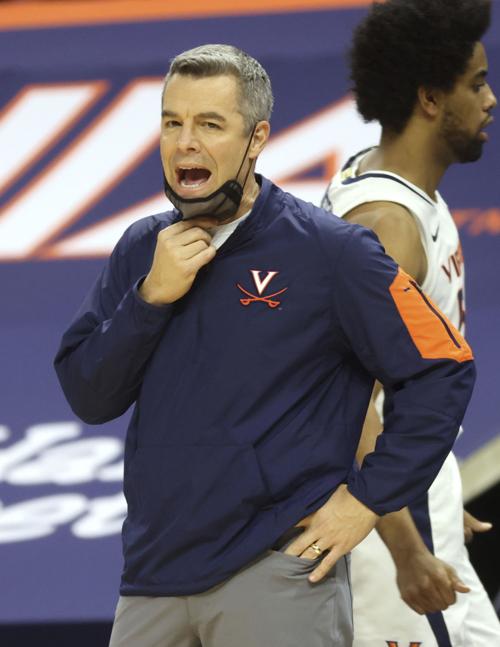 Returning from its longest in-season break in 42 years Tuesday, Virginia's basketball team was workmanlike against an overmatched opponent, stifling on defense, selfless on offense.
Now the Cavaliers need to become exceptional.
"I think our guys came out focused and ready," UVA coach Tony Bennett said after a 76-40 rout of William & Mary. "… I thought we played fairly alert defensively."
Point guard Kihei Clark's quickness ignited the Cavaliers on both ends. He forced many of the Tribe's 17 turnovers with on-the-ball pressure that few others can exert, and his dribble penetration created open shots for teammates such as Rice transfer Trey Murphy (game-high 15 points).
UVA (4-1) shot 50.9%, committed just seven turnovers and had eight players score at least 5 points. Clark, Murphy and freshman Reece Beekman combined for 10 assists.
Clark, Murphy and Casey Morsell were the primary defenders UVA rotated to shadow Luke Loewe, W&M's top scorer at 18.3 points per game. Loewe went scoreless for the first 17 minutes and finished with 5 points on 2-of-10 shooting, 0 for 4 beyond the 3-point arc.
The Tribe (2-3) shot 28%, trailed by 22 points at halftime and never drew closer than 16 after intermission, just the type of no-fuss outing the No. 16 Cavaliers needed.
"I think the biggest thing is they're so disciplined," W&M coach Dane Fischer said of UVA. "They don't give up anything easy, or very, very rarely do, and the hardest thing for us to simulate in addition to that is the length and athleticism that they have. We do it in our practice, and it doesn't look like what it looked like today."
Virginia was playing for the first time since a Dec. 4 victory over Kent State, its longest in-season stretch without a game since 1978, when the Cavaliers defeated Randolph-Macon on Dec. 5 and did not play again until Dec. 28 vs. Providence.
December pauses of 10-14 days for exams and/or the holidays are not uncommon. But 18 days for a pandemic? Not so much.
"I don't even remember the last time we played," forward Kadin Shedrick said after his 10-point, seven-rebound afternoon.
Similarly, W&M had a 16-day, COVID-related layoff. The Tribe marked their return by rallying from 17 points down to win at George Washington, the largest road comeback in program history, but on Saturday lost by 22 at home to High Point.
The pauses caused Tuesday's matchup to be postponed twice and cost the Cavaliers games against Michigan State at home and Villanova at Madison Square Garden.
"I think that quarantine really put a little bit of hunger in us," Murphy said. "We were all so eager to play."
UVA was forced to quarantine after a positive COVID test within the program Dec. 8, the night before its ACC-Big Ten Challenge game against Michigan State. Bennett initially believed the team would have to sequester for seven days, which would have allowed the Cavaliers to keep their Dec. 19 date with Villanova, but the quarantine was extended to 10 days.
During that time, Bennett also agreed to a Dec. 26 game in Fort Worth, Texas against No. 1 Gonzaga, UVA replacing No. 2 Baylor after the Bears opted out because of a virus problem. Yes, Bennett was prepared to play Villanova and Gonzaga on consecutive Saturdays.
Gonzaga alone will be quite the test. The Bulldogs' 5-0 start includes victories over Kansas, Iowa and West Virginia, teams ranked third, fourth and seventh in this week's Associated Press poll, plus Auburn.
That schedule makes the following numbers even more stunning: Gonzaga is averaging 94.6 points and shooting 54.4% from the field.
"I think it would be cool to get a marquee game in before [ACC] play starts," Shedrick said.
Shedrick, Jay Huff and Sam Hauser will have to cope with Gonzaga's size and correct the 14 offensive rebounds that W&M corralled. Clark, Murphy and Morsell will have to confront the Bulldogs' perimeter depth.
Given the ACC's overall tepid start this season — this week marks the first time since December 1961 that no team from the conference is ranked among the Associated Press' top 15 — Saturday may be the most difficult game on UVA's schedule.