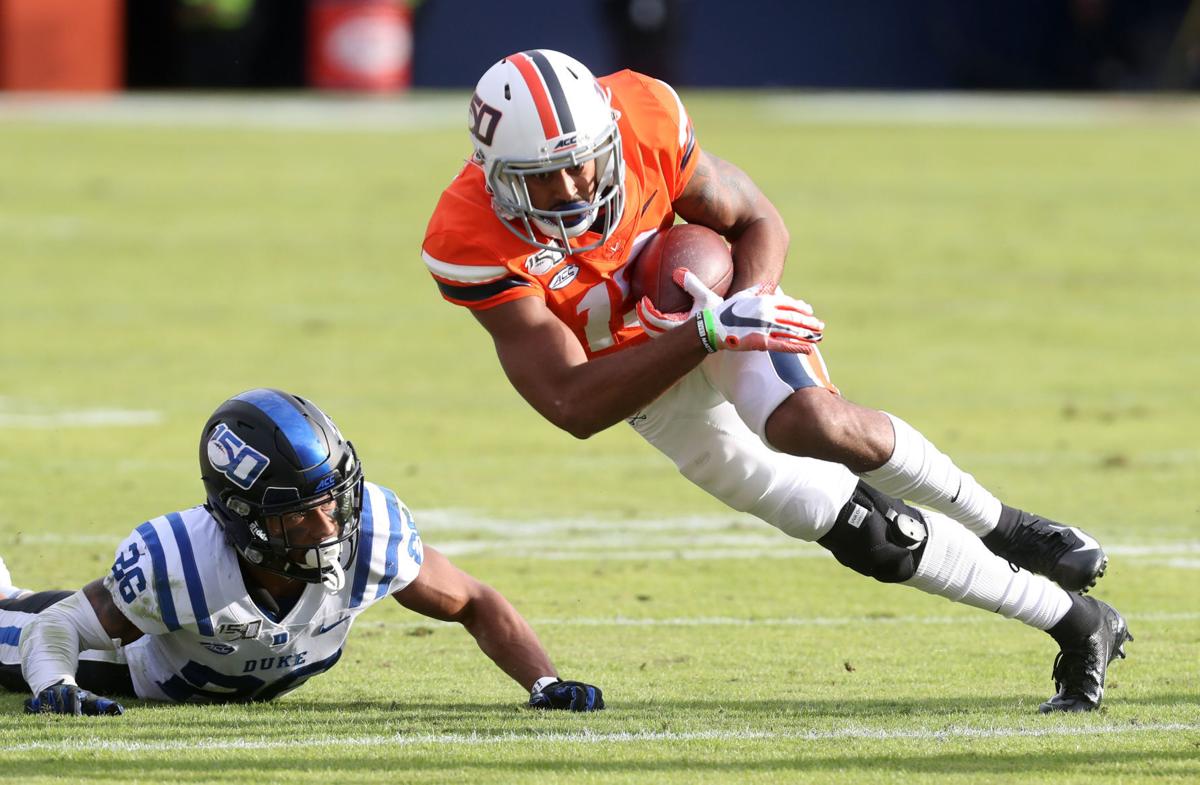 Let's try this one more time.
Virginia expected to open the 2020 football season against Georgia in Atlanta. Then, it had VMI as its first opponent. Next was a season-opener against rival Virginia Tech.
COVID-19 wiped out all of those. Now, the Cavaliers finally kick off the year Saturday at home against Duke.
"The simplest narrative is probably, 'The boy who cried wolf,'" UVA coach Bronco Mendenhall said. "And the players I think realize, now that we made it to a Monday of game week, that this one is real."
When the ACC and SEC announced their pandemic-related schedule adjustments, the Cavaliers' marquee opener against Georgia disappeared. When VMI postponed its schedule to the spring, that game came off the schedule.
And when a COVID outbreak within Tech's program postponed that matchup to December, and the Cavaliers wouldn't have opened until Oct. 3 at Clemson, the ACC stepped in.
The Duke-UVA game originally had been scheduled for Nov. 14, but both teams had an open date this weekend.
That means Virginia has the disadvantage of facing a team with two games under its belt but should get an edge because Duke (0-2, 0-2 ACC) has no current video to study of the Cavaliers. That's made preparation difficult in Durham, N.C.
"Our players are a little irritable about it, to be real honest with you," Blue Devils coach David Cutcliffe said.
Duke lost to Notre Dame and Boston College, giving the Cavaliers fresh, updated material to use to break down Duke.
But Cutcliffe and his staff still are working off last season's UVA video. That was the case for its games against the Fighting Irish and the Eagles, as well.
"It's the craziest thing I've ever been through," Cutcliffe said. "I doubt this has ever happened in college football where a team had three openers, three games where you play where you have no film to study. We know a lot about Virginia, but you're still not looking at the 2020 version of Virginia."
This version of UVA won't have Bryce Perkins at quarterback, and the offense figures to look different with Brennan Armstrong behind center. On the other side of the ball, Cutcliffe said the Cavaliers are "as intricate defensively as anybody we play."
Cutcliffe and his staff normally go into a season with preparation work done for their first four opponents. Virginia wasn't originally part of that mix.
Opening games across the nation have a tendency to be a bit sloppy, often featuring an excess of penalties and turnovers.
With the muddled preparation for this season, dating to the cancellation of spring practice and running right up to the uncertainty of whom and when UVA would finally play, Mendenhall knows that could be the case for his club Saturday.
"I'm certainly expecting some mistakes," Mendenhall said. "It always happens in Game 1. I don't know where they're going to come from. There will probably be more penalties than what I would like, there might be special teams things that maybe there's been a blind spot here or there. There might be a matchup that's more in our favor or Duke's that I haven't counted on.
"It's all the uncertainty of any normal year, the first game of the season, in addition now to all the other protocol challenges we've had, which I just hope is reflected in the enthusiasm to actually play football and to acknowledge and have fun."
His players have built such enthusiasm before — for the Bulldogs, the Keydets and the Hokies.
"Emotionally, we were ready to go," senior wide receiver Terrell Jana said. "We were hyped up. Going into this week, I think we have a good approach again."
This time, it's for the Blue Devils. No more crying wolf.