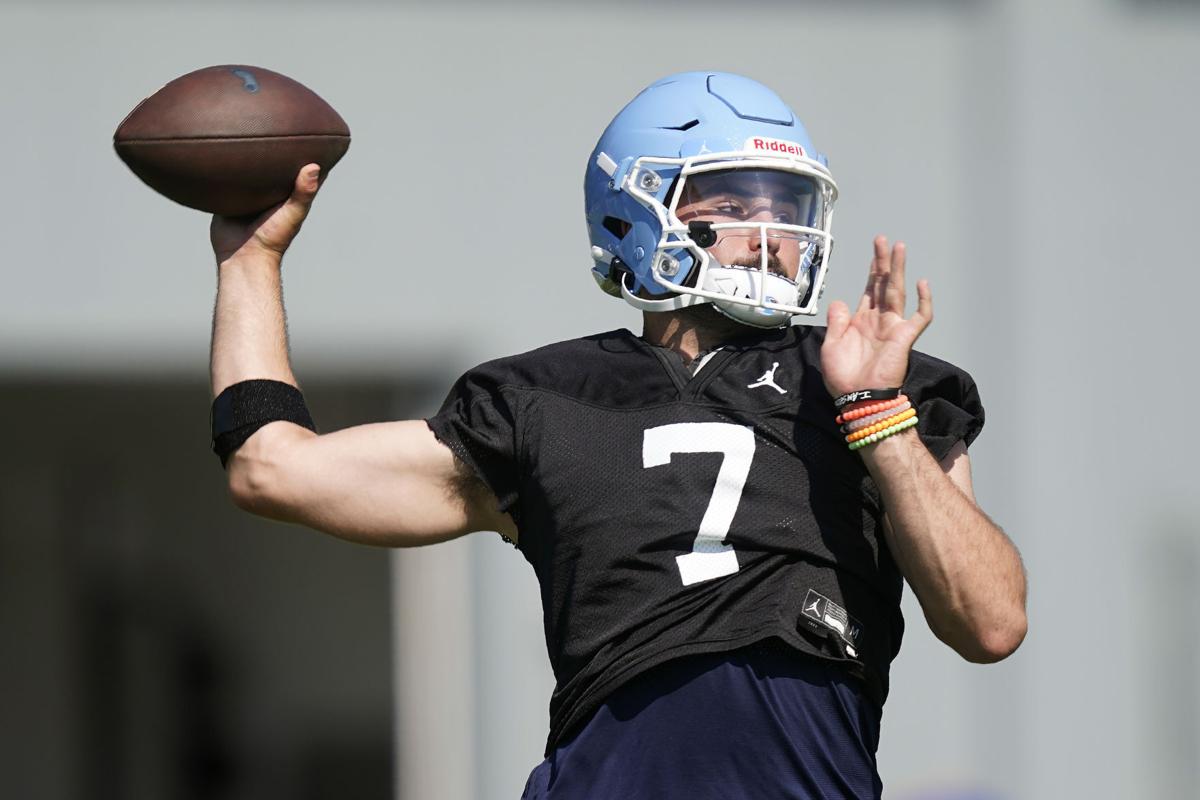 Sam Howell failed to beat Virginia in his first two attempts as North Carolina's starting quarterback, but the losses were hardly his fault.
The potential first-round NFL draft pick has thrown for 796 yards and eight touchdowns in two games against the Cavaliers, with six of the eight touchdowns coming on plays of at least 30 yards. Howell averages 20.9 yards per completion against the Wahoos.
"Not good," Virginia defensive coordinator Nick Howell said. "They've been able to move the ball and score points."
North Carolina posted 31 points in a 38-31 Virginia win in 2019. Last season in Charlottesville, Virginia prevailed 44-41. The Tar Heels eclipsed 500 yards in each contest, as they're the only program to put up 500 yards against UVA in the past two seasons.
Defending UNC's skill players was a significant issue for the Cavaliers in seasons past. On the bright side for Virginia's defense, running backs Javonte Williams and Michael Carter are in the NFL. That's the same story for wide receivers Dyami Brown and Dazz Newsome.
Brown loved facing UVA, posting stat lines usually reserved for video games. The speedy wide receiver caught 17 passes for 442 yards and six touchdowns against Virginia the past two seasons. He's now a member of the Washington Football Team.
Sophomore Josh Downs has proved to be Sam Howell's favorite receiving option with Brown and Newsome gone. He's the only receiver with 10 or more catches this fall. Downs has 16 receptions for a team-high 196 yards and two touchdowns. Tennessee transfer Ty Chandler is the team's new starting running back, and he's accrued 124 rushing yards and a touchdown through two contests
"I think they're really, really good, and I think their guys that are in there look like the next version of who they had before," Nick Howell said.
While UVA's defensive coordinator praised the replacements, the chemistry of the unit, especially the offensive line, looked suspect in the season opener against Virginia Tech. The group mustered just 10 points and 354 yards. Virginia Tech sacked Howell six times.
North Carolina found a better rhythm in Week 2 against Georgia State, posting 59 points on 609 yards. The Tar Heels added 21 third-quarter points against Georgia State, scoring touchdowns on five consecutive drives in the second half.
"That was the first time I felt good about our offense this year and actually felt confident that we were going forward and had some rhythm and were all on the same page," North Carolina coach Mack Brown said.
Sam Howell improved from a shaky, three-interception performance against the Hokies. He threw for 352 yards and three touchdowns against Georgia State.
Perhaps most notably, Howell also used his legs to rush for 104 yards and two touchdowns on 11 carries. Brown and offensive coordinator Phil Longo raved about Howell's offseason work in the weight room to be better prepared to run the football this fall.
"He's a valuable runner for us, and that's obviously going to be a huge part of our running game this year because of the two guys we lost," Brown said. "And that's good, and that's OK. We had Vince Young and Colt McCoy both at Texas who were valuable runners for us and ran for a bunch of yards."
Virginia feels better equipped to stop Howell this fall. The Cavaliers' defense is healthy and enters Saturday's matchup coming off strong showings against William & Mary and Illinois. UVA ranks fourth nationally in scoring defense — behind Auburn, Georgia and Clemson — with 7 points allowed per game. The Cavaliers are 21st nationally and fourth in the ACC in passing efficiency defense.
To beat UNC for a fifth consecutive season, Virginia needs its defense to build off the first two weeks of this season against one of the best quarterbacks in college football.
"We've seen a lot of dual-threat quarterbacks in my time here, and we've practiced against a lot of dual-threat quarterbacks here, and I think we're going to be able to cage him in and contain him well," Virginia defensive end Mandy Alonso said.