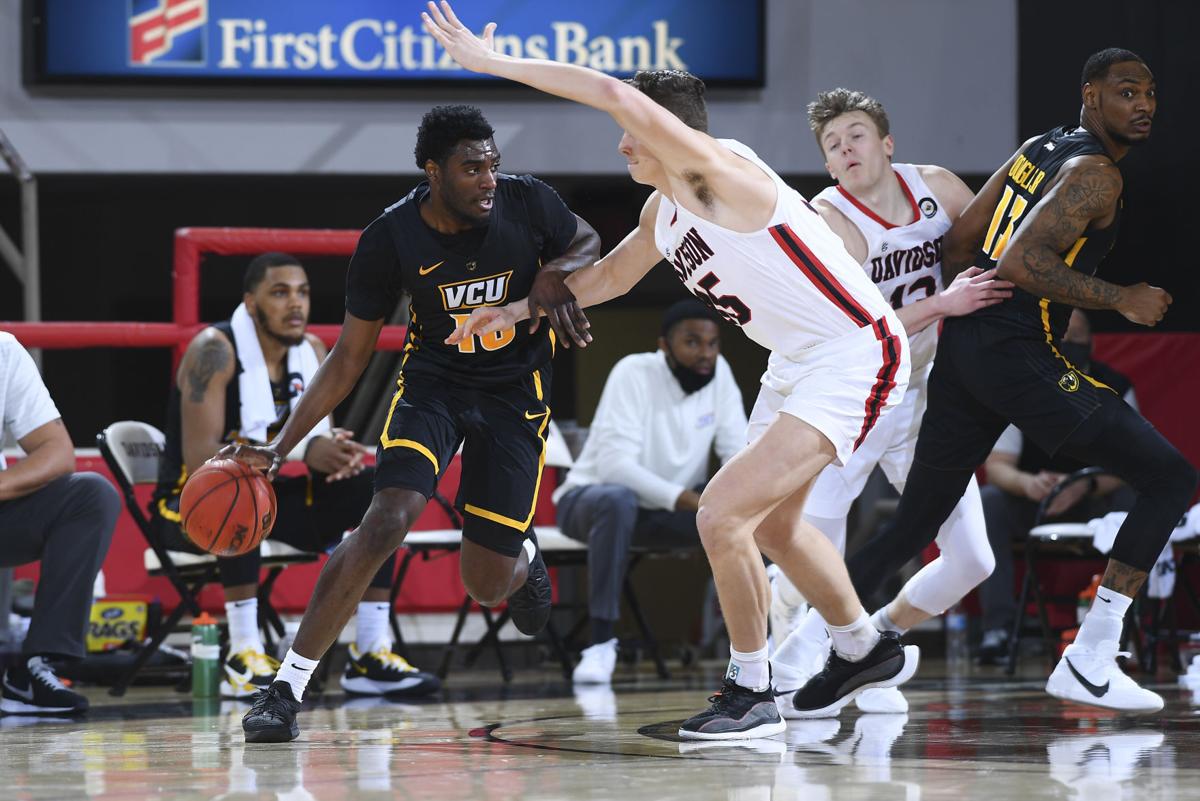 DAVIDSON, N.C. — Already hurt by the absence of leading scorer Bones Hyland, VCU on Saturday at Davidson encountered another injury to a key piece.
Vince Williams, a starting wing for the Rams who's enjoyed the best season of his career, suffered a sprained left ankle midway through the second half against the Wildcats.
He exited the game, and did not return.
Dennis Williams, VCU sports medicine director for men's basketball, examined Williams on the bench for a time before ice was applied to the ankle.
VCU coach Mike Rhoades said Williams would get evaluated by VCU's Dr. Seth Cheatham and Dr. Thomas Loughran upon the Rams' return to Richmond.
"It's a concern, we got to make sure we have some time here to get that right," Rhoades said.
Williams suffered the injury while trying to plant on his left foot on a VCU offensive possession. His foot slipped, and he twisted his ankle.
The game paused as he skipped off, in discomfort.
Williams, who has battled multiple injury issues throughout his career, had played in all 23 of the Rams' games this year, and started 19.
The junior is VCU's second-leading scorer, behind only Hyland, at 11.1 points per game. He's tied for the team lead with 5.2 rebounds per game.
"Vince is a tough cat, so he'll be ready to go," Rhoades said. "But we got to make sure we take care of him in the next couple days."
Hyland, who is averaging 19.2 points, suffered a sprained right foot against George Mason on Feb. 20 and missed the Rams' game against Saint Louis last Tuesday. Rhoades said after the Saint Louis game that Hyland "should be ready to go" for the Davidson matchup, but also expressed that he wouldn't play Hyland if the sophomore wasn't ready.
The Wilmington, Del., native sat again against the Wildcats. Rhoades said that Hyland was still experiencing some pain.
"He had a couple good days, but there were still some lingering effects there," Rhoades said. "So we had to shut him down. We have some basketball ahead of us, and we need him healthy."
Hyland is getting the full weekend off to recover, including Friday, Saturday and Sunday.
He'll then do some activity on Monday, Rhoades said.
"But he'll keep doing his rehab," Rhoades said. "And you got to rehab and you got to be in the training room like it's practice and a game. That's how intense you got to be about it so you're doing it right. He's got to do that through the week to get ready."
Freshman forward Mikeal Brown-Jones also left Saturday's game midway through the second half and didn't return because of his left hand. Rhoades said Brown-Jones dislocated a finger in the hand earlier in the week.
Brown-Jones played with two fingers on the hand taped.
"I guess he got it hit there," Rhoades said. "He'll be OK. He's a tough kid."
VCU was without junior guard KeShawn Curry for a second game Saturday as well. Rhoades said in an interview with Ram Radio's Robby Robinson before the Saint Louis game that Curry's brother was killed on Feb. 20.
Curry, Jacksonville, Fla., native, has been with family since. It is not yet known when he will return.
"We'll see, we'll see," Rhoades said. "I mean, he's with his family and our thoughts and prayers are with him. And he already knows we all want him back. ... But he's taking care of [his] mom right now."
The Rams will have six days off, before playing in the quarterfinals of the Atlantic 10 tournament at 3:30 p.m. on Friday.
(804) 649-6442
Twitter: @wayneeppsjr