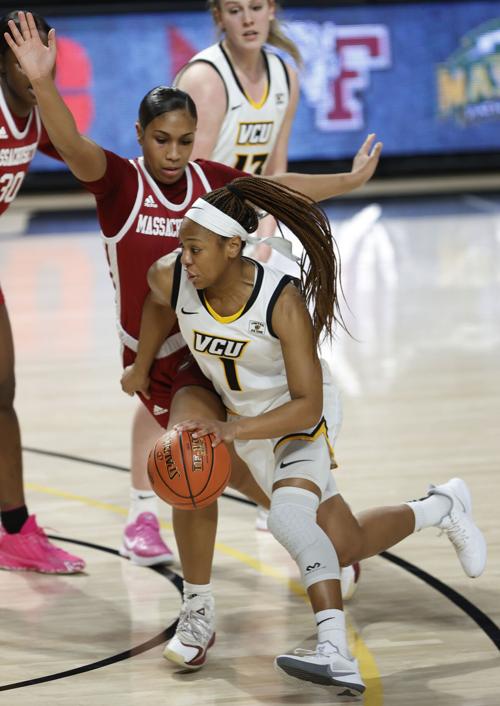 VCU star Taya Robinson will be making a return.
After a torrid run that led the Rams to their first-ever women's basketball conference tournament title last month, the former Huguenot standout will use the extra year of eligibility granted to winter athletes in the midst of the COVID-19 pandemic to play with VCU for a fifth season. The Rams announced the news early Monday evening. 
Robinson, a 5-10 guard, averaged a team-high 14.3 points, registered team highs of 42 steals and 16 blocks, and shot a team-high 34.8% from 3-point range this past season. She also averaged 6.0 rebounds and 2.2 assists.
In the Atlantic 10 tournament, which was played on VCU's home floor at the Siegel Center, Robinson averaged 19.8 points, 6.8 rebounds and went 15 of 25 from 3-point range over the course of four games to lead the Rams to the title and an automatic berth to the NCAA tournament. She was named the A-10 tournament's most outstanding player.
Before that, for her regular-season performance, Robinson was an A-10 all-conference first-team pick. She was also an A-10 all-defensive team selection for the third year in a row.
"She's a complete player. And she's a phenomenal leader. So there's big smiles and hugs, because I think Tara has absolutely earned it," VCU coach Beth O'Boyle said when asked about Robinson's success ahead of the NCAA tournament last month.
The Rams' season ended with a 63-32 loss to Indiana in the first round of the NCAA tournament. It was the program's first trip to the Big Dance since 2009.
Robinson was part of a 2017-18 freshman class that went from a record of 7-22 its first year to perennial A-10 contender status each of the past three seasons. VCU's trip to the A-10 title game this past year was the program's third appearance there in a row.
Three other members of that class — Tera Reed, Sofya Pashigoreva and Olga Petrova — have not yet decided on using the extra year of eligibility available to return. Another member of the class, guard Madison Hattix-Covington, was already due to return. She redshirted her freshman season and was a redshirt junior this past year.
Robinson, in total, over 108 career games including 105 starts, has averaged 11.3 points, 4.8 rebounds, 2.1 assists, 1.2 steals, and has shot 35.4% from deep, over 29.6 minutes per game. 
(804) 649-6442
Twitter: @wayneeppsjr