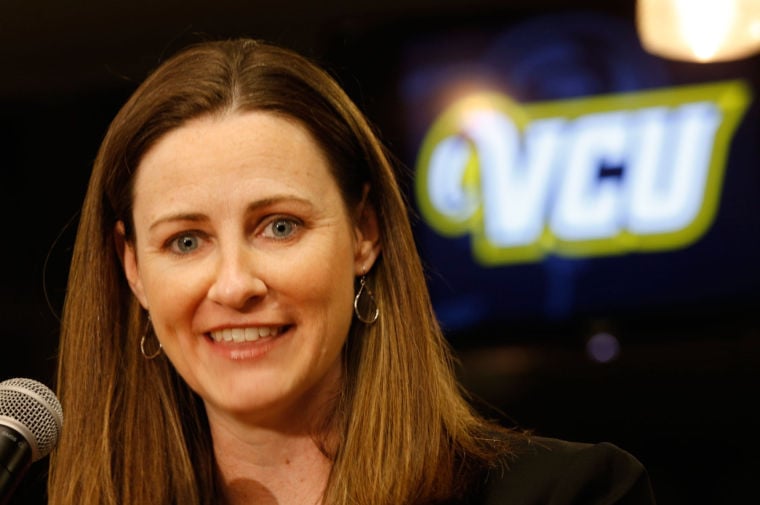 Beth O'Boyle, a Type A personality, hopes to create a Type D women's basketball team at Virginia Commonwealth University. That's "D" as in defense and depth.
O'Boyle, introduced Tuesday as the Rams' third head coach in four years, described herself as "a big defense-wins-championships coach." She said she will immediately introduce her man-to-man philosophy to her new players.
To all of her new players.
"When you play man-to-man defense at the level we're going to want to play it, depth is important," she said. "We're going to want to keep fresh, strong players on the floor."
O'Boyle, a 37-year old native of Rockville, Md., constructed a 42-51 record in three seasons at Stony Brook of the America East Conference.
She increased the Seawolves' win total by 10 in 2013 (4 to 14). She duplicated that feat in 2014 (14 to 24).
Her most recent Stony Brook team held opponents to 60.5 points and 39.7 percent marksmanship while establishing a program record for victories in a season.
The Rams under O'Boyle likely won't duplicate the bombs-away mentality established under former coach Marlene Stollings. VCU launched 762 3-pointers in 2014. Stony Brook launched 422. O'Boyle said she favors a motion offense that permits each player a degree of athletic and decision-making latitude.
Each party impressed the other during a courtship that began earlier this month when Stollings departed after two seasons to accept the head coaching position at the University of Minnesota.
Rams athletics director Ed McLaughlin said O'Boyle, energetic and enthusiastic, "quickly rose above everyone else" during the interview process "not only because of what she has done, but because of who she is as a person and where she believes she can take us."
O'Boyle, who agreed to a five-year contract, said she was captivated not only by McLaughlin's vision of the future of VCU athletics but also by the commitment of university president Michael Rao. She said she hopes her team will add an octave or two to the "buzz" that surrounds VCU's men's program.
O'Boyle conducted her first formal meeting with her new team Tuesday afternoon. Several players attended the introductory media conference at noon at the Siegel Center.
Isis Thorpe, a freshman guard who last season averaged 12.2 points and 24.2 minutes, said she was intrigued and excited but also apprehensive.
"Certainly it's going to be a little bit of a challenge," Thorpe said. "A new coach means a new system and a new way of doing things. Right now, no one really knows what to expect. Just adjusting, that will be the big thing."
O'Boyle understood the players' anxiety.
"I talked (Monday afternoon) to my team at Stony Brook," she said. "I cried. They cried. Change like this is always hard. It's hard for everyone."
McLaughlin said he thinks O'Boyle's arrival will bring steadiness and security to a program accustomed to upheaval.
"We talked a lot about the importance of stability," McLaughlin said. "We talked a lot about wanting a coach who wants to be here." He said he is confident that O'Boyle sees VCU "as a destination, not a steppingstone."