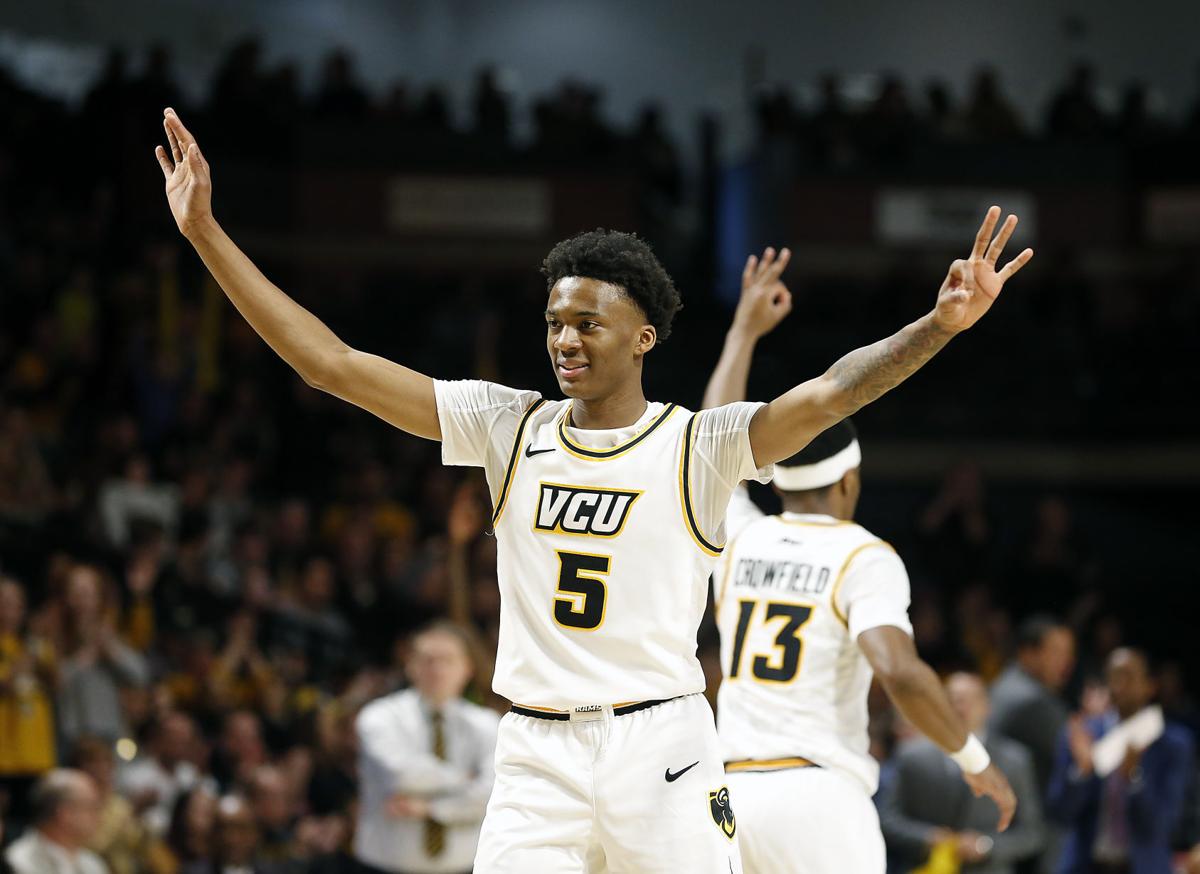 For Nah'Shon "Bones" Hyland, Jan. 14 was the day it really clicked.
VCU took on a 13th-ranked Dayton that night in a packed UD Arena. And the freshman Hyland, in the fourth Atlantic 10 contest of his career, had a standout end to the first half.
He hit three baskets in a row, including two 3s, that helped the Rams grab the lead back for a time.
They went on to fall by 6, but Hyland, a point guard, finished with 16 points, which was then a career high. And he took away added assurance about his ability to compete at the college level.
"I knew that, sooner or later, I was going to get comfortable and be able to perform," he said.
From that point, Hyland scored in double figures in eight of VCU's final 13 games. He started the team's final seven games. He shot 43.4% from 3-point range overall, which ranked third in the league, and 46.5% in conference play.
He was an A-10 all-rookie team pick, which seemed a foregone conclusion.
Hyland, as a sophomore, is readying for what will be an even more prominent role. He's VCU's best returning scorer at 9 points per game, after the transfer of Marcus Santos-Silva (12.8 ppg) to Texas Tech and departures of seniors De'Riante Jenkins (10.7) and Marcus Evans (9.8).
The Rams, who began official preseason practice Wednesday, plan to use him as more of a combo guard this year, allowing him to take greater advantage of his skillset. And with a team that skews much younger than a year ago, it seems he's shaping up to be a leader, too.
"I'm very demanding of him, and he's responded to it," VCU coach Mike Rhoades said. "He's not perfect, we're not perfect, but what I like about it is he's growing because he wants to get better."
To Rhoades, one of the qualities of last year's team that helped Hyland highly was that he didn't have much pressure on him early in the year. He stepped into a roster with five seniors, including Evans at point guard.
Hyland was pushed into significant playing time later in the season due to injury, but he came off the bench for most the of the season. He averaged 15.7 minutes in nonconference play, and 24.1 in A-10 play.
So the gradual ease-in is something Rhoades believes was a benefit, before Hyland took off to close the year.
"He had a lot to learn, and he learned a lot, and he's still learning a lot because he's still a young player," Rhoades said. "You want to acquire talent, then you want to develop that talent, and I think he's developing and getting better and better."
One of Hyland's biggest goals of the offseason was to increase his strength. He was in a weight room essentially every day when he went back home to Wilmington, Del., after the season, and that continued upon return to VCU.
Hyland has seen the results, both in strength and explosiveness. He's up to 170 pounds, from about 164 last year. He's also increased his vertical jump four inches, from 32 to 36.
On the court, learning opponent coverages has been a focus. It's something that started last season, as he began to garner more attention.
Hyland will get more time off the ball this year — at the traditional shooting guard spot — with freshman Ace Baldwin or sophomore Tre Clark in the more traditional point guard role. The adjustment will allow Hyland to be more of the scorer instead of having to run the offense and facilitate, too.
"Having him off the ball, where he doesn't have to do all the heavy lifting all the time, allows him to be able to use screens and spot up because he's such a really good shooter, too," Rhoades said.
Freshman Josh Banks said that Hyland is a tremendous leader as well. It's a role Hyland was already used to, from his teams growing up.
Hyland plays with great joy, Rhoades said, and it carries over to his teammates. He's a spark plug.
"I just try my best to try to stay up on top of my teammates and just give them that confidence boost," Hyland said. "And you never know, a player can have the game of his life just from that little boost I gave him."
So far, Hyland said his favorite thing about this year's team is how everyone clicks. He's confident in the group's abilities.
As for his own sophomore campaign, Hyland is loath to prognosticate too much. But a big follow-up to his productive freshman year is in his sights.
"I would say it's really something to look forward to this year," he said, "and it's definitely going to be like a bomb dropping."
(804) 649-6442
Twitter: @wayneeppsjr