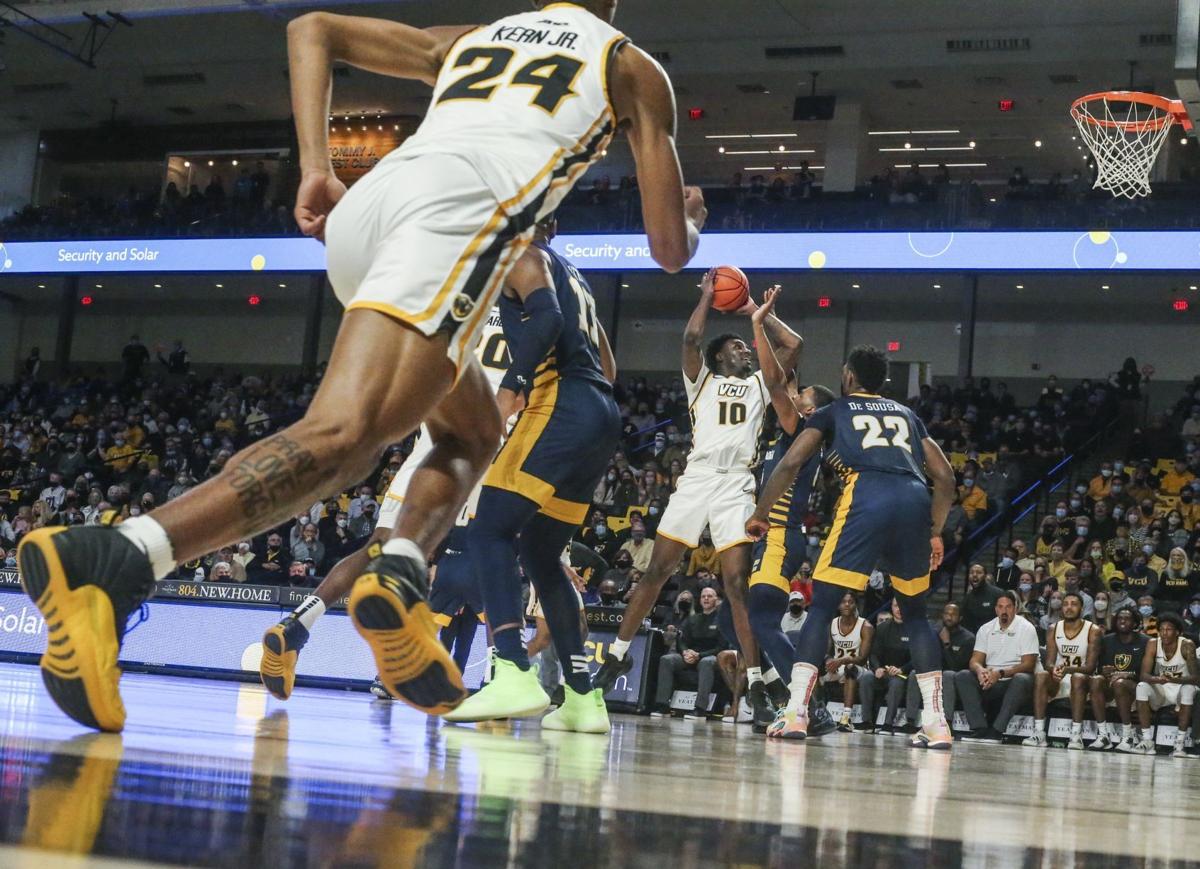 For VCU, the principles of offense versus zone defense are early points of offseason emphasis.
"We worked really all summer [on it], right?" coach Mike Rhoades said to a nodding KeShawn Curry, seated next to during a precursory Battle 4 Atlantis press conference Tuesday afternoon.
For Rhoades and his team, a key point for countering zones is a sweet spot between aggression and comfort. And if zone offense is installed at the last minute, players don't experience either, he said.
Months ago, the Rams began trying to refine their zone offense. So it could be said that, in this big week — which will feature three games in three days against stout competition — VCU has been preparing for its Battle 4 Atlantis opener Wednesday night against Syracuse for months, too.
Coach Jim Boeheim's 2-3 zone defense is a signature component of the Orange's style. For a Rams team that is still looking for more production on offense, trying to crack that zone will be the assignment.
VCU (2-2) and Syracuse (2-1) tip off at 5 p.m. Wednesday from Imperial Arena in Paradise Island, Bahamas. The game will be broadcast on ESPN2.
"We got to be better offensively, we all know that," Rhoades said. "We got to have more efficient numbers offensively. We got to get each other better shots. And then, most importantly, we can't have careless turnovers."
One reason the Rams emphasize zone offense so early is that players don't see much zone defense before college. Rhoades also knows that, with VCU's desired high pace of play, teams may try to switch to zones to slow the game.
There are zones like Syracuse's, he said, that are different from others. But the Rams often work on attacking such defenses.
"You got to be calm against a zone, but aggressive," Rhoades said. "And when people say, 'What do you mean by that?' Still be you, still be the player that you are, but understand now the angles. Understand the length. Understand where the openings are."
Wing Vince Williams noted the importance of patience against the Orange. He knows Syracuse defenders will be able to cover space.
A key objective for the Rams will be feeding the ball to their post players in the middle of the zone.
"And, hopefully, our bigs can make the right decisions," Williams said. "Because the bigs are going to play a big part in this game."
Syracuse, like VCU, is coming off a loss. Colgate countered the zone effectively Saturday, shooting 43 3-pointers (making 18) to beat the Orange 100-85 on their home court.
Asked if anything can be gleaned from that outing for his team, Rhoades said that once VCU found out that its opening Battle 4 Atlantis opponent would be Syracuse this past summer, he watched games in which opponents had efficient outings against the Orange.
"And we prepared on that throughout the preseason," he said. "So you do things like that against all your opponents. But, yeah, you can definitely take things from teams that have success against Syracuse, as well as teams that don't have success, for sure."
The Syracuse offense has continued to get quality play from 6-6 guard Buddy Boeheim, coming off his strong finish to last season. He's averaging a team-best 20 points. Point guard Joseph Girard has made 13 of 16 3-pointers, a nation-best 81.3%. He's averaging 19.3 points.
Jim Boeheim, Buddy's father, lauded a VCU defense that'll try to slow those two — and also Jimmy Boeheim, another son on the team, who's averaging 14.3 points.
"They're really, really good defensively," Jim Boeheim said. "They really get up and down the court. They can come at you with a lot of different defensive looks, and attacks."
For the Rams, Wednesday through Friday will be one of the most meaningful stretches of the season. A team that has been strong on defense, but that is still trying to find its way on offense, will encounter three big opportunities.
How they respond could speak volumes.
"We're excited to be here," Rhoades said. "And ready to get playing."
(804) 649-6442
Twitter: @wayneeppsjr