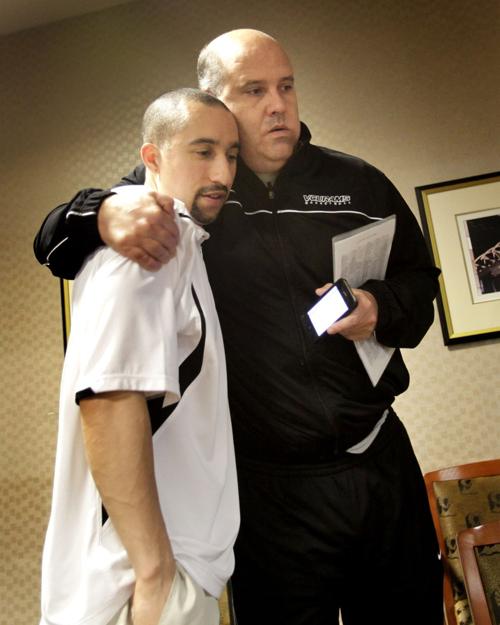 This story is the second in a series looking back at VCU's 2011 run to the Final Four, and the impact of it, 10 years later.
Mike Rhoades can remember Selection Sunday 2011 as if it were yesterday.
It was six days after the Rams' loss to Old Dominion in the Colonial Athletic Association tournament final. They didn't know their tournament fate, their hopes hanging on a possible at-large bid from the selection committee.
With the uncertainty swirling, coach Shaka Smart didn't have the team meet to watch the selection show, but just invited the freshmen to watch in his office.
As the show began, Rhoades — VCU's current head coach and then one of Smart's assistant coaches — bounced back and forth between his office in the Siegel Center and Smart's office. As names were being revealed, and VCU not one of them, Rhoades looked at Smart and shook his head.
Rhoades took a walk back to his own office.
"I heard this roar," Rhoades said. "We were in the second floor of Siegel. And it was like deafening. And it was just everybody going nuts. We were running up and down the hallway.
"And, 'We're in the Dance, we're in the Dance!' And Joey [Rodriguez] called me. He's like, 'What do we do? What do we do?' It was awesome."
After the wait and the wonder about whether VCU would get into the NCAA tournament, the team did as one of the last four at-large selections, playing in a new feature that year: the First Four.
While the Rams' inclusion surprised some, it was a special moment for those in the program. And it began a wild, 2½-week journey.
"Looking back on it, that's probably one of the coolest experiences I ever had," said Rodriguez, a senior guard in 2010-11. "Just being such a big-time basketball fan, and not knowing you're going to get in the tournament and watching and seeing yourself actually get in, it's pretty remarkable."
In the First Four, VCU was a No. 11 seed set to play No. 11 Southern California in Dayton, Ohio, for a chance to face Georgetown in the round of 64.
The previous week, after the loss to ODU, Bradford Burgess remembers having conversations with teammates about how they felt they could make some noise in the tournament — if they could get in.
"I'm not going to sit here and say I knew we'd go to the Final Four," said Burgess, a junior guard in 2010-11. "But I knew we could win a couple of games."
VCU's profile heading into Selection Sunday included three wins against teams in the top 50 of the RPI rankings: Old Dominion, George Mason and UCLA. The Rams' RPI was 49. They had a 12-8 record away from the Siegel Center.
But coming off four losses in five games to conclude the regular season, and the loss to ODU in the CAA tournament, the Big Dance was a big question mark for the Rams.
Jamie Skeen admits he didn't expect the Rams to be chosen. So he headed out to Great Wraps for food.
He was sitting down eating a buffalo chicken wrap when his phone began buzzing.
"And I can't get to it right now because I'm like, 'Man, I got buffalo chicken sauce all over my hand.' And this wrap is really, really messy," said Skeen, a senior forward in 2010-11. "And so I'm like, 'I'll just get it later.'"
But the notifications continued. Skeen thought it might've been an emergency so he finally went to the restroom to clean his hands. When he looked at his phone afterward, he saw messages of congratulations.
At first, he thought, "What's going on?" But as he looked deeper, he realized VCU made the NCAA tournament.
He didn't even finish his food, but went straight to the Rams' locker room.
Ed Nixon was watching cartoons as the selection show unfolded, "Ben 10," he believes. He was roommates with Rodriguez, Brandon Rozzell and Darius Theus. From what he recalled, Rozzell was in his room, perhaps playing video games. Theus, a Portsmouth native, was on the road headed home.
Rodriguez was watching the selection show and erupted when he saw VCU pop up.
"Like started running through the apartment like, 'Yeah, we got in, we got in!'" Rozzell said. "I was like, 'Man, stop playing.' Thought it was like a prank or something."
Theus got a text that the Rams were in the tournament, and then got word that they would have a team meeting in an hour.
A trip to see his parents rerouted back to Richmond. "I U-turned so quick, speeding back to the gym trying to make it," he said.
Rhoades said VCU's selection is one of his favorite moments of his basketball career, as a player and a coach, seeing the excitement that permeated throughout the program.
But some criticism about the Rams' selection wafted about from national commentators, namely ESPN's Jay Bilas and Dick Vitale. Vitale was incensed that VCU and UAB made the field over Colorado and Virginia Tech.
"There was a reason why none of us brought up UAB and VCU as having a chance to get in," Bilas said on air. "It's because they had no chance to get in."
The doubt added fuel to VCU's fire, Skeen said.
"Coach Smart spun it," Rhoades said of the commentary. "And he's like, 'It doesn't matter what they say. We're in. Now what we can do about it is go beat everybody and make a statement about who we really are.' And he used that through and through."
The thing about being an underdog, Skeen said, is that there's no pressure. The questioning of VCU's selection made the Rams hungrier.
With that, they headed off to Dayton's UD Arena to play USC in the First Four three days after Selection Sunday.
"In my mind, I'm thinking like, 'Yo, man, they messed up letting us in. Because we're about to do something,'" Burgess said. "Again, I didn't know we were going to make the Final Four. But I just was confident that we could win a couple of games, maybe make a Sweet 16, maybe squeeze out an Elite Eight.
"But I just knew that we were going to be a problem in that tournament."
(804) 649-6442
Twitter: @wayneeppsjr