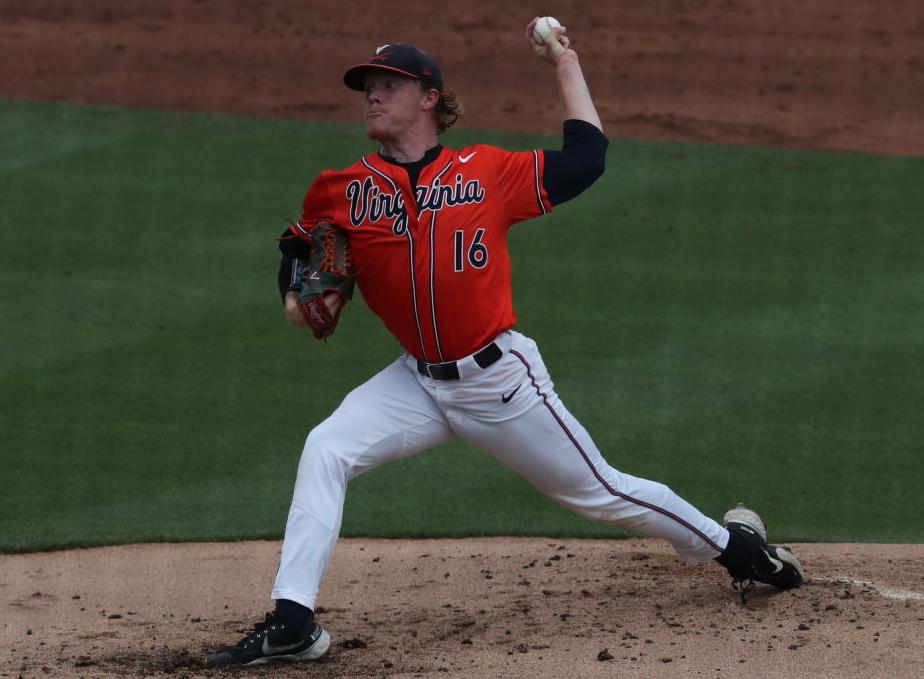 COLUMBIA, S.C. — Andrew Abbott hadn't allowed an earned run or extra-base hit since April 23.
South Carolina slugger Wes Clarke made sure to break that streak in Friday's NCAA regional opener.
"He's proven why he's one of the great hitters in college baseball," Virginia head coach Brian O'Connor said. "You have to make your pitches against him. You can't make mistakes, because an elite hitter like that, he's gonna make you pay and he had a nice day for them."
Behind a 2-for-4 day from Clarke that included a rally-sparking double and a first-inning solo home run, South Carolina scrapped together four runs against UVA's ace, who hadn't allowed an earned run in any of his last four starts. The four runs were just enough to take down O'Connor's club, as South Carolina opened the Columbia Regional with a 4-3 win over Virginia.
The loss breaks UVA's streak of nine consecutive wins in NCAA regional openers. The Cavaliers have never advanced to a super regional without winning the first two games of a regional.
UVA will face the loser of No. 11 seed Old Dominion and Jacksonville on Saturday at noon.
Clarke's NCAA-leading 23rd home run, which came in the bottom of the first with two outs, wasn't barreled up perfectly, but the powerful hitter got enough to lift the ball over the right-field wall to give South Carolina an early 1-0 lead.
Virginia answered in the third with a pair of home runs of its own. The long balls game from two bats in the same family.
Freshman Jake Gelof ripped a ball over the left-field wall to knot the score at 1-1. It was the team's first of two home runs off junior Brett Kerry, who had only allowed four home runs in 52 innings this spring prior to Friday's game.
Two batters later, junior Zack Gelof deposited a ball over the right-field wall to give the Wahoos a 2-1 edge. It's the second time in the last three games that both Gelof brothers homered in the same game.
Kerry left the game in the third inning due to a neck cramp. He threw just 50 pitches and allowed a pair of earned runs in 2⅓ innings.
UVA added a third run in the fourth on an infield single from Zack Gelof, which scored Jake Gelof, who had walked earlier in the frame.
The Gamecocks finally strung together a rally in the sixth inning. George Callil drew a leadoff walk, but Abbott retired the next two batters.
That brought Clarke back up the plate. He won the first battle with Abbott, hitting a home run. Abbott won at-bat No. 2, striking Clarke out looking. In the third matchup between the elite college players, Clarke emerged victorious.
The powerful right-handed hitter smacked a ball into the left-center field gap for a ground-rule double. The Gamecocks were a tad unlucky the ball bounced over the wall, as Callil would've scored easily had it stayed in the park.
"I missed my spots on both pitches, but he's a great hitter," Abbott said. "You got to give him his credit. He hits mistakes, and that's what good hitters do."
Abbott stayed in the game for the next batter, left-handed hitter Josiah Sightler. Again, the Gamecocks recorded an extra-base knock. A two-RBI double to right field tied the game.
After Sightler's hit, O'Connor had seen enough, bringing senior Kyle Whitten in from the bullpen.
But he struggled. Colin Burgess singled through the left side after Whitten issued a walk, and South Carolina took a 4-3 lead with runners on the corners and two outs. All four runs were charged to Abbott.