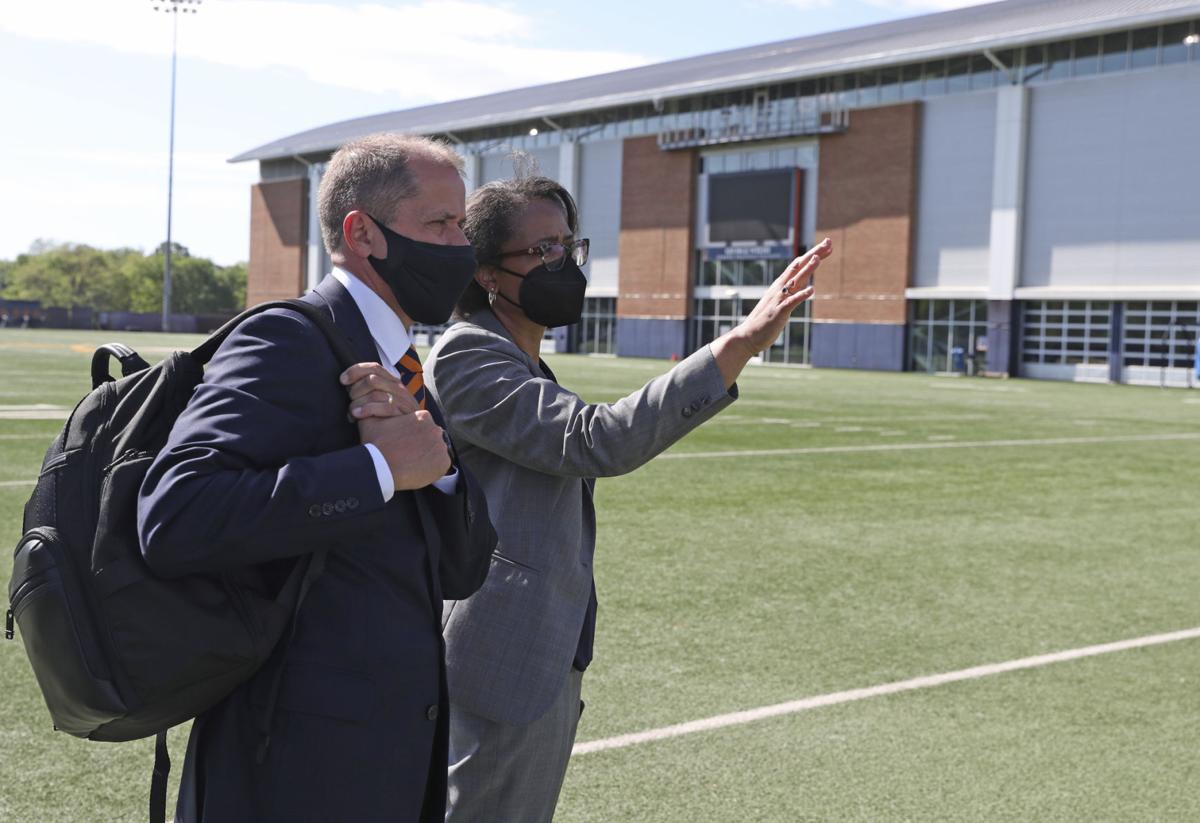 Three months after college administrators across the commonwealth urged Gov. Ralph Northam to take action on name, image and likeness legislation, Northam has addressed the issue in his proposed budget, fast-tracking legislation to regulate NIL deals for athletes at Virginia schools.
"The administration worked closely with several universities on this issue," said Alena Yarmosky, a spokeswoman for the governor. "We feel it is important to provide consistency and allow Virginia universities to remain competitive. State NIL language also adds a layer of protection for students by reinforcing the requirements for athlete representation in the commonwealth."
The proposed legislation, tied to the new budget proposal to allow it to be considered this month, would align schools across Virginia under one policy for athletes to profit from selling their name, image and likeness, though it does include limitations that would be prevent NIL deals that promote gambling, alcohol, drugs, weapons and adult entertainment.
The legislation would also ban pay-for- performance deals and NIL offers designed to entice an athlete to enroll at a particular school.
More than two dozen states have already passed NIL laws. The governor's budget could be passed as early as this week during a special session of the General Assembly.
Had Northam not included the NIL legislation at this time, it would have waited until January for the assembly's consideration.
In May, officials from universities and colleges across Virginia sent a letter to Northam — written by UVA athletics director Carla Williams — urging him to issue an executive order granting athletes NIL rights.
On June 30, the NCAA said it had suspended its restrictions on NIL deals for athletes, while requiring them to follow their state laws.
At UVA, the school's compliance department is responsible for monitoring NIL deals.
Athletes can submit their opportunities through a phone application called Inflcr, for the athletic department to review.
"It's a challenge for sure, but it's also an opportunity," Williams said. "We've been planning for this since before the pandemic. … We're learning along the way and hopeful it'll be a good thing for our student athletes."
As of last month, Williams estimated fewer than 50 the school's 750 athletes had already submitted NIL deals for review.
During ACC football media days last month, commissioner Jim Phillips and the league's coaches expressed a desire to have a national standard to keep the playing field level between schools in different states.
"I think there's incredible opportunities for our student-athletes coming. But we need a national standard," Phillips said. "Everyone expects us to play a national competition schedule. We go all over the 50 states. Not having a national standard will cause major disruption.
"You are already seeing across the country the wide-ranging disparity at times, depending on what state you're in, what people are able to do."