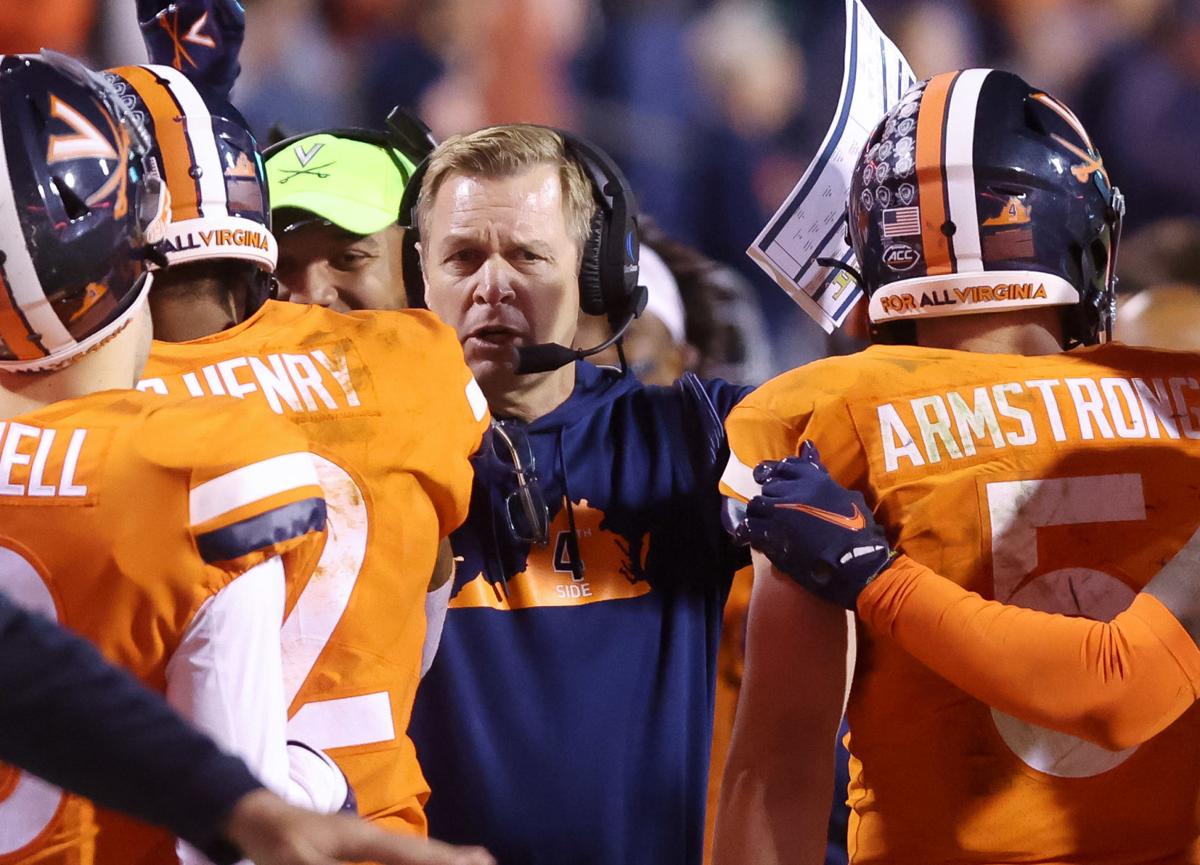 CHARLOTTESVILLE — Given his druthers, Virginia coach Bronco Mendenhall would prefer to win football games 13-6 rather than 45-42. He admittedly cringes a bit — even after victories — when his team is involved in games with more than 1,200 combined total yards, as it was Saturday night.
Mendenhall, a former defensive coordinator who built a defense-first program in 11 seasons at BYU, is not associated with a high-scoring brand of football that the Cavaliers have exhibited in most of their ACC games this season.
"What I know right now is wins are hard to get," Mendenhall said Monday during his weekly press conference. "And in those rare occasions where we might win 7-3 or 7-0 and it's a defensive touchdown that we score on, yeah, I'll relish those moments.
"But in today's world of college football, those are few and far between."
This past Saturday night, Mendenhall's team won its fourth straight game, holding off Georgia Tech 48-40. The Cavaliers allowed five touchdowns — three of 35 yards or longer — and 570 yards. But it wasn't the first time UVA experienced a shootout.
It lost 59-39 at North Carolina, won 34-33 at Louisville and posted Saturday's points-infused score.
Virginia (6-2) is blessed with an offense that can win such games and has a quarterback in Brennan Armstrong whose video game-style statistics help take pressure off the defense.
Still, Mendenhall's teams set statistical goals — pillars — and for the defense. One key one is allowing 24 points or fewer in a game.
UVA has achieved that in 30 games the past six seasons, and it's gone 24-6 in those games.
That hasn't been happening as often as Mendenhall would like this season. The Cavaliers shut out William & Mary and Duke and held Illinois to 14 points. In every other game, their opponent has scored at least 28.
Overall, Virginia's defense is tied for eighth in the ACC allowing 26.4 points per game, and ranks 12th in the 14-team league in total defense, yielding 432.8 yards per game.
"It's not Bronco football. It's not what we're taught," senior safety Joey Blount said. "It's not what UVA football is or UVA defense, especially."
Saturday night, Mendenhall will be back in Provo, Utah, back at BYU, where he forged the identity of a defensive-minded coach. But senior linebacker Nick Jackson said that image is too superficial. It isn't that Mendenhall values defense — what coach doesn't? — it's that he appreciates and demands toughness.
"It's just Coach Mendenhall. He wants a bloodbath," Jackson said. "He wants it to be physical. That's his personality."
That trait, Jackson said, shows up on both sides of the football.
"Our offense? They're scoring with physicality," Jackson said.
His fondness for physicality becomes evident, Mendenhall believes, through his focus when he speaks to the team.
"I spend most of my time in team meetings highlighting and pointing out that wherever I see it," he said. "And we see it from receivers downfield, we see it from offensive linemen, we see it from defensive players, see it from our quarterback, see it from our long snapper, and it's one of the best gifts I can help players with is learning grit and resiliency and determination and staying power."
Might the trip to No. 25 BYU (6-2) help return the edge to Mendenhall's defense? Mendenhall and his players insisted Saturday night's contest just another game against an opponent who is "nameless and faceless," as Jackson said, another opponent Virginia just has to find a way to defeat.
"It's hard to win," Mendenhall said. "It's hard to win [four] ACC games in a row. It's hard to win on the road. It's hard to win at home. It's hard to keep winning."