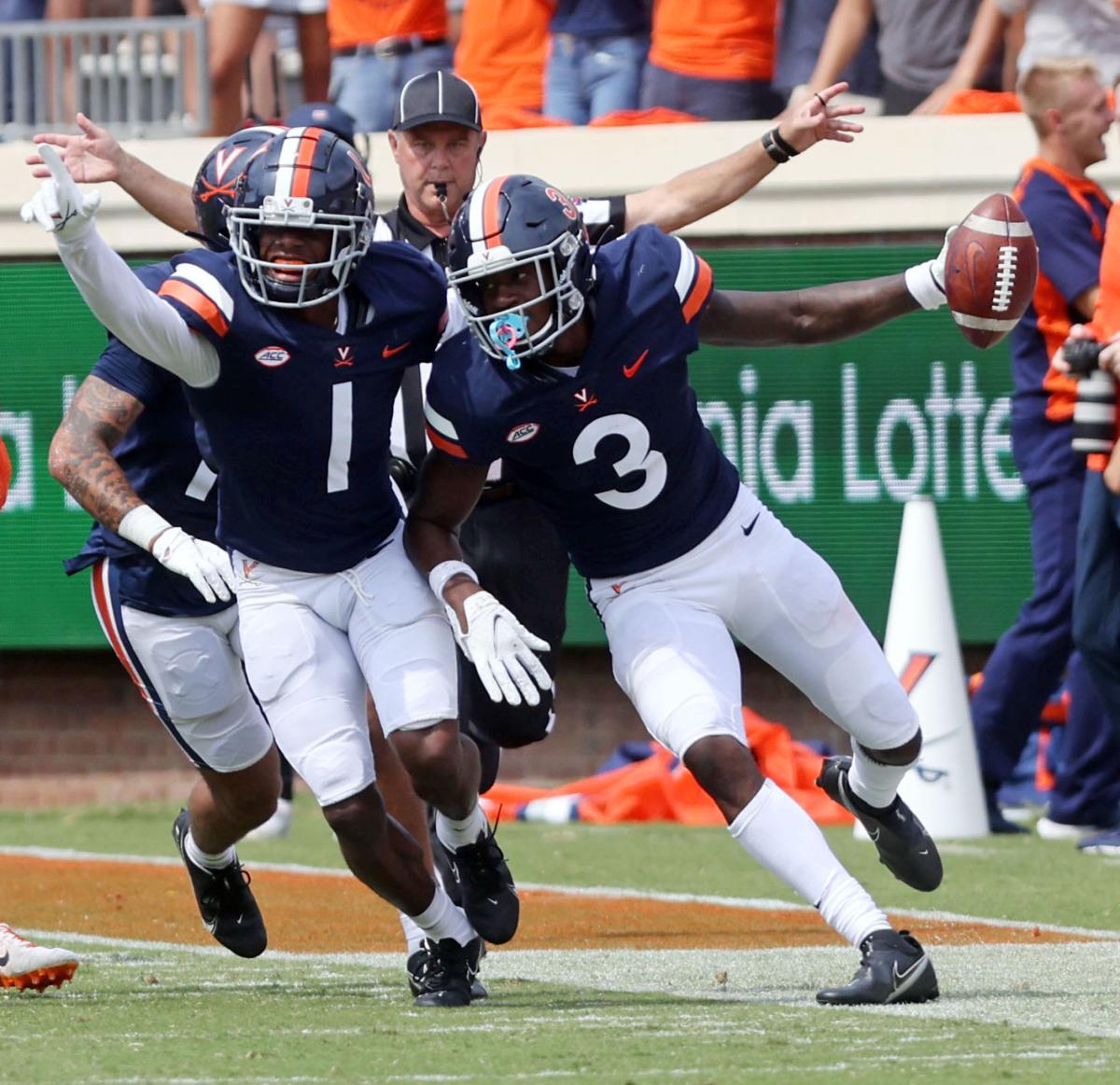 Anthony Johnson wrestled a pass away from a receiver, recording an interception in the fourth quarter of Virginia's 42-14 blowout victory over Illinois on Saturday.
The Louisville transfer raced over to the Virginia sideline, where he sat down on a bench. After about 10 seconds of being mobbed by teammates, Johnson stood on the bench and faced the crowd.
Virginia fans gave him a roar, and then Johnson started dancing.
"He is a dynamic personality to say the least, just vibrant and alive and smiling and loud," head coach Bronco Mendenhall said. "You hear him before you see him every morning."
Perhaps lost in the shuffle through two games has been the play of Johnson and Virginia's defense. The Cavaliers are allowing just 260 yards and seven points per game. An opening shutout of William & Mary was followed by a 14-point showing against Illinois. Virginia (2-0) forced five three-and-outs and two turnovers Saturday in the 42-14 win over the Illini.
Johnson brings a contagious energy to a secondary that didn't seem like it was having much fun last season.
"Once he starts dancing, everyone starts dancing, too," safety Joey Blount said. "He's really fun to be around."
Injuries stressed the defensive backfield last fall, and the Cavaliers allowed more than 300 passing yards per game while sitting toward the bottom of the ACC in pass efficiency defense. At times the group looked overwhelmed and confused, rather than aggressive and happy.
Through two weeks this season, the Cavaliers are allowing just 155 passing yards per game. Opponents are averaging a mediocre 5.1 yards per pass attempt. The secondary players have been flying to the football, playing with good energy.
In addition to the secondary's play, the linebacker unit looks superb, even after losing Zane Zandier and Charles Snowden to graduation.
Nick Jackson has 19 tackles through two games, and Noah Taylor leads the team with an impressive four tackles for loss. Hunter Stewart, a new starter, has impressed Mendenhall. He has nine tackles, including 2.5 tackles for loss.
"Kelly Poppinga is doing a really nice job coaching them," Mendenhall said. "Nick Jackson in Week 1 was just really productive. Noah Taylor as well, and they're both different types of players. What's starting to emerge is the third linebacker spot in terms of kind of production or naming it. You're starting to see Hunter Stewart emerge and then Elliott Brown."
The defensive line unit with Mandy Alonso, Adeeb Atariwa and Jahmeer Carter has been solid. Atariwa missed Saturday's game with injury, but Nusi Malani and Aaron Faumui were among the players to rotate in along the front.
Virginia's team doesn't boast a marquee star on either side of the football. Quarterback Brennan Armstrong might be the closest thing, but the offense uses a handful of weapons to score and the defense thrives when multiple players step up to make plays.
"So far, it's a football team with a lot of contributors, and I really like that in terms of our identity," Mendenhall said.
The road only gets tougher moving forward, though.
William & Mary and Illinois are projected to finish at the bottom of their respective conferences, and both teams played Virginia with their backup quarterbacks. North Carolina hosts the Cavaliers on Saturday, and the Tar Heels scored 59 points in a Week 2 win over Georgia State.
Sam Howell and the offense sputtered in Week 1 against Virginia Tech, but the Tar Heels were the preseason Coastal Division favorite. Howell is a top NFL Draft prospect at the quarterback position, and he threw for 352 yards and three touchdowns against Georgia State. He also added 104 rushing yards and a pair of scores on the ground.
Virginia's defense looks sound through two games, with just about everyone on the starting unit chipping in. The Cavaliers will need the unit on its game Saturday to start ACC play with a win.