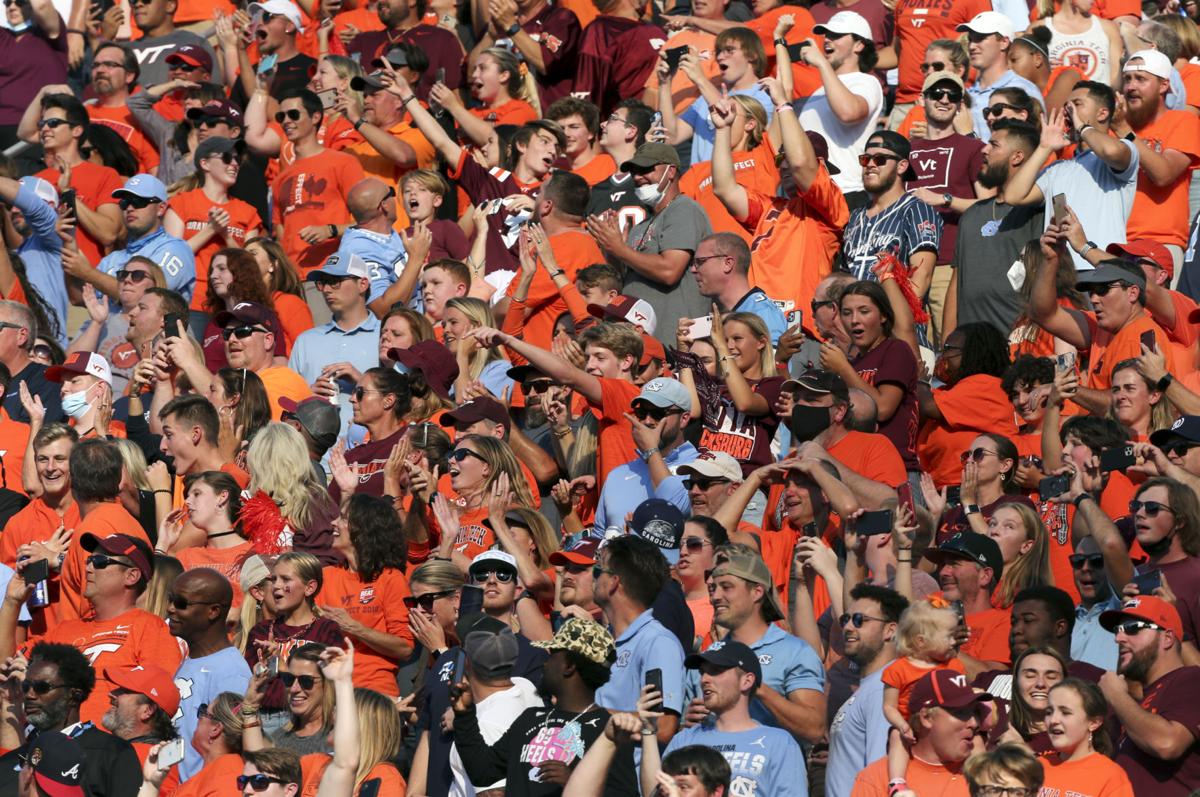 BLACKSBURG — Virginia Tech coach Justin Fuente laughed on Monday when discussing how teams prepare for visiting Lane Stadium by playing "Enter Sandman" at practice.
The Metallica song is played as Tech coaches and players run out of the tunnel before the game.
"I never understood that," Fuente said. "It's before the game."
Fuente addressed the topic with the Hokies preparing this week for a trip to West Virginia's Milan Puskar Stadium. They haven't played a road game in front of a capacity crowd since visiting Virginia in 2019.
The largest crowd Tech encountered last season was 11,901 fans at Louisville's Cardinal Stadium, a venue that can hold 65,000.
"It has been a while," Fuente said. "...When you play on the road in a hostile environment, it just enhances all your feelings, your emotions. And sometimes you can be up by 14 and the other team can kick a field goal and it feels like you're down by 21."
Saturday's game should be close to a sellout. According to West Virginia's ticketing website, only seven sections have available seating and there is limited availability in each.
So how does Fuente prepare his team for that type of environment?
"We have the worst sounding white noise that you've ever heard in your life," Fuente said with a laugh.
That noise is played during every Thursday practice throughout the season whether the team is at home or on the road. Fuente uses it more frequently in a week like this one.
"That's so much better than music. I mean, it really forces you to focus on whatever we're doing, however we're communicating," Fuente said. "That's been the best that I've found in terms of simulating that."
It's so deafening that Fuente said players and coaching standing a few feet apart can't hear each other.
"You can't line the scout team up because they can't hear you," Fuente said.
According to tight end Drake DeIuliis, Fuente kept to his Thursday routine of blaring the noise though the conference had significantly restricted attendance for fans. DeIuliis agreed with Fuente's description of the noise, but offensive lineman Brock Hoffman said he wanted the coaching staff to turn up the volume louder at Tuesday's practice.
"I definitely think it will be crazy," Hoffman said. "...We had the crowd noise bumping [in practice]. I was up there waving telling them to turn it up, turn it up. I want it to be as loud as possible now so when we get into the game it's not something that bothers us."
Fuente is confident his veteran-laden team won't have any problems adapting on the road. The Hokies will have 13 players in the starting lineup on Saturday with at least 10 career starts under their belt.