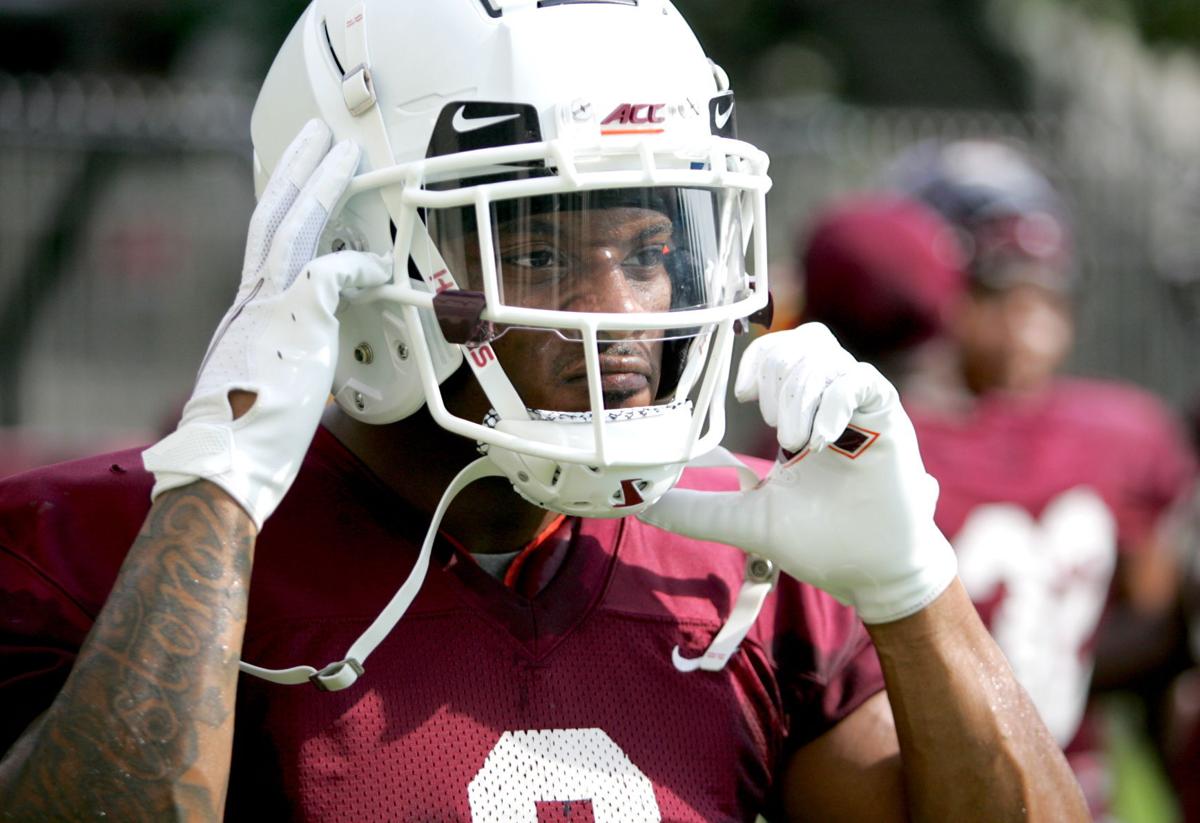 BLACKSBURG — Virginia Tech has put out its initial depth chart for the 2021 season ahead of the season opener against North Carolina on Friday night. 
Here are some notable takeaways...
There wasn't a clear winner in the team's running back competition. The Hokies listed Jalen Holston, Raheem Blackshear and Keshawn King as co-starters with "OR" between their names. The biggest surprise from that grouping is King, who had some ground to make up in the competition in the spring. He has home run speed similar to Herbert, but needed to develop more consistency on the practice field. His last carry came in the 2019 Belk Bowl.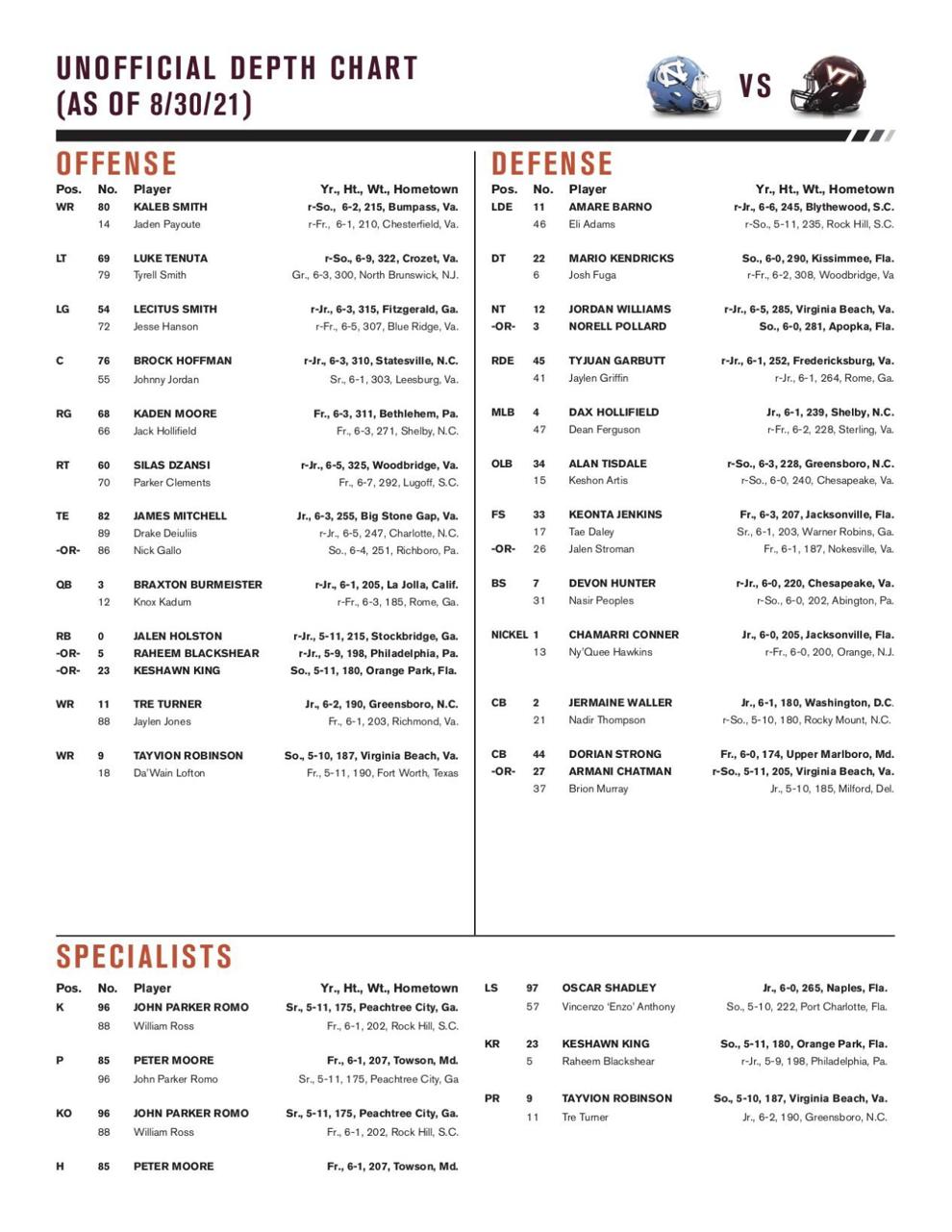 The starting right side of Virginia Tech's offensive line looks a lot different than it did coming out of spring. The Hokies plan on starting Kaden Moore at right guard and Silas Dzansi at right tackle. Dzansi spent much of the spring at right guard while Parker Clements took most of the first team reps at right tackle. Tech liked Dzansi's experienced at tackle and Moore had one of the most impressive fall camps of anyone on the roster. 
Tech has Tyrell Smith at left tackle, Jesse Hanson at left guard, Johnny Jordan at center, Jack Hollifield at right guard and Clements at right tackle as the team's second-team offensive line. That's probably not how it will actually play out. Jordan will likely split time at right guard with Moore and Smith could get some reps at right tackle. Hollifield mostly worked at center during fall camp and probably won't be in the rotation to start the season on the interior of the line as the coaching staff looks to give him additional time to develop. 
Hollifield is one of four true freshmen listed on the depth chart. Da'Wain Lofton and Jaylen Jones are listed as backup receivers — Lofton is behind Tayvion Robinson in the slot and Jones is on the outside behind Turner — and Jalen Stroman is listed as backup free safety alongside Tae Daley. All four of those 2021 signees enrolled early, but Hollifield went through spring camp at tight end. 
TyJuan Garbutt won the starting job at defensive end alongside Amare Barno. That spot was expected to go to Emmanuel Belmar before he was forced to medically retire from lingering concussion issues. Garbutt missed much of last season dealing with a family issue. He has two career sacks and 10 tackles for loss. 
Tech's competition at safety took some interesting turns this offseason with Devon Hunter getting reinstated from an indefinite suspension and Devin Taylor leaving the team a week into fall camp. Hunter won the starting job at boundary safety and will be paired up with second-year freshman Keonta Jenkins at free safety. Hunter was expected to start at boundary safety last fall before he was suspended. He was in great shape when he reported back to the team for summer workouts and was already familiar with the defense. Jenkins made two starts last season at free safety before getting sidelined with COVID-19. When he returned to the lineup, most of his reps came on special teams. He competed with Vanderbilt transfer Tae Daley this fall to win the job. 
The starting return jobs went to Tayvion Robinson (punt returner) and King (kick returner). Tech coaches said during fall camp that Robinson had put the struggles he went through last season – he fumbled the ball multiple times — behind him.