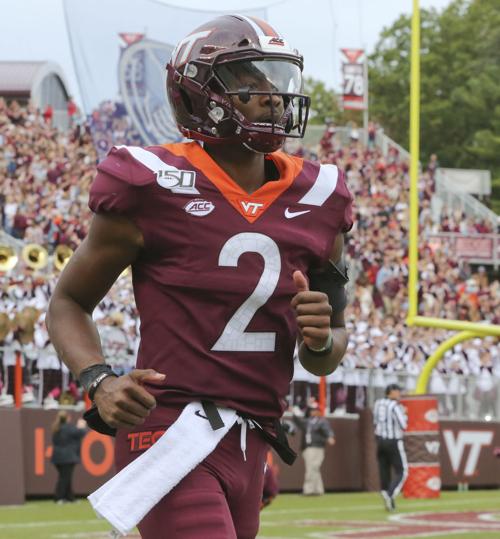 Hendon Hooker "broke it down" for his roommate, Virginia Tech football teammate Khalil Herbert. The team's medical screenings brought on by COVID-19 had discovered something else, a medical red flag that Hooker would have to resolve before he could return to the field.
So for two weeks, the Hokies' expected starting quarterback this season was out of practice, and for the first two games, he wasn't the one behind center.
"We kept him up, kept his spirits going. It's kind of tough, just wanting to be out there and wanting to play and wanting to be with the team," said Herbert, who also carried the offense in those first two victories. "But he did a really great job of just being around the guys. Guys kept lifting him up, kept him in our prayers."
Hooker has declined to share any details about the medical situation that took him off the practice field for two weeks in the preseason and left him scrambling to get back in the kind of physical condition necessary to quarterback a Power Five team.
Monday, Hooker was only willing to say that whatever the medical professionals discovered in their screenings, a silver lining of the COVID crisis was that it was discovered and dealt with.
"It was kind of bittersweet," said Hooker, who is expected to make his first start of the season Saturday night against Boston College. "I was happy that they found it and happy that everything turned out well."
Hooker had been named the starting quarterback in the preseason, though coach Justin Fuente said Oregon transfer Braxton Burmeister would play as well.
But the two-week absence took its toll on Hooker's conditioning and left him behind in running the offense.
Even now, Hooker said he's still getting back into game shape for the Hokies (2-1, 2-1 ACC).
"It's a whole different level of conditioning from practice to the game," Hooker said. "Game speed, you're going 200 mph every play and just trying to give it your all. In practice, you're kind of feeling it out, seeing what looks they're giving you. It's not really full go like when you're playing."
After weeks of preparing for a backup role behind Burmeister and serving as a motivator for his teammates from the sideline, Hooker finally got into a game Saturday.
He played one series in the second quarter of Tech's road loss at North Carolina, then took over the position in the second half, leading the Hokies almost all the way back in a 56-45 defeat.
Hooker finished 7 for 13 passing for 136 yards and two touchdowns and ran for another score. The Hokies scored on five of the six full possessions he played in the second half.
"He did his part while he wasn't starting and he did his part when he was in the game," tight end James Mitchell said. "That's just the kind of player and person Hendon is."
And he may be the player Tech needs to elevate its third-down efficiency going into this weekend's meeting with BC (3-1, 2-1).
The Hokies were just 10 for 33 on third down going into Saturday's loss at Carolina.
Hooker — who showcased his dual-threat abilities last season after taking over at quarterback after the fourth game — excels in that area.
He and his father, Alan, a former college quarterback at North Carolina A&T, have discussed third-down conversions frequently.
"If you convert third downs, you make first downs. You make first downs, you make touchdowns," Hooker said.
For two weeks, Hooker was on the sideline for Tech's first downs, third downs and touchdowns.
He's happy to have that behind him.