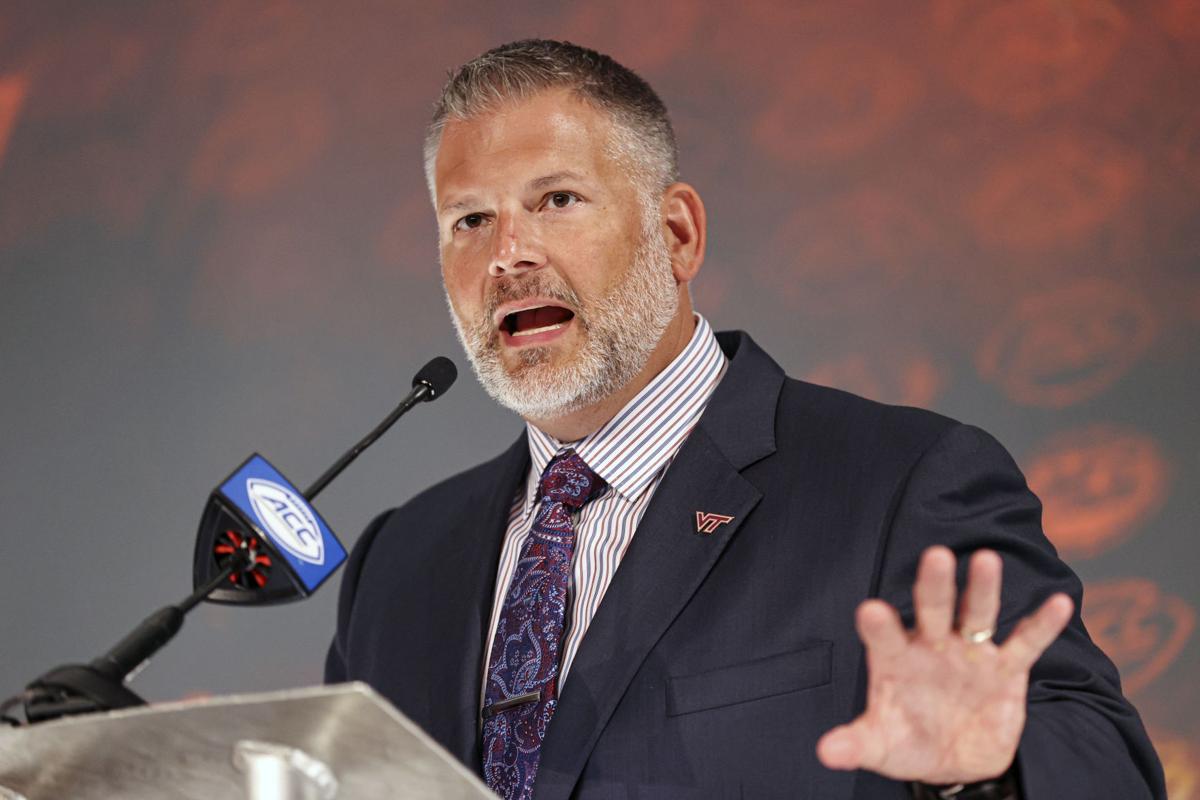 CHARLOTTE, N.C. — If the stress and pressure of the most pivotal year of his career weighed on Justin Fuente this offseason, Virginia Tech's coach didn't show it this week.
The often curt and surly Fuente turned amiable, even gregarious, as he shared stories of his summer with family — fishing with his eldest daughter in Hilton Head, strolling hand-in-hand through Savannah with his youngest, and teaching them to water ski and kneeboard at Smith Mountain Lake.
The sixth-year Hokies coach unabashedly gushed as he shared the story of his 13-year-old reeling in a 30 pound redfish during an inshore canal fishing trip, even passing around his cellphone to show off a photo of her holding the impressive catch.
"She smashed it, man," a beaming Fuente said.
Now, he'll need his football team to do the same if he's going to keep his job at Tech. After a sparkling debut in 2016 that saw the Hokies win 10 games and a Coastal Division title, the program's won-loss record screams of a decline.
Fuente is just 19-18 the past three years. Last season's 5-6 mark was his second losing record in that span, an unthinkable and unacceptable result for fans of a program that enjoyed 25 straight winning campaigns, the first 23 under former coach Frank Beamer.
Fuente is under contract through 2024, with a buyout of $10 million before Jan. 1, 2022. Following last season, athletic director Whit Babcock took the unusual step of holding a press conference to announce he would not be firing Fuente, a public vote of confidence that seemed to carry a private ultimatum — win big in 2021.
It's not a pressure Fuente is fretting over and not a topic he wants distracting his players as they prepare for a season that opens Sept. 3 against division favorite North Carolina.
"I'd be really, really pissed if it did," he said. "They don't need to worry about any of that. We just need to worry about doing what we're supposed to do and it will all work out."
As he answered a day's worth questions about the team, the program and the myriad issues facing the sport of college football nationwide during the ACC's annual media day event, Fuente sounded nothing like a lame duck and every bit like a man planning to be in Blacksburg for years to come.
He lauded the improved recruiting success Tech has enjoyed this offseason, crediting both improved facilities and improved work by his ever-growing staff.
"We're going to continue to add to them as these months and years go by," Fuente boasted.
It won't take long to see where things stand, and for the heat on Fuente to either cool off or dial up. Three of the Hokies' biggest games come in their first five outings, with the home game against North Carolina, a Sept. 18 game at West Virginia and an Oct. 9 date with Notre Dame at Lane Stadium.
Despite the proverbial hot-seat pressure he's under, Fuente presented as energized and enthusiastic about the upcoming season, while acknowledging the job has become more and more of a monster with each passing year, a daunting undertaking made all-the-more complex by the COVID-19 pandemic, new name, image and likeness opportunities for athletes and questions about expanding the College Football Playoff.
"It's difficult to be a coach now. It's more difficult than it was 10 years ago," said Fuente, who said he relies on a combination of his wife, his father, coaching influences and his staff when he needs a sounding board. "… It's still fun. But there's a lot of other factors that weren't in play even 10 years ago, even six years ago."
Ten years ago, Fuente was just getting started as a head coach, in the early stages of turning around a Memphis program, an impressive improvement that landed him the Tech position. Now, he'll have to orchestrate a similar turnaround to hold on to that job.