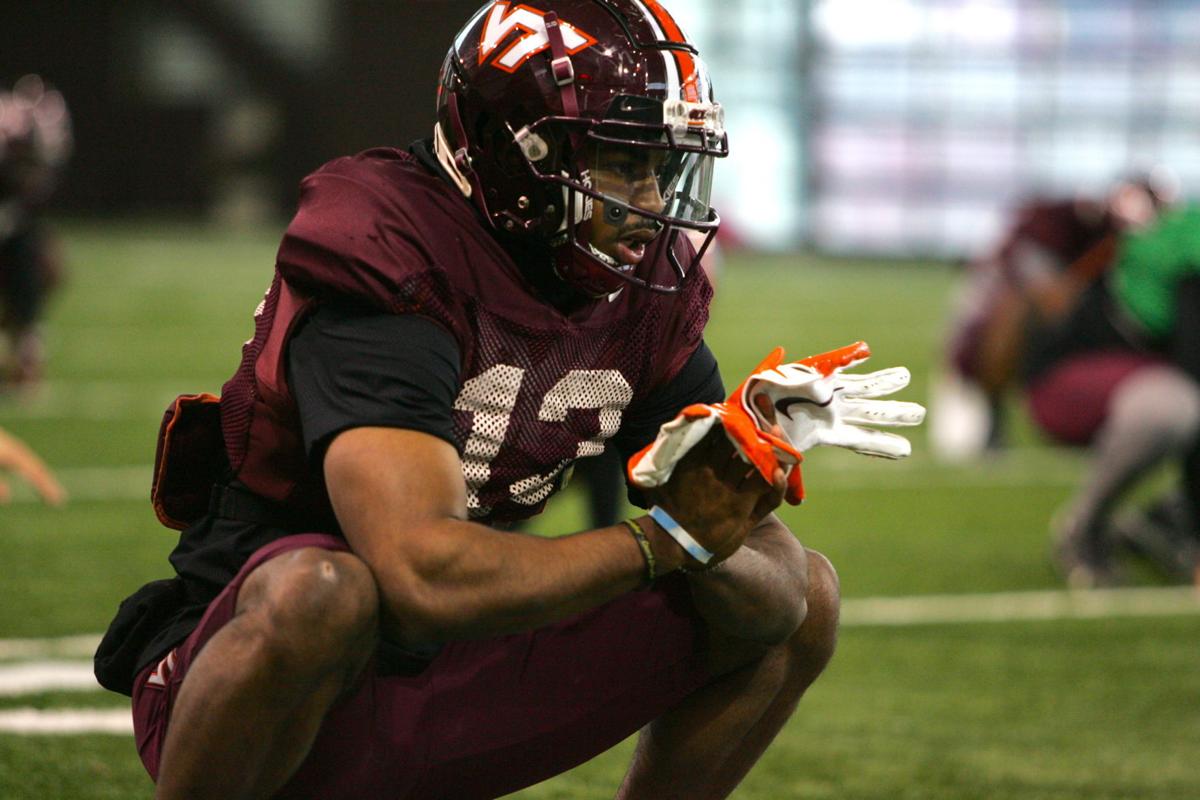 BLACKSBURG — Changa Hodge went eight straight games to start his Virginia Tech career without a catch. That wasn't an experience to which Hodge was accustomed.
The Villanova transfer had at least one reception in 30 of the 32 games he played at the FCS level. He had more yards in his second career game as a true freshman in 2016 than he did all last season.
Hodge's three catches for 25 yards were a far cry from the breakout year he had in 2019, when he tied for No. 14 in the FCS with 1,118 yards, but Tech's coaching staff didn't give his lack of production much consideration when making roster decisions in December.
Offensive coordinator Brad Cornelsen and wide receivers coach Jafar Williams asked Hodge to come back as a super senior and take advantage of the extra year of eligibility the NCAA granted. They were impressed with the way he handled himself in the face of some significant adversity and had the talent to play a significant role in the offense this fall.
"He got here late, to camp, about halfway through camp, then had a hamstring and then had COVID, and it was like one thing after the next," Williams said, in March. "So he never really got a chance to catch his breath."
By the time Hodge was cleared to fully practice, the team was so focused on game prep that he didn't get much to learn the offense and different techniques specific to Tech's offensive scheme.
"Game-week preparation is a lot different than spring practice, in terms of the urgency because you don't have that time in a game week," Williams said. "It's Tuesday and Wednesday and you gotta be ready to go Thursday, and most of the game plan's in. Spring you have a chance to catch your breath, and you have a day between practices that you can spend a lot of extra meet time with him."
Williams said Hodge was just caught up with the rest of the offense when he spoke to reporters halfway through spring camp.
Hodge could be an important piece for a Tech offense looking to establish depth behind Tre Turner and Tayvion Robinson. Two of the other best options — Jaden Payoute and Kaleb Smith — are still battling their way back from injuries this spring.
Turner and Robinson had 72 combined catches for 1,129 yards last season while the rest of Tech's receivers combined for 12 catches and 131 yards.
"He's giving himself a chance to really have an offseason in this offense and go have a real final year to put it all together and understanding that he can play a big role for us and it's really going to help him maybe move on to where he wants to go at the next level," Cornelsen said.