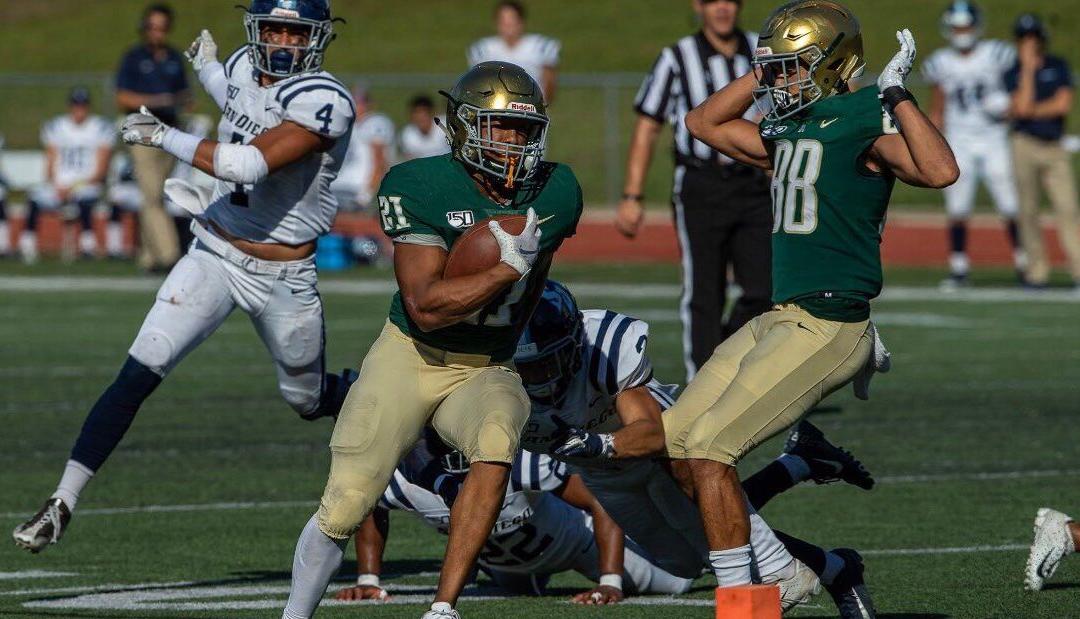 Caleb Grimes is at William & Mary meeting new teammates and acclimating to a new school environment. He arrived in Williamsburg with previous reps in this department.
W&M, which added the running back in July, is Grimes' third stop since he graduated from Benedictine in 2018. He has no interest in revisiting the NCAA transfer portal.
"I'm locked in," Grimes said, speaking of W&M.
The 5-foot-10 215-pounder committed to the U.S. Naval Academy prior to his senior season at Benedictine. The service academies do not redshirt players. Instead, they typically enroll at prep schools associated with the military academies and stay there a year before moving on and playing four consecutive seasons at Navy, Army or Air Force.
Grimes spent 1½ semesters at the Naval Academy Preparatory School in Newport, R.I., and then determined he would prefer not to attend Navy. That isn't unusual. Completion of expenses-paid schooling at Navy, Army or Air Force brings with it a five-year, postgraduate military commitment. Not for everyone.
"At first, it was a great experience. I appreciate [Navy coach Ken Niumatalolo] for taking a chance on me and letting me go to the Naval Academy Preparatory School," Grimes said. "I talked to my parents about it, and we just felt that wasn't going to be the right place for me to play football."
Into the NCAA transfer portal went Grimes' name. Looking for possibilities, a military link emerged. Assistant coaches at Navy reached out to Ian Shields, a former Army offensive coordinator who had moved to Jacksonville University as head coach.
"Everybody at Navy was very supportive of my decision. They tried to help me find a new school," Grimes said. "Coach Shields contacted me and from there, I went on to Jacksonville."
The Dolphins play in the Pioneer Football League, the nation's only nonscholarship, football-only NCAA Football Championship Subdivision conference. As a freshman in 2019, Grimes participated in three games and carried seven times for the 3-9 Dolphins.
On Dec. 3, 2019, Jacksonville announced it was discontinuing football after 22 years. The private school with 2,391 undergraduates decided to reallocate resources in the athletics department and was no longer interested in making the investment required to play Division I football.
"The news came and surprised all of us," Grimes said. "I loved Jacksonville. I loved the people down there. I loved the environment down there. It was definitely a hard decision to have to leave."
Back into the NCAA transfer portal went Grimes' name. While at Benedictine, Grimes was recruited by Howard, which at that time was coached by Mike London. London shifted from Howard to William & Mary in November of 2018.
"I'm just grateful that Coach London offered me a spot to play [at W&M]," said Grimes, 20, who will be a redshirt freshman when the Tribe again play. "Academically, you can't beat a William & Mary education."
Grimes had interest in W&M coming out of Benedictine.
William & Mary's team, like most in the FCS, is not playing football this fall because of the pandemic. A spring season of some sort is in the planning stages, meaning the fall will be treated as the spring usually is at W&M, in many respects.
"It's definitely a lot different, adjusting to it, just listening to our coaches and the guidance they're giving us, staying on top of classes," Grimes said. "Just trying to prepare any way we can to get ready for the season."
(804) 649-6233
@RTDjohnoconnor