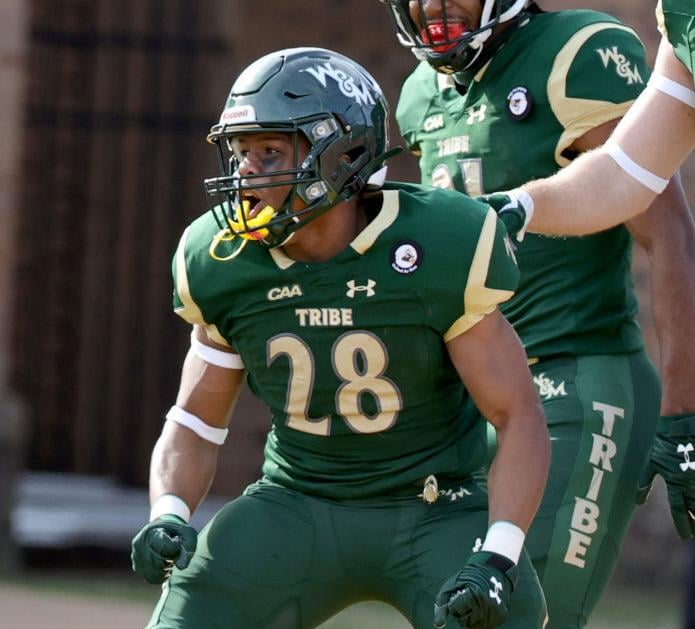 William & Mary announced the signing of Malachi Imoh in February of 2020 without an attached position. His designation was "ATH," short for "athlete."
This was another way of saying, "He can play, but we're not yet sure where."
Imoh, from Winchester's John Handley High, stands 5-foot-8, with lightning legs. In the absence of a 2020 fall season due to the pandemic, Imoh got his first shot to play college football in the spring.
Against Elon at Zable Stadium on March 20, the Tribe's top two running backs were unavailable. Those absences influenced coach Mike London to present an opportunity to Imoh, who played quarterback as a high school senior, and tailback in previous years.
Imoh scored on first-half runs of 65 and 38 yards against Elon. He gained 128 yards before the break and finished with 137 yards and three touchdowns on 10 carries. W&M won 31-10. The 185-pound Imoh, slightly impaired by a hamstring strain, carried only a couple of times in the second half. That was not the time to stretch him out.
Upcoming fall games are the stages to do so. Imoh is prepared mentally after getting a head start without a season last fall.
"I think it helped a lot of the freshmen, and I can speak for me especially, being able to learn the playbook," he said. "Coming into college, that was one of the biggest challenges I'd have to face, a new playbook much more intricate in detail than it had been in high school."
That hamstring is still a concern.
"Right now, I'm still working on my hamstring and doing what the trainers are having me do," Imoh said Friday.
Based on what Imoh showed in the limited spring window — he participated in the first two of three W&M games — he appears to be the Tribe's best big-play threat. W&M has no faster player. Imoh was a sprint star on the John Handley track team. Best 100-yard time: 10.91. Best 40-yard time: 4.32.
"He's dynamic. He's explosive," London said. "I think he's going to be a future star here, because he can flat-out go."
Imoh's size suggests he will never be a workhorse back at W&M. Christian Taylor, W&M's offensive coordinator and running backs coach, may be scheming ways to get the ball into Imoh's hands about 10 times a game as a runner and receiver out of the backfield or the slot.
"When he gets out in the open field, not too many people can catch him," London said.
Imoh's uncle, 5-7, 195-pound Mike Imoh, ran for 1,263 yards for Virginia Tech from 2002-05, and led the 2004 Hokies in rushing.
"All my games I play, he watches," Imoh said. "We talk on the phone about running back things a lot."
Imoh played quarterback as a senior at John Handley out of necessity. The projected starter chose to leave the sport before the season. Imoh shifted from TB to QB, and ran for 2,003 yards with 29 touchdowns (15 of 20 or more yards). College coaches projected Imoh as a tailback or slot receiver.
Army is the alma mater of Imoh's father, James Imoh, and an option Malachi Imoh strongly considered.
The Tribe open at Virginia on Saturday night. London is a former UVA coach and several of his assistants have Virginia connections. London's first W&M team lost 52-17 at UVA in 2019.
(804) 649-6233
@RTDjohnoconnor