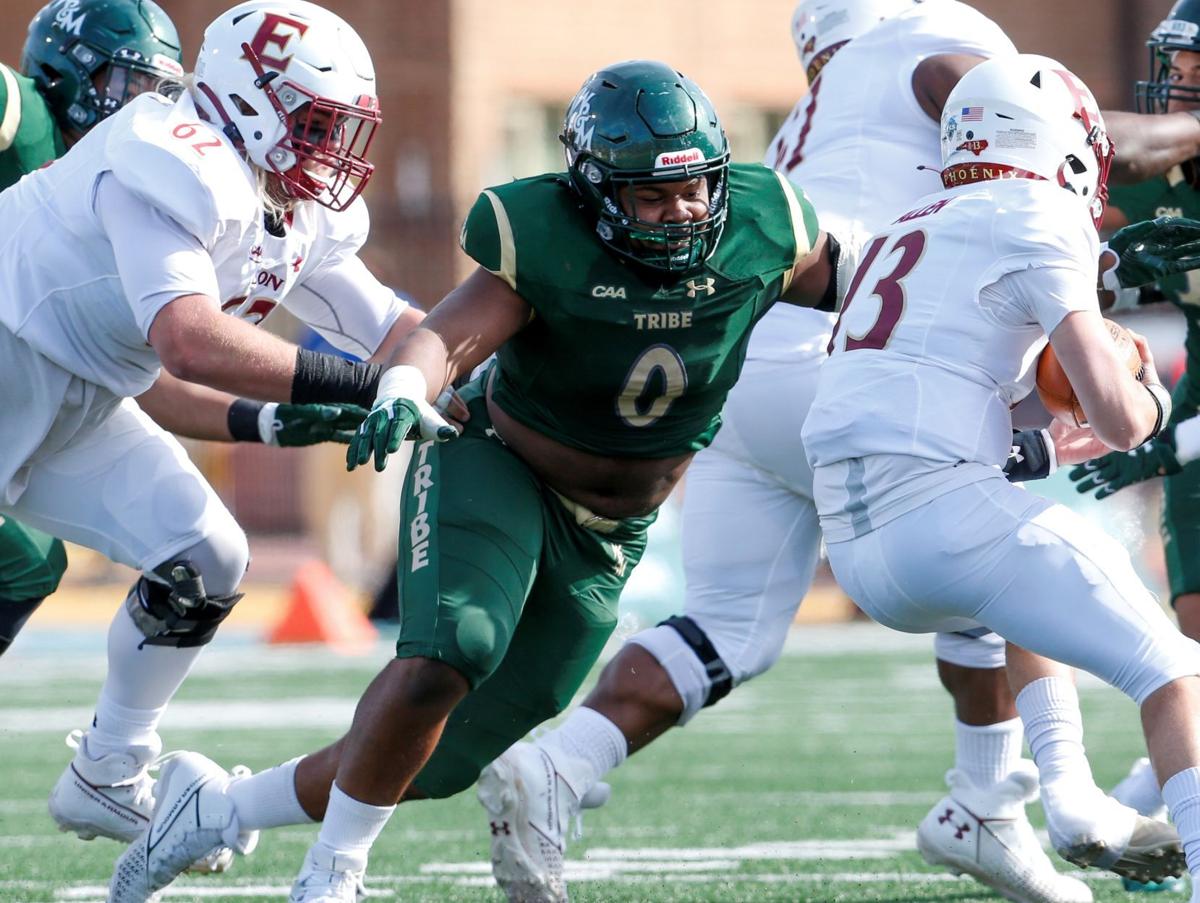 Zyquan Bessant was a sophomore at Norfolk's Norview High School when one of the team's assistant coaches, Klinton Ruff, dubbed him "Termite." Bessant, a compact lineman, worked low to the ground and was relentless.
"Out of nowhere," Bessant said of the nickname's arrival.
Bessant is now a 5-foot-10, 255-pound starting junior nose tackle at William & Mary. Some people call him "Zyquan." Just as many call him "Termite," according to Bessant, even acquaintances who are unaffiliated with Tribe football.
"It lets me know that you really do know me," said Bessant. "I'm not bothered at all by it."
Bessant began his high school career as an undersized center, "and I remember being determined to prove the doubters wrong," he said. "They told me I really couldn't do it, and that was the wrong position for me. So I was always working out in the weight room, on the field, pushing the sled.
"I had a lot of determination to really prove that I could do it."
As Bessant shifted to a defensive concentration, "I loved it. I could get loose and do my own thing and make plays," he said. Division III schools Christopher Newport and Randolph-Macon recruited Bessant, who later in the process received a call from a William & Mary assistant.
"I was excited because it was a Division I school and I really didn't have opportunities at the Division I level," said Bessant. His height, more than his production, seemed to be the reason. William & Mary invited Bessant to attend. The 5-10 nose tackle was required to prove himself all over again. Bessant knew that was coming.
"I was not worried. I was born in South Carolina. All my family is from down South. Not everybody is 6-5, but everybody's strong," he said. "I didn't have any doubt in my mind [playing time would come at W&M], because I knew my work ethic. I knew what type of person I was, and I was going to stay true to that.
"Now, there are some big guys, especially in the CAA. But at the end of the day, it's not always about size. You've got some guys that are big and don't know what to do with that size. And you've got some guys like me who can make it work regardless of height, or whatever the circumstances."
Leverage, quickness, balance, and what Bessant calls "violent hands" help him excel on the line. Some of that came from his days as a wrestler, Bessant feels sure.
W&M coach Mike London, whose Tribe (1-2, 1-2 CAA) hosts No. 12 Richmond (3-0, 3-0 CAA) Saturday at 1 p.m., recognizes Bessant as one of the strongest players in the program, and one of the most respected.
Bessant, who majors in accounting, is one of about a dozen players on the Tribe football team's leadership council, which helps drive communication between staff and players and sets team rules and goals.
"He's an outstanding, outstanding young man," London said of Bessant. "He has quite often ended practices with a word to the team. And when he speaks, everybody listens because he's a guy who does it off the field, on the field, in the weight room, wherever it may be.
"He is that kind of guy ... He's a guy we put on full scholarship. I love him. He is the epitome of what a student-athlete is who is a great teammate."
Notes: The UR at W&M game will be available for viewing on the pay site FloFootball. ... When these teams met March 6 at UR's Robins Stadium, the Spiders won 21-14.
(804) 649-6233
@RTDjohnoconnor