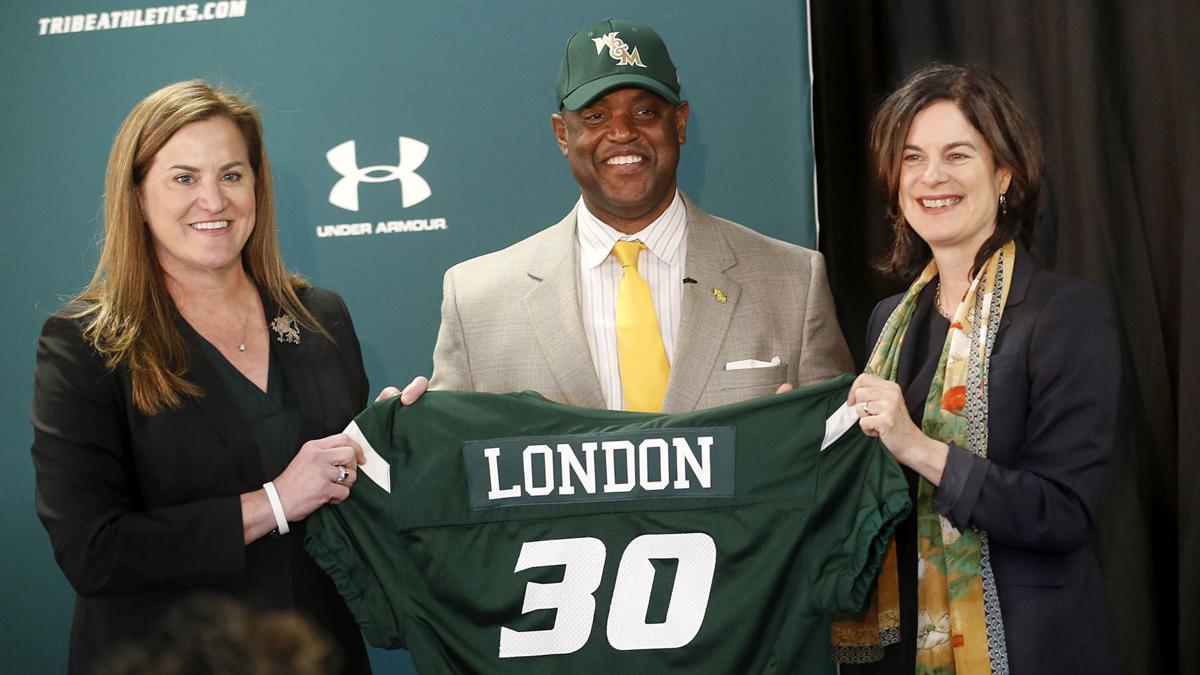 Momentum gradually grew for Samantha Huge's ouster as William & Mary's director of athletics, and Tuesday it swallowed her. Huge and the school agreed to a parting. She had been there since May of 2017.
Huge's separation comes about a month after W&M announced it would discontinue seven sports following this academic year, but her approval rating wasn't high among most W&M supporters during her time in Williamsburg.
Jeremy Martin, the chief of staff for president Katherine A. Rowe, has become interim AD.
In a statement released by W&M Tuesday, Rowe wrote that Huge was asked to address "long-standing imbalances and put the athletics department on sound financial and operational footing for years to come. She took on that challenge recognizing that it was in the best interest of the university and she continues to make decisions using that standard as her guide.
"Now it is clear to me that a new approach is necessary."
Huge's departure comes by mutual agreement, according to Rowe.
The Times-Dispatch reached out to Huge for comment about her position Tuesday morning and did not receive a response.
Huge's short tenure included numerous noteworthy developments. Jimmye Laycock retired after the 2018 season following 39 years as football coach at his alma mater.
Huge hired Mike London as football coach in November of 2018.
In March of 2019, Huge dismissed men's basketball coach Tony Shaver, who had been mostly successful through 16 seasons with the Tribe.
"We have high expectations for our men's basketball program, including participating in the NCAA tournament, and we will not shy away from setting the bar high," Huge said. W&M has never reached the NCAA tournament.
Huge hired Dane Fischer, a George Mason assistant, as men's basketball coach, in April of 2019.
The firing of Shaver caused significant dissatisfaction with Huge among many Tribe supporters, and more disapproved of her job performance on Sept. 3, when W&M announced it would discontinue seven sports following this academic year: men's and women's gymnastics, men's and women's swimming, men's indoor and outdoor track and field, and women's volleyball.
Not only were the school's process and decision criticized, Huge acknowledged that W&M's Sept. 3 statements regarding the cutting of the seven sports contained several similarities to statements released by Stanford in early July after that school cut 11 sports.
"Our goal was to emulate best practices, not imitate. We clearly fell short of the William & Mary community's standards," she said.
W&M Rector John E. Littel said in a Sept. 25 address to the Board of Visitors, "As Board members, we each own what was a poor rollout of very difficult news. Whatever the intent or process, it was not consistent with the way in which we strive to interact with one another. We would not consciously disrespect our student athletes or alumni community, especially on issues of such personal importance."
On the same day, W&M announced that it would spend October re-evaluating the sports cuts and sharing information that led to them. Huge said she would meet members of the teams designated for elimination. Also involved in those discussions will be the executive committee of the Tribe Club, which is the school's fundraising organization for athletics. Additionally, W&M will hold a pair of virtual sessions for conversations, open to the public, about the cuts.
"Our sincere hope is that these approaches will result in a vital step forward in our efforts to open dialogue and rebuild trust, aligned with our core values, as we consider the path forward," Huge wrote.
Now, Martin will take Huge's place on this listening tour, which aims to establish the Tribe's athletics priorities as the school tries to determine how much W&M athletics should be about emphasizing football and men's and women's basketball, and how much should W&M be about a broad-based athletics program. Where should the majority of its resources be directed?
"There is a core conflict here at William & Mary that we need to own as a community because it is a conflict very specific to William & Mary," Rowe said on Sept. 25. "As I have listened to students and staff and talked to friends of Tribe athletics, fans and donors, I hear deep contradictions in what we mean by excellence and competitiveness in a Division I setting."
Huge earned a law degree from Campbell University and an undergraduate degree from Gordon (Mass.) College, where she was a member of the women's basketball team. At W&M, Huge (HOO-ghee) succeeded Terry Driscoll, who held the position for 21 years. Huge previously worked in athletics departments at Delaware, Georgetown, Wake Forest, Illinois and Michigan State.
(804) 649-6233
Twitter: @RTDjohnoconnor