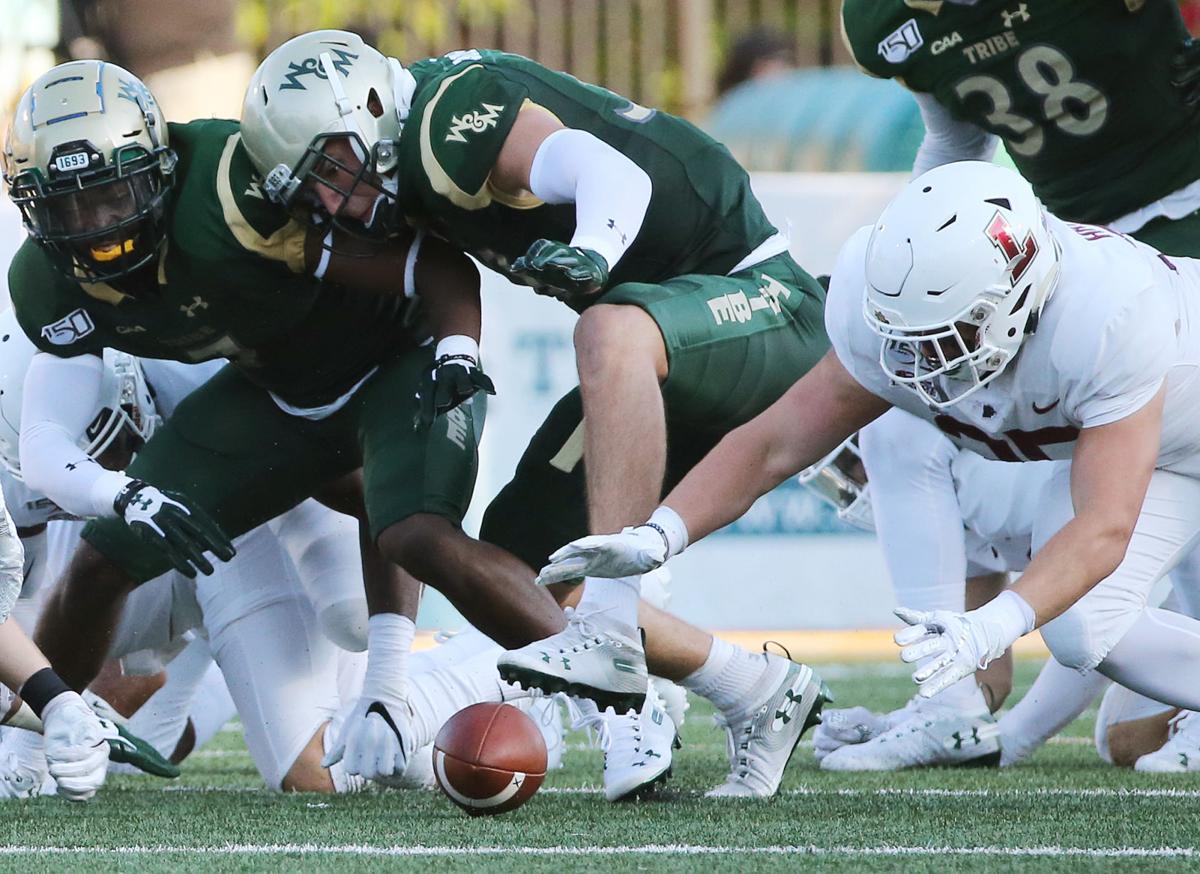 Talk of Patriot League membership for William & Mary is topical again as the school navigates through issues that caused an evolving plan to discontinue four sports and a re-examination of athletics objectives.
The Patriot League is comprised of private schools, for the most part, and William & Mary is a public school, but academic standards and institutional cultures seem congruent.
"I do hear the Patriot League conversation quite a bit," Jeremy Martin, W&M's interim athletic director, said Wednesday.
PL full membership is comprised of American, Boston University, Bucknell, Colgate, Holy Cross, Lafayette, Lehigh and Loyola Maryland. Army and Navy are members for sports other than football. Fordham and Georgetown are associate members for football.
The Patriot League has repeatedly shown quiet interest in William & Mary over the years. About a decade ago, the Patriot League determined it would become a scholarship football league and wanted William & Mary for all sports, and for football Richmond (in A-10 otherwise) and Villanova (in Big East otherwise).
That apparently came close to happening, but W&M decided it would remain in the CAA, which at that time also included VCU, George Mason and Old Dominion. VCU left for the A-10 in 2012. GMU left for the A-10 in 2013. ODU left for Conference USA in 2013.
William & Mary is a charter member of the CAA, which launched in 1985 and in 2007 took over operational control of the FCS league that was previously the Yankee Conference and Atlantic 10 Football.
The Patriot League adopted a scholarship football model in 2013. Prior to that, the PL awarded only need-based aid to football players. Richmond considered a move to the Patriot League for football only in 2005 before recommitting to scholarship football.
Patriot League schools currently agree to offer a maximum of 60 football scholarships each. That is three below the FCS maximum, which is the ceiling CAA Football schools use.
CAA Football is considered one of the best, if not the best, FCS leagues from top to bottom, and includes W&M, Richmond, James Madison, Elon, Towson, Albany, Delaware, Villanova, Maine, New Hampshire, Rhode Island, and Stony Brook.
For other sports, the CAA is comprised of W&M, JMU, Charleston, Delaware, Drexel, Elon, Hofstra, Northeastern, Towson, and UNC Wilmington.
William & Mary's comfort with football competition against PL members is reflected lately by the Tribe's games against PL members in nonconference competition (Lafayette and Colgate in 2019, Bucknell and Colgate in 2018, Bucknell in 2017).
"Sometimes I think people think that that's a quick fix for competing with those peers," Martin said of potential PL membership. "I would simply offer as well, it's been a lot of fun to see rivalries start to develop with Patriot League teams in recent years.
"I also think the CAA offers us advantages in spanning the entire East Coast and particularly in the Northeast corridor, where we significantly recruit students, and getting exposure in a number of different markets.
"I hear the (Patriot League) conversation, and get why people would look and consider those sorts of things, but don't know that it's quite as cut and dried as folks might like to think."
A move from the CAA to the Patriot League would eliminate W&M's state opponents — James Madison in all sports and JMU and Richmond in football — as league rivals.
As W&M charts an athletics course during a turbulent time, it will be looking for a road to success. Football competition has become more challenging in the CAA with large state schools such as JMU and Delaware increasing commitments. W&M has never advanced to the NCAA men's basketball tournament.
According to W&M, it has the third-lowest spending per student-athlete ratio in the CAA. Martin said, "roughly half of our team athletic budgets fall below the median compared to the CAA peers."
If the Tribe transitioned to the PL, they would have some of the league's finest facilities. W&M has made major brick-and-mortar investments in football, starting with the $11 million Laycock Center, a football-support building that opened in 2008. In 2016, a $28 million renovation of Zable Stadium was completed. Those projects were funded mostly through private donations.
W&M announced in February its plan to renovate Kaplan Arena, the basketball facility that opened as William & Mary Hall in 1971, at a cost of $57 million, supplied largely through private sources. That upgrade is projected to include an adjacent Sports Performance Center with a strength-and-conditioning area, a sports-medicine space, and a basketball practice court.
Any serious consideration of a move from the CAA to the Patriot League, or any other league, would probably not come until W&M has a new director of athletics in place. It's expected that Martin will remain as interim AD through the remainder of this academic year.
Martin is now dealing with a severe budget deficit and a controversial plan that would discontinue men's indoor and outdoor track and field, men's swimming and men's gymnastics.
(804) 649-6233
@RTDjohnoconnor