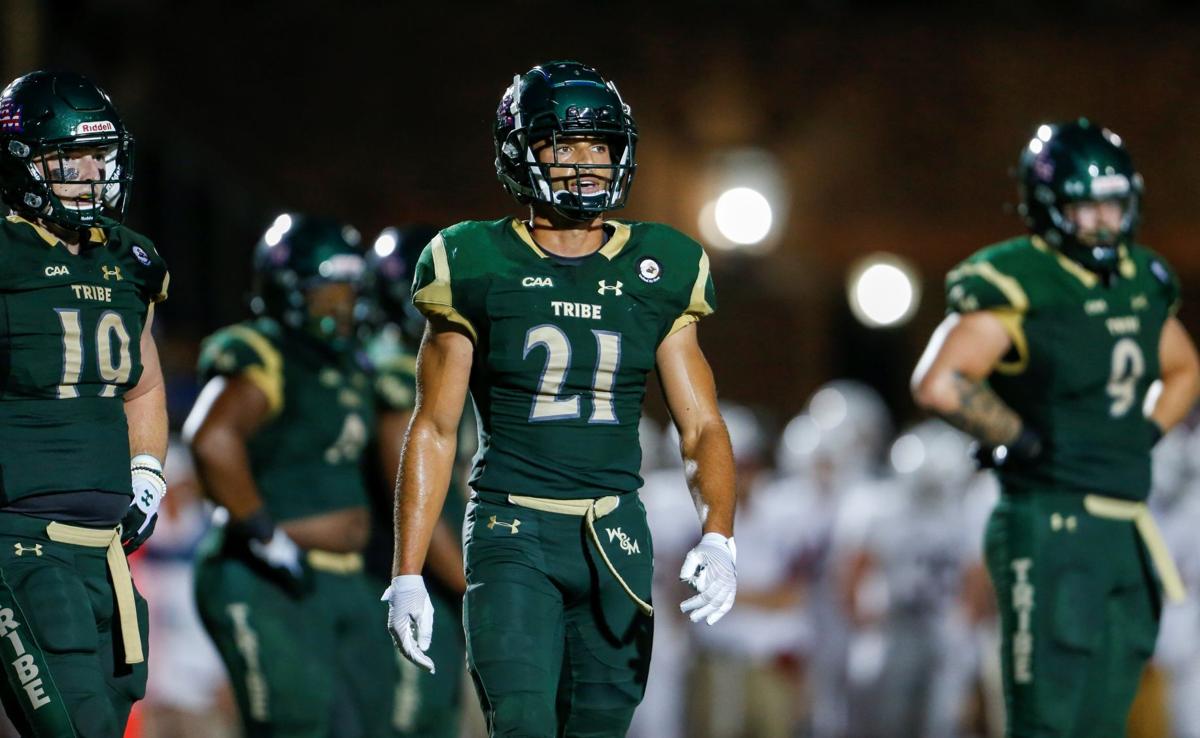 Twice on third downs and once on fourth down, cornerback Tate Haynes made tackles for William & Mary that prevented visiting Lafayette from picking up first downs last Saturday. Big plays may be flowing in his blood.
Haynes, a graduate transfer from Boston College, is the son of Mike Haynes, inducted by the Pro Football Hall of Fame in 1997 after a 14-year career as a defensive back with the Patriots and Raiders.
Haynes made six tackles during the Tribe's 24-3 win over Lafayette. Attached to W&M's first victory of the season following a 43-0 loss at Virginia was a heavy accent on defense. The Tribe returned two interceptions for touchdowns, collected six sacks among 11 tackles for losses, and limited the Leopards to 32 rushing yards.
The Tribe needed that level of defensive foundation as their offense continued to evolve, a work in progress. W&M had seven first downs and totaled 173 yards in the return of junior quarterback Hollis Mathis, recovered from shoulder surgery.
"A little rusty, but at the same time, he's getting back, he's going to improve," said coach Mike London, who projected additional offensive starters returning from injury Saturday, when the Tribe (1-1) visit Colgate (0-2). "The positives are a lot better as we're moving forward."
Haynes graduated from BC after concentrating in communications and finance. He is pursuing his master's at W&M in science and business analytics. Haynes entered the transfer portal in early June, bringing two seasons of eligibility with him.
Growing up in San Diego, Haynes never played defense in high school. He was a running/throwing quarterback who drew national acclaim. Haynes participated in 24 Boston College games and started five of them, but all of those appearances were as a defensive back, where he began playing soon after his arrival in Chestnut Hill, Mass.
"He's a guy that's meticulous with his study, the details of what the opposing team is doing, coverages, techniques," London said.
This is not surprising, London suggested, given the football acumen of Haynes' father. Away from the classroom and field, Haynes plays guitar and piano, and sings. Two years ago, he won the 15th annual "Sing It to the Heights" competition, receiving the most audience votes after singing "River" by Leon Bridges. Haynes topped nine other finalists.
"Sing It to the Heights" began 17 years ago as an informal lip-synching contest among BC students and grew into a performance benefit in the style of "American Idol." Boston College is sometimes referred to as "The Heights" because of the elevation of the campus land and the school's lofty ambition.
Colgate has been outscored 75-3 in two games (51-0 at Boston College, 24-3 to visiting Stony Brook).
Regardless of their offensive output, it's unlikely the Tribe will be able to duplicate the national exposure received as the result of a strange and entertaining touchdown reception against Lafayette. Mathis underthrew Anthony Mague along the left sideline. Mague stopped, sprawled and simultaneously reached back for the ball. It bounced off his palms-up hands into the air, and to teammate Cole Blackman (Atlee High, UVA, Illinois State), who then ran to complete a 38-yard scoring completion. The play ranked No. 5 among ESPN's Top 10 plays of the day.
"I thought Anthony Mague did a great job of trying to get his hands underneath … And then Cole Blackman, just hustle," London said. "That's what he does in practice. That's what he does all the time. He hustles. He gets after it."
(804) 649-6233
@RTDjohnoconnor