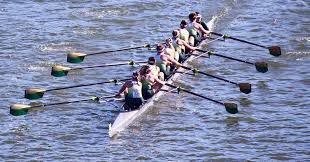 William & Mary's president, Katherine A. Rowe, addressed the school's board of visitors on Sept. 25 and spoke of "core conflict," "underlying disagreement," and "deep contradictions" while describing what Tribe athletics faced.
Rowe requested a month-long re-evaluation of William & Mary's plan to cut seven of its 23 sports, a Sept. 3 move made because of severe budget problems, according to the school.
W&M reconsidered the action after recognizing "core conflict," "underlying disagreement," and "deep contradictions" swirled through its community regarding the role of Tribe athletics.
On Oct. 19, W&M reinstated women's gymnastics, women's swimming and women's volleyball in response to pending legal action on behalf of those teams related to Title IX, leaving men's indoor and outdoor track and field, men's swimming and men's gymnastics scheduled for elimination.
W&M continues to examine potential ways to retain those sports. A resolution is expected near Nov. 11, national signing day for sports other than football, so remaining Tribe teams can organize future rosters.
Generally, there appear to be two paths W&M can take:
Restore men's track, men's swimming and men's gymnastics. This spreads the budget, though fresh philanthropy pledged after the announcement of planned cuts would help.
Gender-equity problems, which W&M has admitted, surface if no sports are cut. W&M's enrollment is nearly 60% women, which makes Title IX compliance challenging at a school that offers football.
A potential solution is the addition of a women's sport, or two. "Tribe 2025," the school's athletics strategic plan released last fall, identified rowing and softball as possible new sports to help the school address a gender-equity imbalance. W&M already has women's rowing and women's softball club teams.
"Softball having a fairly strong base in Virginia and even within (the Williamsburg area)," said Jeremy Martin, W&M's interim athletic director.
"Rowing as well. There are some natural advantages of being located near rivers on which you can row."
The addition of one, or both, would support larger men's participation numbers in athletics and the retention of men's sports.
The University of Virginia has a women's rowing team with 38 members.
The Cavaliers' softball roster is comprised of 25 players.
But fiscal consequences come with adding sports, noted Martin.
"We take great pride in the notion of saying that we're a public Ivy," he said. "And sometimes we lean more heavily on the notion of what that Ivy League-caliber expectation is, and we omit a little bit the limitations of the public aspect of it.
"The reality is that we're trying to do both and that gets stretched very thin."
As William & Mary explores a new reconfiguration of men's and women's sports, the reinstatement of men's track and men's swimming seems more probable than men's gymnastics because relatively few schools sponsor men's gymnastics.
Finalize the plan to discontinue men's track, swimming and gymnastics. This would undoubtedly deepen the fracture among the school community and negatively impact philanthropy, which already substantially slipped in recent years at W&M.
According to the school, cuts would allow W&M to make greater investments in remaining sports and enhance opportunities to compete for championships in the CAA, the Tribe's league, and advance in NCAA playoffs.
"Align resources to meet our highest priorities" is how "Tribe 2025" framed it.
Many other schools, including James Madison and the University of Richmond, adopted comparable streamlining approaches during the last 15 years, and others have begun a similar process since the onset of the pandemic that caused major financial issues at colleges.
"Tribe 2025," stated that a reduction of sports could be an avenue to forming a sustainable financial foundation for W&M athletics.
(804) 649-6233
@RTDjohnoconnor