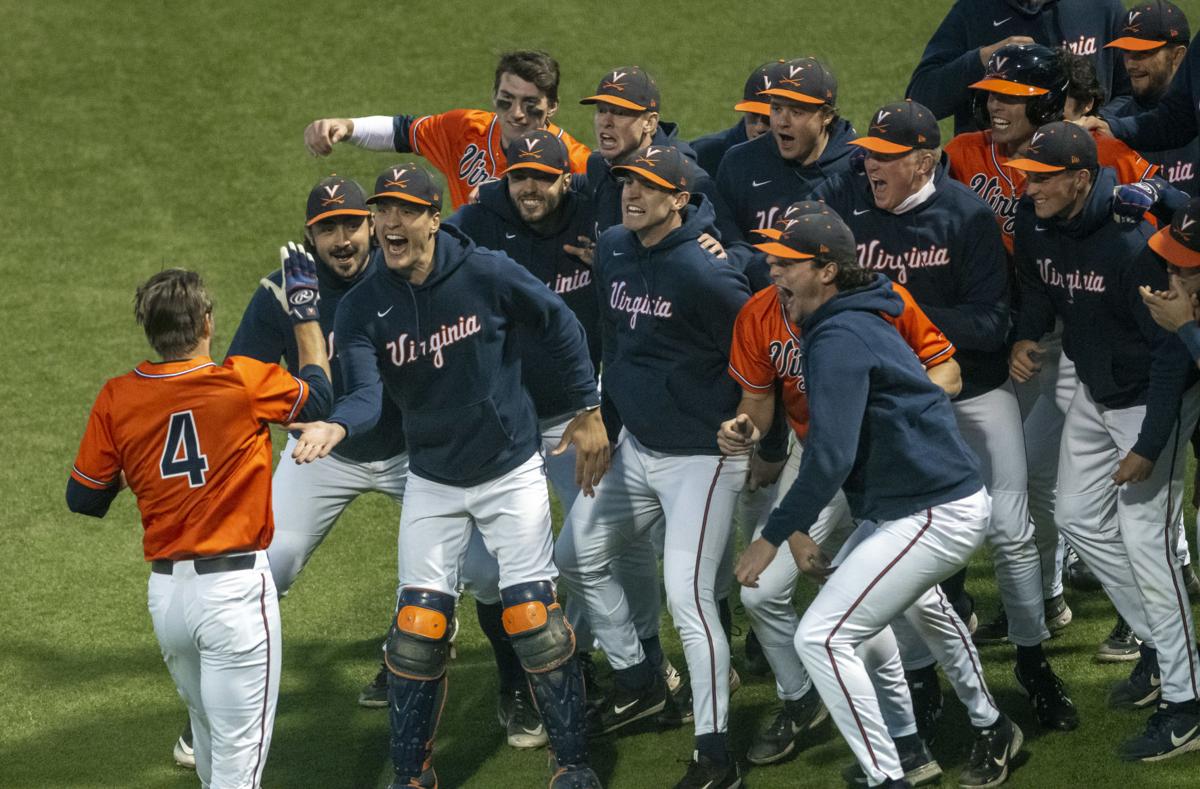 Virginia Tech's student section chanted, "left, right, left, right, left, right" as Virginia starting pitcher Nate Savino left the mound Sunday night.
Savino, normally mild-mannered, wasn't having it.
He turned in the direction of the Hokies faithful behind home plate, shook his head, turned and pointed to the outfield scoreboard that showed UVA leading 6-1 in the bottom of the eighth.
"There's different points in a guy's career where they kind of emerge and step forward," UVA coach Brian O'Connor said Monday. "I thought last night was one of those nights for Nate Savino."
A sophomore, Savino had never tossed more than five innings in a game. He threw seven innings Sunday, picking up a series-clinching win for his squad, which remains on the NCAA tournament bubble as it tries to make the field for the first time since 2017.
Savino's gem capped an important weekend for UVA. With the Cavaliers (22-20, 13-17 ACC) clawing to reach .500 in the ACC — a mark they've deemed important to their NCAA hopes — a series win was much needed.
Virginia started the weekend with a statement, winning 18-1 on Friday night. The 17-run triumph is the largest victory margin in the series' 122-year history. The bats were hot, and senior left-handed pitcher Andrew Abbott was exceptional on the mound. He tossed seven innings, allowing just one unearned run. Abbott was named ACC pitcher of the week for his effort.
On Saturday, the Hokies won 6-3.
On Sunday, behind Savino and freshman hitter Kyle Teel, UVA won 6-1. For the series, Teel drove in six runs and hit two home runs.
"He's not afraid of anything," O'Connor said of Teel. "He doesn't back down from anything."
With the series win, UVA has a shot at returning to .500 in the ACC. The Cavaliers need to go 5-1 over six games against Wake Forest and Boston College to finish the regular season with an 18-18 record. Going 5-1 in any ACC stretch can be a challenge this spring.
Fortunately for UVA, Wake Forest and Boston College are a combined 15-39 in ACC games this season.
"I know this, we got to win the last two series that we play or some combination of that at a minimum," O'Connor said. "I'm not the selection committee, but also I'd like to not leave it in somebody else's hands."
But UVA first hosts VCU (27-14, 9-3 A-10) on Tuesday at 6 p.m. The Rams, who have won 11 consecutive games, defeated the Cavaliers 6-3 in Richmond earlier this spring.
Tuesday night's game offers an opportunity for a quality midweek victory. VCU checks in ahead of Virginia Tech in the latest RPI rankings. The Rams sit at No. 43, while the Hokies slid to No. 44 after a series loss to the Cavaliers. VCU's RPI is ahead of several ACC teams, including UNC, Georgia Tech, Clemson and Duke.
"We need to play a great ballgame and hopefully be in position to win tomorrow night, and that will help," O'Connor said. "I think they've got a pretty good RPI, and so they all matter."
After the VCU matchup, UVA takes this weekend off for final exams. The Cavaliers return to the diamond on May 14 for the home series with Wake Forest. The road series against Boston College begins on May 21.
Seven games remain, and they all carry significant weight as UVA aims to make the postseason field. As the Cavaliers enter the final stretch of the regular season, they need more moments like those from Savino on Sunday.
"That's what college baseball is all about," O'Connor said. "That's what these guys come here to play for, and I think it brought the best out of our guys."