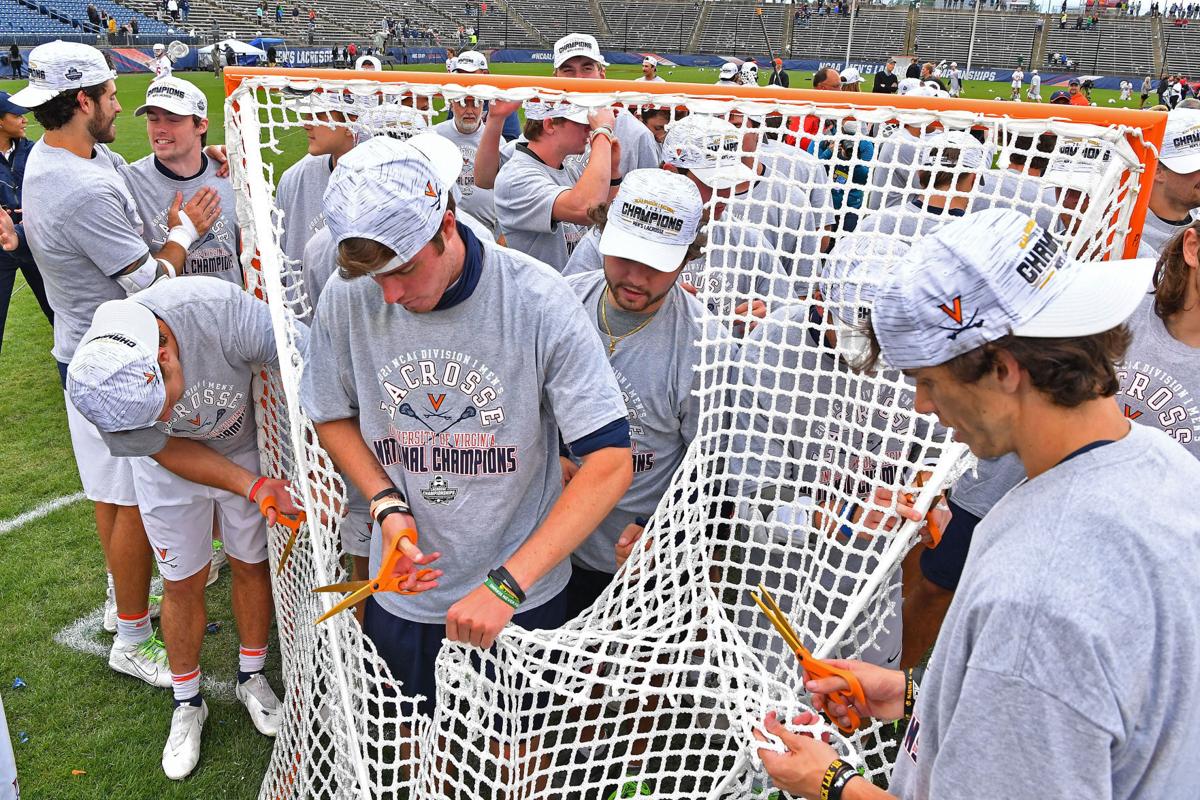 EAST HARTFORD, Conn. — Lars Tiffany has never coached a lacrosse game at Virginia without Dox Aitken and Jared Conners on his team. That changes next season, when Tiffany and his Cavaliers will take aim at a third straight NCAA championship.
Aitken, Conners, Ian Laviano, Kyle Kology and graduate transfer Charlie Bertrand are among the seniors who played their final college games in UVA's 17-16 national championship victory over Maryland on Monday.
Aitken and Conners were part of Tiffany's first Virginia team in 2017.
"There's no better way to say goodbye, right?," Tiffany said Monday, as cleanup crews used leaf blowers to clear championship confetti from the grass at Rentschler Field. "But it's hard to think that three months from now, when we're practicing and starting up again, those two aren't going to be there, and it's a whole new realm."
Well, maybe not an entirely new one.
Connor Shellenberger, the most outstanding player of college lacrosse's final four weekend, is only a redshirt freshman. Matt Moore, who scored the game-winning goal against Maryland, and Alex Rode, the goaltender who made the game-clinching save, are seniors who are expected to return courtesy of the NCAA's decision not to count the aborted 2020 season against athletes' eligibility.
Senior defender and captain John Fox is among a group of seniors who have not yet decided if they'll return.
Payton Cormier, the team's leading scorer, and Cade Saustad, its top defender, are sophomores.
And the list goes on. Faceoff specialist Petey LaSalla and midfielder Jeff Conner are juniors, as are defensive midfielders Grayson Sallade and Chris Merle, who emerged for the team during the championship run. Cole Kastner, who at 6-foot-7 may also walk on for the school's basketball team, became a star defender in the second half of the year.
In all, seven of the 10 players who started the championship game are expected back as Virginia attempts to become the first team since Princeton in 1996-98 to win three straight national titles.
Before the 2020 season, Tiffany laid out just how difficult repeating as champions is, pointing out how relatively few Division I teams in lacrosse, basketball and football have been able to do it during the past two decades.
If he investigates similar history for three-peats, he'll found evidence that they're even harder to come by.
Before Bill Tierney's Princeton dynasty, only Syracuse from 1998 to 1990 and Johns Hopkins from 1978 to 1980 captured three championships in a row.
"There's no question it's really hard," said Tiffany, now one of just four active coaches with multiple titles, joining Denver's Tierney (7), Syracuse's John Desko (5) and Duke's John Danowski (3). "We got two one-goal wins over a great North Carolina team and a great Maryland team, and Alex Rode making all these great saves for us. Just a couple balls go the wrong way — it's really, really difficult to do this."
A more positive statistic is that of the eight teams since 1971 to win two straight titles, four made it back to the championship game in Year 3.
UVA has the pieces to contend again, something that seemed unfathomable when Tiffany first took over. Dom Starsia, who coached Tiffany at Brown and led Virginia to four national championships, had been fired, and Tiffany took over a team that had fallen down in an ACC that makes it difficult to get back up.
The Cavaliers had lost 18 straight league games before beating Carolina in Tiffany's second season. A year later, they were national champions. Now, one coronavirus-erased season and another national title later, UVA and Tiffany could be on the verge of lacrosse's newest dynasty.