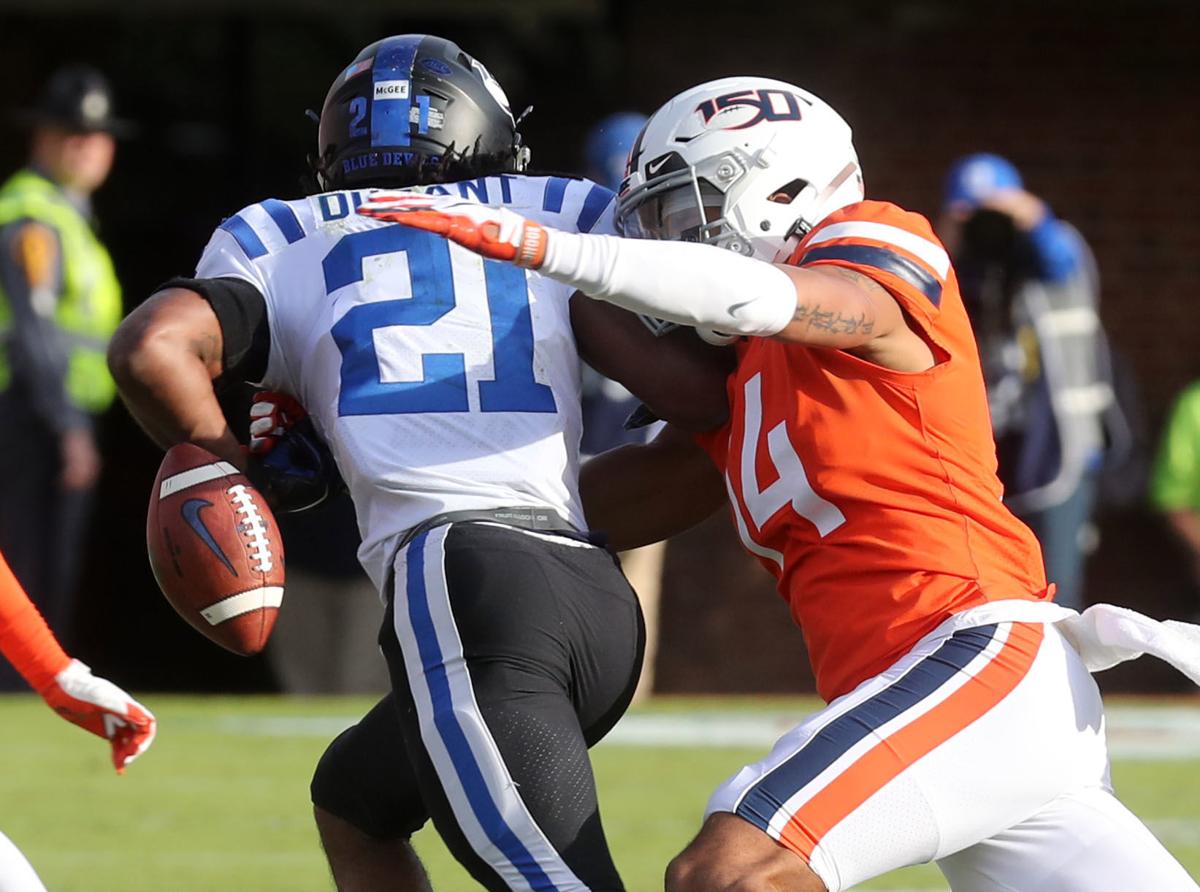 CHARLOTTESVILLE — Virginia's defensive coaches frequently issue a warning to their players about the danger of assignment and alignment mistakes.
"The ball will go where somebody isn't doing their job," safety Antonio Clary said the coaches repeat frequently.
That was displayed in the third quarter of UVA's thrilling 34-33 win at Louisville on Saturday. The Cavaliers led 13-10 at the half and had held the Cardinals to just 45 rushing yards. But after halftime, Louisville's ground game got going, aided by some mental errors from the Virginia run defense.
The Cardinals ran for 116 yards and two touchdowns in that quarter, including a 52-yard scoring run by running back Hassan Hall.
Even without including Hall's long run, UVA (4-2, 2-2 ACC) allowed 5.3 yards per rush in the third period.
"We did well in the first half, but in the second half, there were some gaps you could see were open, people weren't in the right gaps," Clary said. "We've got some things we've got to fix gap-wise and run fits, between the D-line, 'backers and secondary as well. We have to work on that this week in practice."
That's especially true because Saturday's opponent, Duke (3-3, 0-2), has an offensive identity built on running the ball. The Blue Devils rank second in the ACC, averaging 219.3 rushing yards per game and senior running back Mataeo Durant is second in the league individually, at 131.3 and with nine rushing touchdowns.
Even before Saturday's breakdowns at Louisville, run defense has been an issue for the Cavaliers. They rank last in the league against the run, giving up 196.6 yards per game and 5.1 yards per carry. The 13 rushing touchdowns they've allowed are the second most in the ACC behind North Carolina's 14.
"I think it's improving week in and week out, and there are certainly inconsistencies that are easy for everyone to see around that," UVA coach Bronco Mendenhall said. "I think you can see lots and lots and lots of progress, and so yeah, there's two or three plays per game that right now have to be addressed and fit more appropriately and then tackled before they become big gains. In between that, yes, lots of progress. I'm encouraged."
Unlike a week ago, when much of Virginia's defensive preparation centered on the dual-threat abilities of Louisville quarterback Malik Cunningham, getting ready for Duke means getting ready chiefly for Durant and the traditional run game.
The 6-foot-1 195-pounder ran for 152 yards and a touchdown in the Blue Devils' loss to Georgia Tech on Saturday, his fourth straight 100-yard rushing game. That is the second longest streak in program history. He also set a record for most carries in a game with 43 against the Yellow Jackets.
But he's more than just a workhorse. Durant broke off a 59-yard run in the opener against Charlotte, took off for a 57-yard gain against Kansas and had a 37-yard run against North Carolina.
And he's a capable receiver out of the backfield, having caught 13 passes for 182 yards and a touchdown, including a 53-yard reception against Kansas.
"Runs for power, runs for speed. He's tough," said Mendenhall, who praised the offensive system Duke coach David Cutcliffe is employing for maximizing Durant's effectiveness. "They're using their running back exactly as he should and needs to be used and getting a lot of production out of him."
Virginia has won its last six meetings with Duke, including last season's 38-20 win in the opener at Scott Stadium. In that game, the Cavaliers limited Durant to 32 rushing yards and held Duke to a paltry 1.5 yards per carry.
Notes: Mendenhall confirmed cornerback Josh Hayes, who transferred to UVA from North Dakota State before the season, had left the team and re-entered the NCAA transfer portal. … Brennan Armstrong was named ACC quarterback of the week for the third time this season, the league announced Monday. … Virginia's Oct. 23 home game against Georgia Tech will kick off at 7:30 p.m. and air on ACC Network.