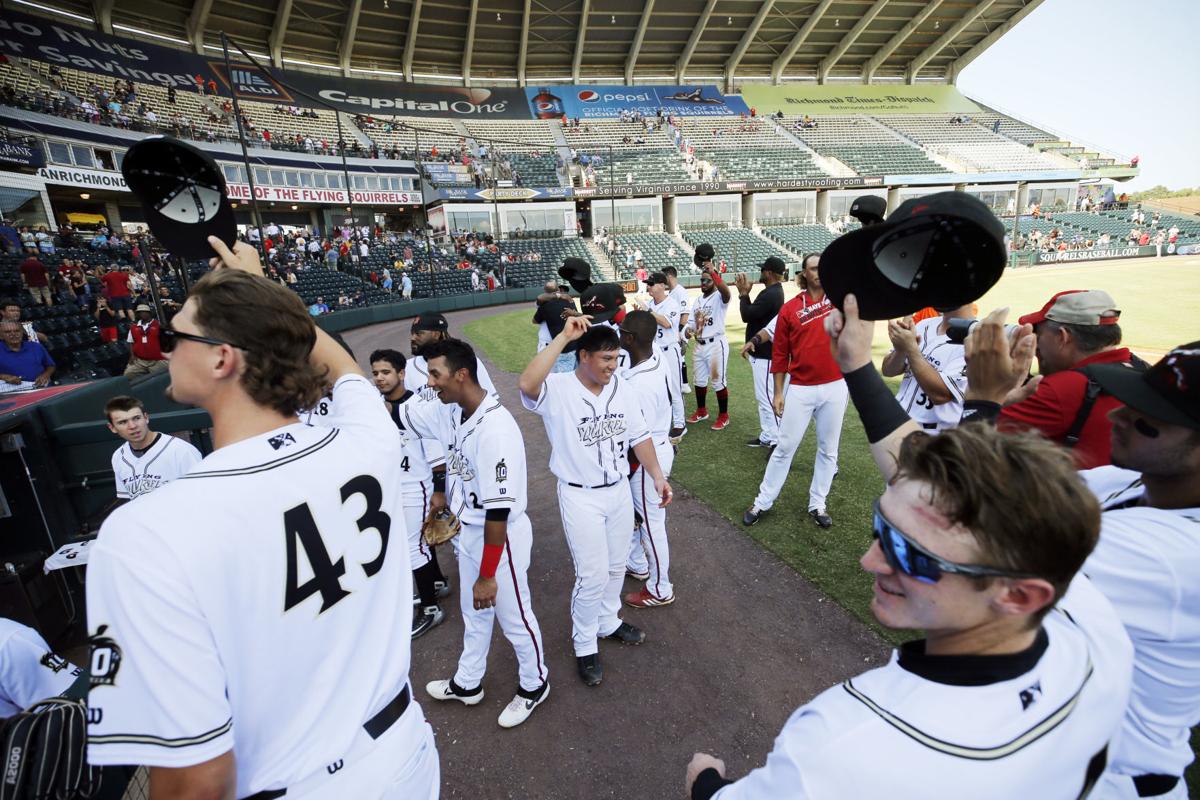 What was a presumption became a reality Tuesday evening. There will be no minor league baseball season.
Major league organizations, prepping for a 60-game season, aren't interested in supplying players to their farm clubs under the current conditions of a global health crisis. Even if they wanted to do so, at this stage there isn't sufficient time to conduct a training period and play enough games to make the proposition worthwhile.
For months, it's been highly unlikely that there would be any minor league games in 2020 because of the pandemic's sweeping effect.
"It's kind of like when you know that a loved one is not doing well, but when they're gone, it still hurts," said Todd Parnell, the vice president and COO of the Double-A Richmond Flying Squirrels. "We're living history in so many different ways, and even in a sports sense, this is history.
"It's sadness that we won't see the fans in a traditional setting, but the Richmond Flying Squirrels have been built for the last 10-plus years as a resilient organization that will bounce back, and our fans have proven themselves as bounce-backers, as well."
This will be the first season since 2009 that there has been no professional baseball played in Richmond, whose Flying Squirrels were scheduled to open April 9 and wrap up their 140-game season on Sept. 7. The Triple-A Richmond Braves left town after the 2008 season because of dissatisfaction with The Diamond and were not replaced until the Flying Squirrels began play in 2010.
Tuesday's announcement ends the four-year player-development contract, which was really an extension, that linked the Flying Squirrels and their parent club, the San Francisco Giants. They have been affiliated for all 11 of the Flying Squirrels' years in Richmond.
Lou DiBella, the Flying Squirrels president and managing general partner, told The Times-Dispatch on Friday that the identity of his team's future parent club is one of the uncertainties with which he is dealing as Major League Baseball takes a greater interest in controlling minor league operations.
MLB and the National Association of Professional Baseball Leagues, the governing body of the minors, are trying to reach a new working agreement. The current contract ends in September.
DiBella suggested that the major leagues may get into the business of arranging affiliations that connect big league organizations and minor league teams, beginning as soon as next season, without any input from Minor League Baseball, ownership groups or management teams of minor league franchises.
The affiliations could be based, to a great degree, on geography and cost containment, and it's possible that Richmond could shift back to Triple-A.
"I don't think it's going to be our choice. I think we're going to find out who our affiliate is at some point," DiBella said.
The Washington Nationals' Triple-A affiliate is Fresno, Calif., and their Double-A affiliate is Harrisburg, Pa. Both of those player-development agreements also end in 2020.
The Flying Squirrels will try to put The Diamond to use through the remainder of the summer by holding various events the team has not yet announced.
"We've got some exciting things to stay connected to our fans," Parnell said. "We'll continue to forge ahead, continue building that bridge to what we still feel is an amazing future."
Parnell said that the Squirrels will work through ticket and advertising situations that pertained to this season. Parnell recommended that more information on that topic will available through the team's social-media accounts.
(804) 649-6233
@RTDjohnoconnor