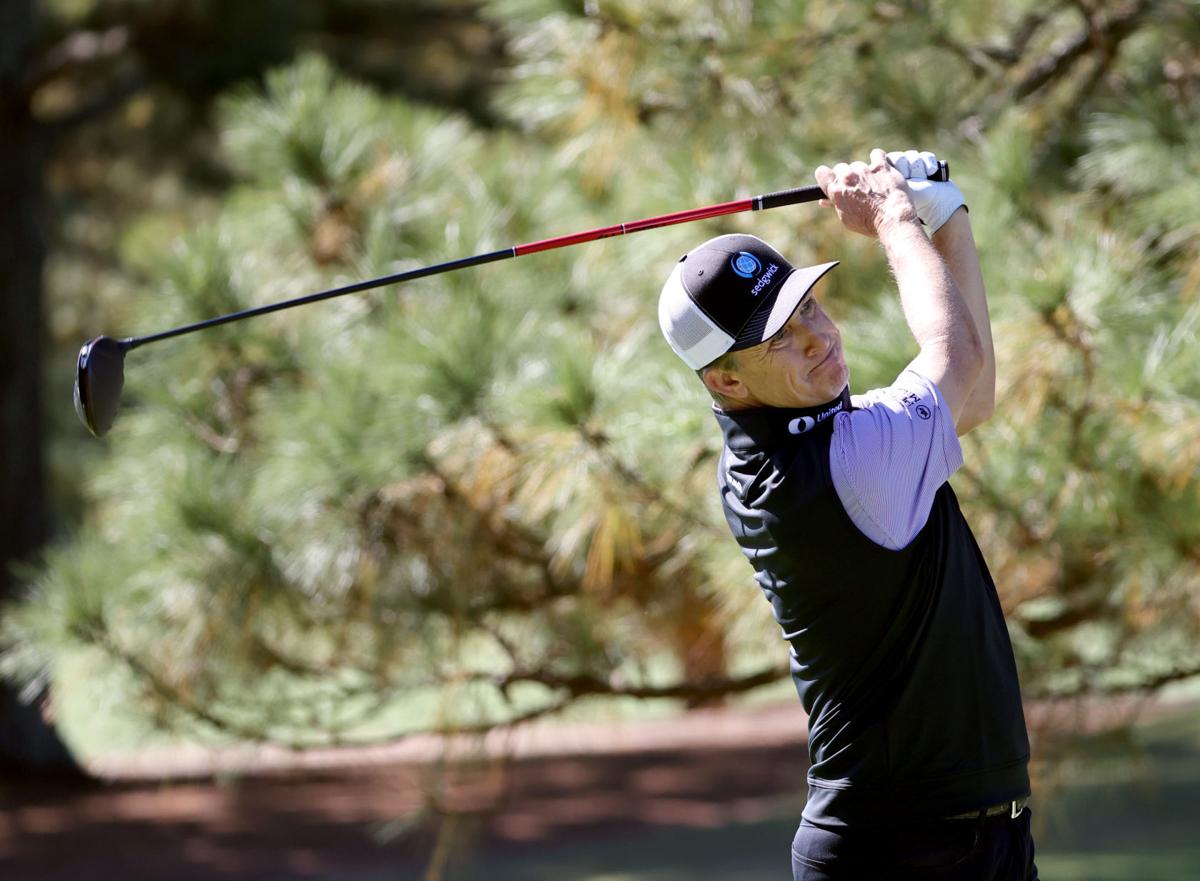 Family and career, in that order, give David Toms considerable comfort at this weekend's Dominion Energy Charity Classic.
Six weeks removed from his most recent PGA Tour Champions victory, and with five other top-10 finishes this calendar year, Toms is playing quality golf. Moreover, competing in the commonwealth takes Toms back to his PGA Tour prime.
From late 1999 through 2001, he was among the world's elite, earning six of his 13 career PGA Tour wins. The stretch included his signature moment, the 2001 PGA Championship at Atlanta Athletic Club, where he outdueled Phil Mickelson and struck the shot of a lifetime.
Also during that span, Toms collected the oversized check at the 2000 and '01 Michelob Championship at Kingsmill in Williamsburg. He defeated Mike Weir in a playoff the first year and edged Kirk Triplett by a stroke to defend his title.
"Obviously, this area has been good to me over the years," Toms said as we stood on the practice tee of the Country Club of Virginia's James River Course.
Toms' son, Carter, a recent LSU graduate and, like his father, a former Tigers golfer, moved to Richmond this summer to work for the investment bank Harris Williams. Dinner has been on dad this week.
"I haven't had dinner with him three straight nights [like this] in probably six years or something," Toms said.
Toms began competing on the Champions Tour in 2017, as soon as he hit the requisite age of 50. The following year, he won the U.S. Senior Open at the Broadmoor in Colorado Springs, and in defense of that title in 2019, he tied for second behind Steve Stricker at the University of Notre Dame's course.
While World Golf Hall of Famers such as Bernhard Langer, Ernie Els and Mickelson, and oversized personalities such as Miguel Angel Jimenez and John Daly, attract more attention, the understated Toms has quietly fashioned a second career, earning approximately $5.7 million on the Champions Tour.
It's a step this father of two — he and his wife, Sonya, also have a 16-year-old daughter, Anna — was more than ready to take.
"I had no business playing with the young guys, for sure," Toms said. "At almost 55, guys are half your age and hitting it by you 70 yards. Would just be really hard to compete. But out here, I still feel like I can compete on a daily basis. ...
"It's very competitive, still. You just can't go through the motions. ... If you have just a so-so round, everybody just blows right by you. I still enjoy preparing and trying to keep fit."
Toms appears plenty fit. Indeed, he's aged remarkably well since those Kingsmill victories and the 2001 PGA.
At the latter, Toms' 15-under-par 265 aggregate was the lowest score ever posted in a major championship and one stroke better than Mickelson. Toms secured the win with a 12-foot par putt on the final hole, but his indelible shot came 24 hours earlier.
Standing on the tee of the par-3 15th hole, Toms pulled a 5-wood from the bag and made a hole-in-one that even drew a broad smile from playing partner Shingo Katayama. A plaque on the tee box commemorates the ace, and friends playing the course still text Toms photos.
"So I get reminded of it a lot," Toms said. "As golfers, you try to draw on your positive experiences. You try to take the negative ones and forget about it. But it's interesting how the negative ones creep in more than the positive. So it's our job as competitors to try and reverse that."
Friends since their college days — Mickelson attended Arizona State — Toms and Mickelson were paired in the final group Sunday at the PGA in what was essentially match-play competition. Thirteen months later, at a Ryder Cup delayed a year by the 9/11 terrorist attacks, they were match-play partners.
Four times in two days at The Belfry in England, U.S. captain Curtis Strange teamed Mickelson and Toms, twice each in the alternate-shot and best-ball formats. They went 2-1-1.
"I've had a lot of fun with David," said Mickelson, the defending Dominion Energy champ. "You brought up The Belfry. We had a really funny moment there on the 16th hole."
As Mickelson told the story on David Feherty's Golf Channel show: After Mickelson hit a perfect drive at the par-4 in an alternate-shot match, Tom chunked a 9-iron into the lip of a greenside bunker. Mickelson's deft recovery shot left Toms a 4-foot putt for par.
"What do you think?" Toms asked Mickelson, looking for help on the read.
"What do I think?" Mickelson responded. "Don't [mess] this one up, too."
Toms made the putt, and the Americans closed out Pierre Fulke and Phillip Price 2 and 1 on the next hole. The next day, Toms won his singles match against Sergio Garcia, Europe's greatest Ryder Cup player.
"He's a really, really good player," Mickelson said of Toms, "but he's [also] a great guy. ... His wife, Sonya, and family are just terrific, too. I've been fortunate and appreciative to have a long-term friendship with him."
Mickelson, 51, dabbles on the senior circuit while still focusing on the PGA Tour, where in May he won his sixth major, at the PGA Championship. He's the oldest man ever to win a major.
Toms admires that longevity but is content to compete in his own age bracket.
"It's just a blessing," Toms said, "for all of us, really, to be able to continue playing a sport that you've been competing in for 30, 40 years and still be able to make a living at it, a good living for that matter. And so I feel very lucky, very fortunate, that I've been healthy enough to do it for a long time."