T-D Top 10
Team-by-team
CLASS 6, REGION A
Offense: Sophomore Nazir Coley (5-11, 170) will run behind a line with good size: juniors Aaron Birchmeier (6-0, 225), Mason Howard (6-6, 270) and Jay Tambe (6-2, 210), sophomore tackle Keyshawn Claiborne (6-3, 260) and senior Hampton Miller. Coley, Howard and Claiborne are college prospects, along with receiver Matt Channell (6-2, 205). Senior Jake Shelek is the quarterback. He'll throw to Channell, Zach Sacra, Connor Rancher and Dakota Smith.
Defense: Mutascio will use a 3-5 alignment to try to take advantage of his linemen and linebackers. Channell, Howard, Claiborne and Miller are doing double-duty up front. Senior Luke Mills (6-0, 205) anchors the linebacking spots, alongside juniors Seamus Henshaw (6-2, 210) and Brady Remington. Smith and Rancher are the corners. Shelek and Jordan Mims are the safeties.
Outlook: While the Titans didn't have a lot of high-scoring outputs last season, they got off to a 5-1 start before being limited to 14 points or fewer and allowing an average of 30.4 points in five consecutive losses. Mutascio hopes to change those trends with a squad that has solid skill players, more size on the line and a fair amount of underclassmen. Schedule includes powerhouse Manchester at the end and has some 50-50-type games that may determine how the season goes.
Offense: The Rapids return a lot of starters and aim to increase production (scored more than 20 points once last season) in their option-based attack. Junior quarterback Colby Scioscia (5-11, 195) will be one of the key components. Backs Anthony Scrivener and D.J. Logan are seniors. Scioscia's passing targets will be junior Chris Seward, senior Gavin Morris and junior Jackson Rowe. The line of Myles Austin (5-8, 255), Aaron Turnage (6-1, 285), Elijah Mayo (6-1, 240), William Dixon (6-2, 245) and Jaellen Rose (5-11, 230) are all juniors.
Defense: James River gave up at least 24 points in seven games last season, so an experienced group will try to trim that down. Riley expects his front wall of junior Charlie Cavallaro and seniors Colson Weaver, Daimond Westbrook and Rose to be improved. Senior linebacker Ben Wallace is back, joined by senior Wilson Gilliam. The secondary has four returnees – senior Tim Galolo, senior Justin Logan, junior Griffin Newsome and junior Grady Pereira – along with junior Chris Seward.
Outlook: Given the number of starters returning, improvement would be expected in Riley's second season. They'll have to narrow the scoring gap on both sides of the ball. Of the six teams on this year's schedule, James River was only within one score of L.C. Bird (14-7) last season.
Offense: Receiver DeAngelo Gray had 1,763 all-purpose yards last season, has scored more than 30 career touchdowns, and was second-team All-Metro as a running back. Tucker says sophomore WR Donavan Woods (5-11, 188) will be "the next great athlete" to come from Dale, and Shamus Jones (6-3, 195) is a big target. Jordan Branch (5-10, 210) is a hard-nosed runner, and FB/H-back Johnathan Martinez will line up in several spots. The offensive line is big and should be able to move people: Tyler Leinberger (6-3, 310), Greg Mitchell (6-0, 265), Jaden Baskerville (6-1, 275), Zeke Amissah (6-1, 265) and Rogelio Aguirre (6-1, 300). Ethan Hamill, Ethan Minter and C.J. Milazzo have been battling for the QB spot.
Defense: The Knights are replacing a lot of starters, although everyone on the line -- Jaleel Dowd (6-2, 250), Jerry Newby (6-1, 235), Hazon Ellis and K.J. Jones (6-0, 310) – played a lot last season. Jones, who has signed with VMI, was second-team all-state and leads a linebacking group of Brandon Cammarasana (6-2, 200) and Brad Ford (6-1, 235). Woods, Minter, Sean Crawford and Jamar Johnson have been vying for time at safety, with Gray at one corner.
Outlook: The Knights got through some key injuries last season and advanced to the region title game. Some top players graduated, but Tucker has some top talent returning to mix with the youth movement.
CLASS 5, REGION B
Offense: Depth at running back behind an upperclassmen-laden offensive line will be the calling card for this Raiders attack. Seniors Eric Rankin and Joseph Slade lead the charge out of the backfield, they'll run behind four juniors -- center Chris Gathje, guards Cody Chartier and Owen Ham and tackle Zedric Hayes -- and a senior, tackle Donovan Camp. Atlee lost quarterbacks Tyler Warren (Penn State) and Kody Ohl, as well as star receiver Alexander Oliver (VMI). The development of junior quarterbacks Owen Coleman and Mike Joyce will be key. Looking to fill Oliver's shoes on the outside will be seniors Noah Apostolides and Andrew Stevens.
Defense: Two-way players Rankin and Slade lead a deep Atlee linebacking corps that also includes juniors Cameron Williams and Keith Green. The junior edge rushing duo of Ham and Zion Bryson are both returning starters and will look to disrupt opposing backfields. Two senior cornerbacks, Jamahrie Owens and Matthew Stiles, will key the secondary.
Outlook: The Raiders lost 15 seniors to graduation. Replacing the offensive production of Warren and Oliver looms large. But they're playing each county opponent twice this year, two of which they beat handily last season, so they'll be aspiring for a winning season.
Offense: Quarterbacks K.J. Patterson and Reece Hamilton each provide a passing option. Kendall Cross (6-2, 220), who has several college offers, will line up in several spots, including running back with Reggie Carter. Receivers Corie Addo, Tyler Lee and Jaden Jennings are experienced, with receiver Randy Hathaway back from an injury. Bryson Jennings leads a deep tight end group. Line has size and a mix of veterans and newcomers. Andrew Blanton (6-2, 285), John Parker (6-1, 285), and Brennan Scott (5-9, 240) return, joined by Tanner Silwaski (6-5, 280) and Christian Smithers (5-11, 265).
Defense: Jennings, a 6-6, 240-pound junior, leads a unit that allowed 14 or fewer points in six games last season. He has offers from Va. Tech, UVA, Michigan State and Penn State, among others. Blanton returns up front, joined by Scott and Cam Mazell. The linebacking crew will be a strong point with Cross, Brayden Smith (6-2, 210), Charlie Ver Beek and Jaiveon Arthur. Patterson and Breyon Green bring experience in the secondary. They're joined by Aaron Hotsclaw and Joshua Jennings.
Outlook: It's hard to call a team that went 8-3 a sleeper, but the Cavaliers may serve as an alarm for teams this season. They have several college recruits, weapons at the skill spots, some seasoned offensive linemen and returners on defense.
Offense: First-team All-Metro quarterback and Army recruit Bo Kite accounted for 32 touchdowns and nearly 1,800 yards last season. He's back to lead a potent Wildcats attack with seven returning starters. Senior running backs Alva Rose and Corey Crump form a hardened backfield duo. Senior slot receivers Miles Ellis (Virginia Tech) and Kyle Gensone pair with senior wide receivers Carter Foy and Ronique Capers to make up a deep and talented receiving corps. Senior guard Sam Blankenship (6-5, 295) and senior center Reid Smith anchor an offensive line otherwise made up of new starters. Deep Run averaged 38 points last season.
Defense: Eight returning starters feature for a senior-laden defense that allowed 10 points per game in 2019. Senior linebacker Garrrett Keeney and senior nose tackle Henry Blankenship feature in the Wildcats' 3-4 look, in addition to two-way players Crump (OLB), Ellis (CB), Gensone (CB), Foy (S), Kite (LB) and Rose (DL). Senior linebacker Jake Jarvis, senior safety Andres Beaubrun and Foy didn't get many reps last season. But that's the only concern for this stout unit that held seven of 12 opposing offenses last year to single digits and only allowed more than 20 points twice.
Outlook: Kite was injured in the first quarter of Deep Run's 35-18 playoff loss to Manchester last year, otherwise Hornik believes his team was capable of running the table to a state title in what proved the program's best season in a decade. They could be better this year. There's an unfinished business vibe about this team. The Wildcats are candidates for a deep playoff run.
Offense: Experience at the skill positions will be a major boon for senior quarterback and returning starter Andrew Bland. He'll hand the ball off to senior running backs Charlie Martin and Jackson Fellows, and throw it to a pair of senior wideouts, Seamus Moore and Luke Jennette (6-6, 205). Four new faces join senior tackle Damian Balsom on a young but athletic front. The Mavericks averaged 20.6 points last season and have the firepower to improve on that mark this time around.
Defense: This unit surrendered 18.2 points per game in 2019 and returns just two starters in senior safety Jonathan Hundley and senior outside linebacker Leo Lombardi (6-4, 220, also the punter and kicker). Team speed will be a strength, but the inexperience could be noticeable in close games against top competition. Much may be asked of sophomore nose tackle Alex Brann in a three-down look.
Outlook: The Mavericks rolled Godwin 48-0 to start the year. Matchups with Glen Allen, Deep Run, Henrico and Varina will define this team's season. Bland and the offense have the talent and mileage to put up ample points. Can an inexperienced defense do enough in those four high-caliber games?
Offense: Third-year starter at center JT Kelly and senior quarterback Jordan Greenhow (walk-on, VT) lead a unit that averaged 26.4 points in an up and down 2019 season. Glen Allen scored more than 30 points in five games, but was held to single digits in three. Talented sophomore Joshua Goodwin will start in one of the tackle spots, he's a name to keep an eye on in the years ahead. Three seniors -- wide receiver Drew Morris, running back Campbell Green and WR/RB Dominic Dutton -- will be depended upon for production at the skill positions.
Defense: Junior Zach Chambers makes the move from defensive tackle to middle linebacker. Senior defensive end Jason Johnson is headed to VMI; he and fellow senior end Andrew Vreeland will look to generate pressure in a 4-3 look. With no players over 220 pounds, Glen Allen could run into trouble against big opposing offensive lines. The Jaguars allowed 16.8 points per game last season.
Outlook: Glen Allen graduated half of both the offense and defense. A surprising late-season loss to John Marshall was followed by an impressive win over Freeman to end the Jaguars' 2019. Aside from that, they lost to good teams and handled decent to subpar ones. A 25-7 win over Tucker Monday was expected. We'll have a better idea of where the Jaguars stand after they play at Freeman Saturday.
Offense: Senior running back Nigel James and sophomore Jeremiah Coney should feature in Bedwell's ground and pound offense. A strong line led by senior right tackle Nate Howard (6-1, 300) and senior center Billy Gough (6-1, 265) looks to pave the way. The big question mark is at quarterback, where two candidates — senior Brock Schaeffer and junior Jaylen Burton — will share playing time. Burton is more of a mobile threat, Schaeffer a pocket passer. Look for talented sophomore wideout Breon Gunnell to turn some heads.
Defense: Four stout senior linemen — ends Marcos Torres and Stanley Athey and tackles Carlos Alexander (6-0, 300) and Gabe Clayton (6-3, 270) — will lead an experienced, tough and speedy Panthers defense. They might want for depth, and youth in the linebacking corps is a question mark. But they'll get to the quarterback and disrupt opposing run games. And James will play some safety, he and senior cornerback Alhaji Kamara will lead a secondary that can cover a lot of ground.
Outlook: Bedwell won states titles at L.C. Bird in 2012, '13 and '14 before stepping away from coaching in 2016. For years, Hermitage had one of the best teams in Henrico County. But the Panthers fell on hard times after longtime coach Patrick Kane left, and went 1-9 in 2018. After showing early signs of revitalization last season, Hermitage and Bedwell may have announced their resurgence in earnest with a 9-0 win over defending 5B champs Varina to start the year. The Panthers have the look of a much improved team hungry to reestablish itself among the area's best. 
Offense: Highland Springs rushed for 2,300 yards last season and leaned on its offensive line in critical moments. The loss of eight starters raises questions in terms of experience. But senior running back Jordan Jackson and junior wide receivers Mike Hodge and Quanyae Veney lead a group with blazing team speed. And four seniors — center Kiajai Hyman, guards J'Mauri Snell (6-4, 300) and Shawn Baskerville and tackle Duncan Pan — join junior tackle Josh Lawrence (6-5, 285) to form what should remain a formidable offensive line despite no returning starters. Last year's quarterback Jamareeh Jones will make the switch to defensive back this season, senior Juwan Dent replaces him under center.
Defense: A dominant defensive line led by senior end and Oklahoma recruit Kelvin Gilliam and junior end Rashaud Pernell (offers from Virginia Tech, UVA, et al.) will harass opposing backfields. Another senior Sooners commit, Damond Harmon (CB), joins Jones, senior free safety Jabari Parker (walk on, Virginia Tech) and sophomore DB Braylon Johnson (offers from Virginia, VT, Penn State, Oklahoma, et al.) to form a lockdown secondary. Lack of overall game experience is a concern for Johnson with a unit that lost six starters.
Outlook: After four consecutive state titles, 21 playoff victories in a row and 40 straight wins, the Springers finally fell in the 5B semifinal last year, 27-21 to Varina. Highland Springs will be elite in the trenches. If they can take care of the rock and lean on their defense and ground game, they'll once again be a top-tier contender for regional and state supremacy.
Offense: Size and athleticism up front leads the way for the Tigers attack. Senior Elijah Fuentes and junior Noah Hartsoe (6-4, 330) spearhead an offensive line looking to open lanes for senior back Antione Carroll. Receivers Sir Jonathan Sims, Jaden Lee and Raheem Mitchell provide the big play potential on the outside. Sophomore quarterback Kameron Clark will start under center.
Defense: A stout defensive line led by junior tackles Blane West (6-3, 285) and Donye Alexander features for a unit captained by senior linebacker David Walker. Feuntes will also provide a pass rushing presence at end, and a deep and athletic secondary allows for flexibility and some rotating pieces on the back end.
Outlook: The Phillip Sims era began with a 25-7 loss to Glen Allen and, although the Tigers might indeed be better than they were last year, the schedule doesn't get any easier. It's difficult to find a winnable game for the Tigers with Deep Run, Varina, Freeman, Highland Springs and Hermitage on the docket.
Offense: The Skyhawks uncharacteristically had trouble scoring last season, getting shut out three times and scoring seven points twice. A senior-dominated line will have to help change that: K.J. Irvin (6-2, 260), C.J. Edmonds (6-0, 280), Keyshawn Williams (6-3, 270), Bryce Benson (6-3, 230) and Kaleb Mosby (6-2, 260). Behind senior QB Xavier Gordon are backs K.B. Miles and Trevor Schultz. Senior Daylan Gregory and sophomores Christian Lyons and Jashaun Amin are the receivers.
Defense: On the other hand, Bird was able to stay in games with its defense. The Skyhawks gave up more than 16 points in a game just twice. They have a lot of seniors up front, with ODU signee Kris Trinidad (6-5, 220), Tyreak Reid (6-3, 230) and Jaden Casey (6-0, 230). Sophomore Devin Ford (6-3, 240) joins them. Linebackers Mike Allen (215), Dorian Wade (220) and Brandon Dent (215) are all juniors. Seniors Jeremiah Wilks and Jordyn Bentley, along with juniors Frank Turner and Reggie Taylor, are the backs.
Outlook: Bird's 5-5 mark last season was the first time it hasn't won six games since going 6-4 in 1998 and the first time it went 5-5 since 1989. Taylor says everyone around Bird knows that's not good enough for a program that won three consecutive state titles from 2012-14. Bird will play its traditional rivalry game with Thomas Dale on March 12.
Offense: RB Ramon Brown (6-0, 205) transferred from Bird and beefs up an already loaded unit. He has 22 offers, including from Virginia Tech and UVA. With sophomore Cody Shelton at QB, the Lancers will be able to throw it around in their fast-paced attack. He has plenty of options with receivers Brendan Shelton, Derreck Crawley, Ryan Heck, Cam Sturdifen, Jaevon Branch and freshman Eric Smith, who already has an offer from Mississippi. Hall thinks the line, with three returning starters and college size, has a chance to be special: Tyleek McCoy (6-5, 340), Will Morris (6-3, 265), Nolan Griles (6-2, 285), Kevin Fish (6-6, 350) and Gabe Stalley (6-4, 330).
Defense: Linebackers Anthony Brunelli and Ben Kelly are back, along with linemen Khali Carter and McCoy. Also on the front are Makai Beyrson and Malik Bey. R.J. Brown and Crawley will be at linebacker. Hall said the secondary is young but athletic: Sturdifen, Branch, Smith, and Donovan Spurlock.
Outlook: The Lancers have gone 48-6 the past four seasons, including 15-0 and a Class 6 state title in 2018. With an offense that could be as potent as the high-scoring '18 team, and college prospects all over the field, they'll again be one of the favorites in the region. The capper: There aren't many seniors on either side of the ball.
Offense: While there is youth in some spots, Matoaca has some playmakers in the skill spots and some experience up front. Receiver Troy Lewis (6-3, 190) and TE Jacob Coleman both signed with East Carolina, and they're joined by receiver Jordan Robinson. Parker expects to be able to throw or run with QB Devin Bailey and backs Cam Johnson and Quentin Johnson, and a line led by center Krishaun Harper (5-10, 270) and Akhari Haggard (6-2, 300). Juniors Keyshawn Burgos and Morice Fulton Jr. (6-0, 260) and freshman Jaedin Lee (6-2, 250) also are up front.
Defense: Only senior Ben White (6-2, 225) returns on the line, but Parker believes that area will be a strength with Burgos, Haggard and Fulton. Linebackers Michael Shank (junior), Gavin Hall (sophomore) and Trae Henry (senior) are new starters. The backfield has returnees with Lewis, Robinson and Trey Wills. Cornell Allen will be a safety.
Outlook: The Warriors were close to adding a few more wins last season, losing some close games to some quality teams. While they have some key players returning in key spots, getting on the other side of .500 may depend on how quickly some of the newcomers come along.
Offense: While breaking in sophomore quarterback Khali Coward, the Monarchs may lean more on running backs Justin Burton and Rashai Enoch-Bailey and their offensive line: senior Eli Turner (6-3, 250), junior Devion Crawley, senior Khalil Lofton, junior Brian Miller Jr., sophomore Logan Hoyt (6-6, 244) and senior TE Steven Ward. Coward's targets will be senior DeAundre Williams and sophomore Elijah Nicholas.
Defense: The Monarchs will need quick improvement from a unit that surrendered 55 or more points six times last season. Linebackers Enoch-Bailey, Clyde White, Miller, Ward and Crawley will be the main cogs. Antonio Fleming and Hoyt man the end positions, with junior Kenny Valdez (6-0, 235) at tackle. Freshman Donovan Jefferson and sophomore Samuel Rice are the corners. Williams is the free safety.
Outlook: Healy takes over a program that won a Division 5 state title in 2004 but went 0-20 the past two seasons and hasn't had a season above .500 since 2013. Healy coached at South Lakes in Fairfax in 2018, guiding the school to a 9-3 season before moving to Richmond. His first job will be to get more production from an offense that was shut out six times last year and scored just 36 points.
Offense: The Trojans have a lot of starters returning but are breaking in a new quarterback among seniors Trevor Parker and Braden Berger and sophomore Cooper Meads. Running backs Ashby Berry (sophomore) and Jalen Rembert, along with receivers Jovontae Smith, Braeden Lee and Makhi Jackson (sophomore), will make the offense go. Offensive line has some experience mixed with some inexperience and will have to develop quickly. Returning are Declan Harrington (6-0, 290), Matthew Notarianni, Jimmy Lopez and tight end Kam Olds. New starter Lee Pitz is 6-4, 240.
Defense: Linebacker Olds (6-3, 230) is heading to Virginia Tech as a preferred walk-on. Everybody in the second and third levels – linebackers Gabe Semidey (sophomore), Anthony Schwartz and Berry; and backs Lee, Conor Harrington (sophomore), Smith and Jackson -- is back. Line will be a key with Zach Philips (6-1, 220), Tahja Collins (6-0, 230) and Jarrett Cephus (6-0, 315).
Outlook: The Trojans weren't far from a winning record – losing 2-0 to Powhatan, 14-7 to Cosby and 21-20 to Monacan. A defense that allowed 21 or fewer points in seven games and returns a lot of players could turn that around.
Offense: Three-year starter at running back Bryce Safferwich is gone, tasked with replacing his production will be senior Mason Staib and junior MiyKael Johnson-Harris. They'll run behind an offensive line with strong chemistry and some key returners in senior guard Paul Diana, junior guard Daniel Seo, sophomore center Jayden Discalo and senior tackle Ethan Calveric. There will be competition at quarterback and questions at wide receiver beyond junior Darrin Capps. Senior athlete Grayson Hanks could see time at multiple positions, including under center.
Defense: Hanks will also play cornerback, and leads an experienced secondary that includes Johnson-Harris (CB) and junior safety Marcus Orpiano. Seniors Ryan Norton and Colton Travis and junior Daniel Massengill are all returning starters at linebacker. Replacing some pieces on the defensive line could be a challenge.
Outlook: Coach Ron Strine stepped down, so defensive coordinator Kevin Simonds is serving as the interim coach. Simonds previously was the head coach at Fairfax. He'll be tasked with navigating the Eagles through a gantlet of a schedule — they lost to Freeman 48-0 to start the year. Highland Springs, Hermitage, Glen Allen, Henrico and Deep Run await.
Offense: The Royals have two Division I-caliber linemen in Jaelin Montgomery (6-5, 310) and Wesley Bostic (6-5, 280), and another in running back Curtis Allen (6-0, 220). Montgomery, a second-team All-Metro pick, signed with James Madison. Attack will revolve around the big line, with Keondre Ruff (6-5, 280), Bradley Pritchard (6-1, 240), Isaiah Polingo (6-2, 260) and TE Lee Peterson. Darion Ivory complements Allen in the backfield, Javon Davis-Lee will be used in several spots, and Willie Headley is the H-back. Carroll said PG is working to get more balance from the passing game, with Tahir Johnson at QB and Willie Jennings at receiver.
Defense: PG has several experienced players back. Chris Allen (6-1, 260), Aaron Graham (6-2, 280) and Moeva Pine (6-5, 220) return up front. The Royals have some replacing to do at linebacker. Leemorn Peterson and sophomore Stephon Hicks started last season, and Ivory steps in. Davis-Lee and Jaden Banks are the corners. Jaheim White is a safety.
Outlook: Carroll has become the athletic director for the county's school division and was stepping away from football after 11 seasons. He'll get one more year while incoming coach Scott Girolmo finishes the year at Battlefield High. The Royals had their best season under Carroll last season and made the first round of the 5B playoffs. That'll be tough to make again with only four spots available this season in a crowded field, but PG also isn't faced with a daunting schedule.
Offense: Second team All-Metro senior quarterback Bobby Dunn, senior running back Jailen Walker and senior center Caleb Gosney (6-3, 285) form the spine of an otherwise inexperienced Blue Devils attack. Replacing the production of versatile weapon Isiah Paige, the 5B offensive player of the year, looms large. Wide receivers Isiah Reid, Kenneth Lowery and Carlo Thompson will be to provide some of those big plays. Junior tackle Deandre Crump (6-3, 270) is a force in the running game.
Defense: The senior linebacking trio of Walker, Omarion Robinson and Jaden Carthorne will lead a unit that allowed 13.8 points per game in 2019. But that number doesn't do justice to how stout the Blue Devils were — absent a 45-38 double-overtime loss to Manchester to begin the year, Varina held everyone except Highland Springs (twice, 27 and 21 points against) to 17 points or less. Lowery and Jvonte Dabney form a talented duo at cornerback.
Outlook: The Blue Devils won their first regional title since 2008 last season, and lost a closely contested state semifinal to eventual Class 5 champion Maury 17-14. The defense has the ability to keep them in games against all but the most explosive offenses, but they won't be able to count on an average of 45.7 points from the offense as they did last season with Paige.
CLASS 4, Region B
Offense: The backfield has QB Brandon Franks, RBs Sean Brannigan (5-10, 225) and Kentrel Rollings. Franks' receiving targets are Dominique Washington and Damien Smith. Seniors Chris Poole, Zack Silver and Michael Zirkle will be up front with freshman Ethan Bisson, Aiden Ball and sophomore TE Gavin Norment.
Defense: Norment and Silver do double duty along with the line, joined by Kendall Jackson and Sean Surles. Brannigan, Malik Collins and Cameron Lamboy are the linebackers. The cornerbacks are Rahim Jackson and Avery Delisi, with Smith and Rollins at safety.
Outlook: Caroline had a tough time stopping people from scoring last season, giving up at least 34 points in seven games. That will need to improve while replacing six starters. Allison expects his offense to play better as a unit.
Offense: Junior tackle Alex Reid leads a deep and experienced Mustangs line looking to pave the way for senior backfield duo Chase Stalleman and Eric Drozdowicz and freshman playmaker Cole Varner. Sophomores Tyler Stevens, Joe Elaal and Travonne Strattman-Lassiter and senior Jalen Strattman-Lassiter join Reid to complete strong group up front. Quarterback Logan Harris has mobility and a strong arm.
Defense: Reid also anchors a deep defensive line that includes returning starters Cristian Lanier and Kyle Whitlock. Junior linebacker Davis Williams is the leader of the unit, he and seniors Antonio Drozdowicz and Jack Hawley form a strong unit. Stalleman is a returning starter at corner and will key the secondary.
Outlook: The experience in the trenches on both sides of the ball should mean an improved Mechanicsville team.
Offense: The Chiefs will put points on the board behind the passing of senior quarterback Tyler Hensley and the receiving of seniors Kyjaun Pettus and Elijah McLeod – all three are college prospects – and seniors Victor Budu and J.J. Allen. Junior Keshawn Jefferson will provide another option in the ground game. Monacan is breaking in some newcomers on the line but has good bulk with junior Daevon Gray, sophomore Dre Lockey (6-0, 280), junior Maureese Gray (5-8, 245), senior Kevon Jefferson (6-4, 234) and senior Damon Fenderson (6-2, 270).
Defense: Gave up some points at times last season but returns almost everybody. College prospect Lloyd Williams, a 6-1, 290-pound junior, senior Dominic Moreno and junior Humphrey Quaye are up front, backed by senior Tyler Bartholomew, senior Ivan Fernandez and sophomore Danny Johnson. Seniors Avery Snyder (6-1, 200) and Xavier Wilson and three juniors – Martin Ellerbee, Ghalil Wells and K.J. Johnson – form what Henderson believes will be a strong secondary.
Outlook: Since Monacan went 5-6 in Henderson's first season in 2013, the Chiefs have become a regular force in 4B. They have won at least eight games each year since 2014, going 57-15 during that span. With Hensley and his band of receivers, plus a lot of returnees, Monacan should again be in the regional hunt. Opening game is against Class 5 heavyweight Manchester.
Offense: Junior Jordan Allen replaces the graduated Alex Sikkar under center for a Patriots attack that brings back lots of experience at the skill positions. Wide receivers Zeik Williams and Jayden Mines, tight end Camden Byrd and running back Christian Berry form a dangerous arsenal for Allen to utilize. The offensive line has talent but little experience after losing four starters. Senior kicker Will Dorsey made several big kicks late last season, he'll be a weapon in close games.
Defense: Second-year coach Wakefield said his defense was learning his system last year, and this time around has a much better understanding of scheme and the potential to be very good. Experience and team speed stand out, while a lack of size up front could prove costly against large opposing offensive lines. Senior linebackers Nick Sikkar, Dylan Schloss and Christian Berry will feature, and Byrd is a formidable pass rushing threat at end.
Outlook: The Patriots were a 2-point conversion away from playing for a state title in 2019. The offense could be explosive if the line can protect Allen consistently, and the defense should be stout if a young three-man line can mature quickly. Youth in the trenches could cause some growing pains, but Patrick Henry is talented enough to compete with the best in the region. 
Offense: Almost every starter returns. Henderson expects the line -- Brady Lindhjem (6-3, 270), Tanner Palmore (6-1, 265), Mason Hathaway (5-10, 245), Luke Beatty (5-10, 230), Neco Jackson (6-2, 255) and TE Micah Holt (6-0, 225) – to be bulldozers and RB Mitchell Johnson (5-11, 190) to benefit with a big season. Receiver JaySun Carrol (6-2, 188), who has drawn interest from FBS schools, and QB/WR Aaron Nash have big-play ability, and WR Ty Morris is versatile. If Nash and QB Hans Rehme, who split time, can develop as passers, the offense will have another dimension.
Defense: Playmaking will come from big linebackers Chase Gayness (6-1, 235) and Wyatt Lowe (6-0, 240), and strong safety Carroll. Lowe is making the transition after being an all-region lineman. Zack Karanian (6-1, 250), Mitch Bolt (6-2, 225), Dominic Guppenberger (5-11, 230) and Jackson form the front wall. Ben Allanson rounds out the linebacking crew. Nash and Fisher Hamersley are the corners, with Landon Hutchinson at free safety.
Outlook: The Indians' season included close wins and losses – 2-0 and 21-20 wins, and 9-6, 21-13, 18-15 and 20-14 losses. With just about everybody back, Powhatan will be better and hold its own. Problem may be that a lot of other teams in the Dominion District may be better as well. The Indians have L.C. Bird, Manchester, Clover Hill, Cosby, Monacan and Midlothian on the schedule.
CLASS 3, REGION A
Offense: Krupp expects a senior-heavy line that has some size to open some holes: Christian Walker, Nyzheir Warner (6-4, 350), Trevor Hebner, John Duke (6-4, 360), Andrew Madren (6-3, 280) and TE Maurice Harmon. Tyler White (5-10, 210) is the quarterback, with Benjamin Holmes and Tucker Booth (5-9, 210) behind him. The receivers are college prospect Jaden Newby (6-3, 230) and Jae'den Richardson.
Defense: The linemen and linebackers return, but there's a lot of players going both ways and inexperience in the secondary. Harmon, Newby, Hebner and Madren are up front. Playmaker Wayne Wolfe (6-4, 225) leads the linebacking corps with Tucker Booth and Jason Henderson. Will Cimburke, Donoven Miller, Holmes and Richardson are new in the secondary.
Outlook: The Central District has a lot of good teams as usual, and the Colonials will have a lot of uphill battles with Hopewell, Prince George, Matoaca and Dinwiddie among the teams on the schedule. With a lot of offensive starters returning, especially along the line, Krupp is looking for improvement from a group that scored six or fewer points in seven games last season.
Offense: Start with Robert Briggs (5-8, 192) and transfer Eric McDaniels (6-2, 219), and add freshman Kesean Henderson, the brother of All-Metro player of the year TreVeyon Henderson, and you have a running game that can continually pound you. Irby believes the passing game will be an added element with quarterbacks Joe Eliades or Mason Cumbie, and receivers D.J. Powell, Kevin Hicks and Javon Jones. Second-team All-Metro guard Landen Baker (6-2, 312) returns with tackle Trey Raines (6-3, 247). They'll get help from Raiden Irvin, Bradlee Taylor (6-5, 254) and Ah'Daryal Hite (6-3, 238).
Defense: Second-team All-Metro end Reggie Ruffin (6-2, 221) anchors the line with tackle Nas Bennett and Shamari Mason. Two linebackers – Khalil Murdock (6-3, 213) and Khatoine Taylor – return, with K. Henderson and Kendall Mason moving into starting roles. Zion Hubbard, the only returning starter in the secondary, and Rico Thomas are the corners. Briggs and Powell will do double-duty as safeties.
Outlook: TreVeyon Henderson, one of the country's top recruits, enrolled early at Ohio State and won't play. But don't expect much of a drop-off for a team that has won two of the past three Class 3 state titles. With Briggs, McDaniels and Kesean Henderson, whom Irby says is talented in his own right, the Blue Devils will be a monster on the ground, and now there may be more of a passing threat. Hopewell is replacing some standout players on both sides of the ball, so there is some inexperience.
Offense: Four senior playmakers at the skill positions stand out for the Trojans attack. Running backs Logan Powell and Jamie Jones and wide receivers Joey Campbell (VMI, 6-3, 210) and Jason Hall (6-5, 190) makeup a formidable group of weapons. Depth on the offensive line is a concern, but junior tackle Grady Rounds (6-4, 285) is sure to pave some running lanes. If sophomore quarterback Ryan Grey can get the ball to his arsenal, New Kent should score some points.
Defense: Talented sophomore edge rusher Kellen Roberts (6-5, 245) leads a group that will grapple with youth but doesn't lack for talent. Senior edge Wade Grubbs (6-2, 245) combines with Roberts to form a dangerous pass rushing duo, and junior tackles Nick Wiles (6-2, 220) and Rounds complete a stout line. There's some youth that will need to develop quickly in the secondary and linebacking corps.
Outlook: This young Trojans team under a first-year coach has a lot of unknowns about it. They probably won't be a contender on a state level, but  could make some noise in the Bay Rivers District.
CLASS 2, REGION A
Offense: With junior second-team All-Metro running back Demond Claiborne (5-11, 190) and junior quarterback Jayveon Robinson, the Cavaliers have weapons. Claiborne, who has been timed at 4.36 seconds in the 40, was an all-state pick as an all-purpose player. Robinson was a receiver last year. They will run behind returnees Nathan Baker (6-5, 304), Tim Jarratt and Chase Rosso (6-3, 235), and Drew Newcomb (6-2, 280). Sophomores Kaleb Shelton and Montae Roane are the receivers.
Defense: Moore will have an experienced unit once everyone gets into the swing. Five players in the first two levels -- linebackers Tre Robinson and Ryan Southern, and linemen Rosso, Elijah Adams (6-3, 315) and Kavontay Gaines – are back. Claiborne and J. Robinson are in the secondary.
Outlook: Moore takes over for Dylan DeHart, whose coaching contract was not renewed after he went 56-25 in seven seasons and took the Cavaliers to the Class 2, Region A title game last year, falling 30-28 to Thomas Jefferson. While some wrestlers and basketball players coming in need to get up to speed, and practice time with a new offensive system has been short, expect the Cavaliers to be in their usual spot as a contender.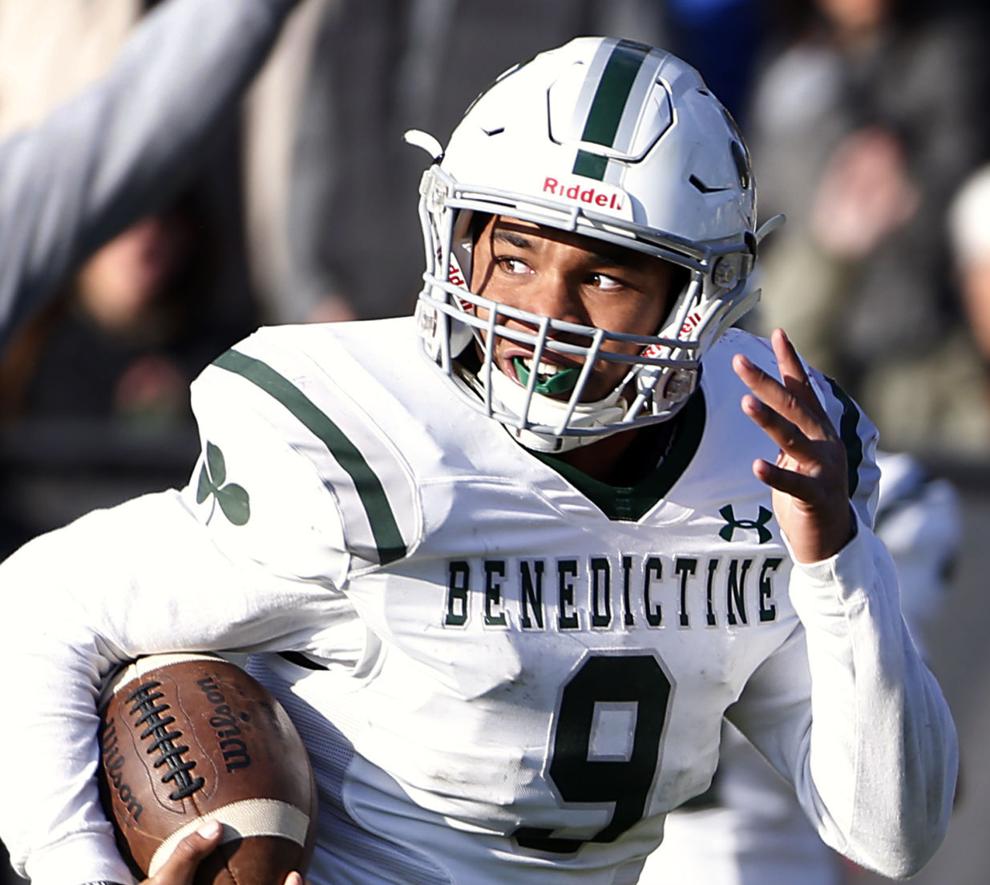 PRIVATE
Offense: Dual-threat quarterback Jay Woolfolk missed much of last season with a knee injury before returning for the playoffs. With the UVA signee back, Benedictine has plenty of weapons with RB Henry Dolan and receivers Dillon Tennyson (UVA walk-on), Leon Haughton and Josh Davis, several of whom will play in college. Haughton has ACC offers, including Virginia Tech. Paving the way are Hunter Porterfield (6-5, 285), T.J. Baldwin (6-1, 265), Logan Cohn (6-1, 240), Austin Tootle (6-3, 250), Jake Bartholomew (6-0, 200) and TE Nick Neighbors (6-0, 210).
Defense: Tackle Joel Starlings (6-5, 290) has UVA and Power 5 schools courting him. CB Anthony Fisher has offers from Army and Air Force, and LB Gary Seigler and tackle Dylan Faniel (6-3, 250) are prospects. Josh McCray and Evan Kerzanet join Starlings and Faniel up front. Henry Berling (6-2, 230) and Neighbors are at linebacker, with Josh Shaw in the secondary with Fisher, Dolan and Woolfolk. Dolan was All-Metro at DB.
Outlook: The Cadets return the majority of their starters on both sides of the ball from last season's VISAA Division I state championship team, and they have Woolfolk back. They have playmakers and college recruits, factors that will have them in the hunt for a fourth title in seven years.
Blessed Sacrament Huguenot
Offense: Line isn't big, but Brock expects it to be a focal point with second-team all-state pick Zach Miles (6-3, 225), Garrett Musselman, Nathan Barras, Nathan Roberts, Mason Hogan and tight end David Mann. Brock is looking for a big season from junior RB Josh Decker along with RB Hunter Case, and he's hoping to take advantage of the athleticism of QB Zander Nadeau (6-4, 160), who moves from receiver. Jeb Hatfield (sophomore) and Will Fichter (freshman) are the receivers.
Defense: Versatility and depth will be strong points, along with the play of the line and linebacker Decker. Up front, Miles will get help from end David Mann and tackles Barras and Roberts. Decker, Case and Gage Smith form the linebacking corps. Harrison Lee moves from linebacker to free safety to give some leadership to the secondary, which includes transfer Julian Alcazar, Hatfield and Fichter.
Outlook: BSH lost eight starters on offense and seven on defense, and it may be looking at more of a development season with plenty of sophomores and freshmen getting a lot of playing time. Miles is the only senior starting on either side of the ball. Still, Brock's teams are competitive.
Offense: Eighth-grader Michael Dabney Jr. had more than 500 yards over five fall games, he and junior AJ Turner will run behind a mammoth offensive line with five juniors all over 300 pounds — center Oscar Servellon (6-3, 320), guards Trevyon Green (6-8, 340, committed to UNC) and Tyland Clark (6-3, 340) and tackles Desaun Williams (6-4, 320) and Joshua Miller (6-7, 325). Wide receiver Akim Sledge features some serious big play potential on the outside. The Eagles only start one senior on offense, but the experience can be found where it's needed most, under center in quarterback Khalid Brown.
Defense: Ends Rodney Roane and Isaiah Thompson join tackles Chris Iverson and Tyrique Tucker in a four-down linemen look. Two super talented underclassmen — freshman linebacker Khamari Reynolds and sophomore cornerback Antonio Cotman — will be names to look out for. The loss of three top talents in Aaron Willis (Tennessee), Thailand Baldwin (Ball State) and Bryce Carter (UVA) could prove an initial challenge.
Outlook: Life Christian can be difficult to gauge against local competition because they travel so much to face top opponents in other states. Based on personnel, this team is one of the most talented around with Division I prospects on both sides of the ball. Dabney Jr. could be a major recruit to watch in the years ahead. They only played one Virginia school in 2019, Flint Hill (Oakton) who they beat 24-7. Expect more of the same from this highly talented bunch.
Coach: Alexander "Immanuel" Jenkins
Offense: Speed at the skill positions, senior 6-foot-2 quarterback Matthew Hutchinson and two experienced offensive linemen will key the Eagles' attack. Junior center Stewart Harrison (6-1, 250 pounds) and junior guard Evan Ruland (6-1, 245) lead the way in the trenches. Hutchinson's weapons include senior running back Jeremy Carpenter and junior wide receivers Gabe Jackson and Tristan Zbysinski
Defense: Athleticism on the back end will try and cover for a small front. Senior cornerback Jacob Nix features in the secondary, while junior linebacker Christopher Davey spearheads the front seven. Getting run stopping contributions from tackles Judd Carlton and Michael Voegelin will be key.
Outlook: RCS is starting its program from the ground up after it didn't field a 2019 team due to lack of participation, then had no offseason or preseason to build a foundation. This group of just 16 athletes has had three weeks to prepare for their first game, and more than 50% of the team has never played football before. But Jenkins said his Eagles have displayed the right attitude thus far and are serious about competing.
Offense: Junior wide receiver Andre Greene Jr. has offers from a host of Power 5 programs. He's the star here, but experience at running back and on the offensive line will also feature for the Saints. The junior backfield tandem of Trent Hendrick and Nikkos Kovanes will run behind three returning starters on the line in Teddy Bannister (6-4, 250), Connor Lamb (6-4, 270) and Carson Lamb (6-3, 250). Junior tight end Joe Sullivan (6-2, 230) could also be a factor in the ground game and through the air. Three question marks stand out — two new offensive linemen, depth on the outside past Greene, and new junior quarterback Joshua Powell.
Defense: Experienced secondary and linebacking groups headline for a Saints defense that lost six starters. Sullivan (edge rusher) Hendrick (linebacker) and Kovanes (strong safety) play both sides of the ball and all started last year. Senior safety Brooks Council and junior safety Mac Grant secure the back end along with Kovanes. Senior linebacker Evan Thompson and junior linebacker Harrison Wood join Hendrick to form a strong trio of linebackers. Sophomore linemen Chris Beach and John Miles will be asked to step up in the trenches.
Outlook: The Saints are coming off one of the best seasons in school history. They lost to Benedictine 14-6 in the VISAA title game, and graduated two All-Metro honorable mentions in quarterback Gill Williamson and wide receiver Will Tazewell. But they still have ample talent, led by Greene and Hendrick. How quickly Powell (6-3, 215 pounds) can take command of the offense will go a long way to determining the Saints fortunes this season.
Offense: Junior quarterback Jack Toscano will have a strong connection with an experienced receiving corps. Junior wide receivers Trai Ferguson and Andrew DuHart join Walker Ferguson the the outside, Toscano should keep that talented group busy. Three juniors and two sophomores form a relatively young offensive line to block for junior running back Mario Thompson. Trinity averaged 33.2 points in 2019.
Defense: A deep and experiences group of linebackers led by three seniors — Shawn Riley (committed to Columbia), Daniel Eliasek and Ethan Rosen — and two juniors — LJ Jones and Elijah Rainer — stand out for a unit that surrendered 26.2 points per game last season. Freshman safety Zahir Rainer has tons of talent. Senior ends Max Cullen and AJ Anderson should harass opposing quarterbacks.
Outlook: The Titans had their bright moments last year, beating St. Christopher's 20-17 in the second week of the season. But 43-10 and 56-28 losses to Benedictine bookended the season. Their other three losses were all close, suggesting that the 6-5 record may not have done this team justice. If the offensive line can keep Toscano upright, Trinity should feature a dangerous attack capable of keeping them in most games. They could be a factor in the VISAA.
Note: Schools that did not return forms to The Times-Dispatch are not included.
Need to know
Who's not playing: Richmond public schools (Armstrong, Huguenot, Thomas Jefferson, John Marshall, George Wythe); Collegiate among private schools
VHSL regular season: Six games
VHSL region playoffs: April 7-17; only the four regional champs in each classification advance.
VHSL state playoffs: Semifinals April 24, final May 1
Streaming: With attendance limited, many schools are streaming their games. Check with a school to see what it is offering as an option.
2021 Schedule (Public schools only)
All games and times subject to change
Mechanicsville at Hanover, 6:00 PM
Patrick Henry at Atlee, 7:00 PM
James River at Clover Hill, 7:00 PM
Midlothian at Cosby, 7:00 PM
Dinwiddie at Prince George, 7:00 PM
Colonial Heights at Hopewell, 7:00 PM
Powhatan at L.C. Bird, 7:00 PM
Meadowbrook at Matoaca, 7:00 PM
Monacan at Manchester, 7:00 PM
Goochland vs. Amelia at Fluvanna, 7:00 PM
J.R. Tucker at Deep Run, 2:00 PM
Glen Allen at Douglas Freeman, 2:00 PM
Varina at Henrico, 2:00 PM
Thomas Dale at Petersburg, 2:00 PM
Highland Springs at Mills Godwin, 3:00 PM
Patrick Henry at Hanover, 6:00 PM
Atlee at Mechanicsville, 7:00 PM
Clover Hill at Midlothian, 7:00 PM
Cosby at James River, 7:00 PM
Douglas Freeman at Deep Run, 7:00 PM
Petersburg at Dinwiddie, 7:00 PM
Glen Allen at Hermitage, 7:00 PM
Varina at J.R. Tucker, 7:00 PM
L.C. Bird at Monacan, 7:00 PM
Matoaca at Prince George, 7:00 PM
Colonial Heights at Meadowbrook, 7:00 PM
Manchester at Powhatan, 7:00 PM
Huguenot at Cosby, 7:30 PM
L.C. Bird at Monacan, 7:30 PM
Goochland at Albemarle, 6:30 PM
Henrico at Highland Springs, 12:00 PM
Hopewell at Thomas Dale, 2:00 PM
Mechanicsville at Patrick Henry, 6:00 PM
Hanover at Atlee, 7:00 PM
Powhatan at Clover Hill, 7:00 PM
Monacan at Cosby, 7:00 PM
Deep Run at Varina, 7:00 PM
Dinwiddie at Matoaca, 7:00 PM
Henrico at Douglas Freeman, 7:00 PM
Highland Springs at Glen Allen, 7:00 PM
Hermitage at Mills Godwin, 7:00 PM
Monacan at Huguenot, 7:00 PM
James River at Manchester, 7:00 PM
L.C. Bird at Thomas Dale, 7:00 PM
Meadowbrook at Midlothian, 7:00 PM
Prince George at Colonial Heights, 7:00 PM
Petersburg at Hopewell, 2:00 PM
Goochland at Liberty-Bealeton, 1:00 PM
Hanover at Mechanicsville, 6:00 PM
Atlee at Patrick Henry, 7:00 PM
Cosby at Powhatan, 7:00 PM
Deep Run at Highland Springs, 7:00 PM
Hopewell at Dinwiddie, 7:00 PM
Douglas Freeman at J.R. Tucker, 7:00 PM
J.R. Tucker at Douglas Freeman, 7:00 PM
Mills Godwin at Glen Allen, 7:00 PM
Hermitage at Henrico, 7:00 PM
L.C. Bird at James River, 7:00 PM
Colonial Heights at Matoaca, 7:00 PM
Meadowbrook at Petersburg, 7:00 PM
Manchester at Midlothian, 7:00 PM
Thomas Dale at Prince George, 7:00 PM
Clover Hill at Monacan, 7:30 PM
Orange County at Goochland, 6:30 PM
Meadowbrook at Petersburg, 2:00 PM
Hanover at Patrick Henry, 6:00 PM
Mechanicsville at Atlee, 7:00 PM
Clover Hill at Manchester, 7:00 PM
Cosby at L.C. Bird, 7:00 PM
Deep Run at Hermitage, 7:00 PM
Dinwiddie at Colonial Heights, 7:00 PM
Douglas Freeman at Varina, 7:00 PM
Henrico at Mills Godwin, 7:00 PM
Highland Springs at J.R. Tucker, 7:00 PM
Hopewell at Meadowbrook, 7:00 PM
Huguenot at James River, 7:00 PM
James River at Midlothian, 7:00 PM
Matoaca at Thomas Dale, 7:00 PM
Powhatan at Monacan, 7:00 PM
Goochland at Central-Lunenburg, 7:00 PM
Prince George at Petersburg, 2:00 PM
Manchester at Cosby, 7:00 PM
Dinwiddie at Thomas Dale, 7:00 PM
Monacan at James River, 7:00 PM
Midlothian at Powhatan, 7:00 PM
L.C. Bird at Clover Hill, 7:30 PM
Monacan at James River, 7:30 PM
Patrick Henry at Mechanicsville, 6:00 PM
Atlee at Hanover, 7:00 PM
Mills Godwin at Deep Run, 7:00 PM
Glen Allen at Henrico, 7:00 PM
J.R. Tucker at Hermitage, 7:00 PM
Highland Springs at Varina, 7:00 PM
Matoaca at Hopewell, 7:00 PM