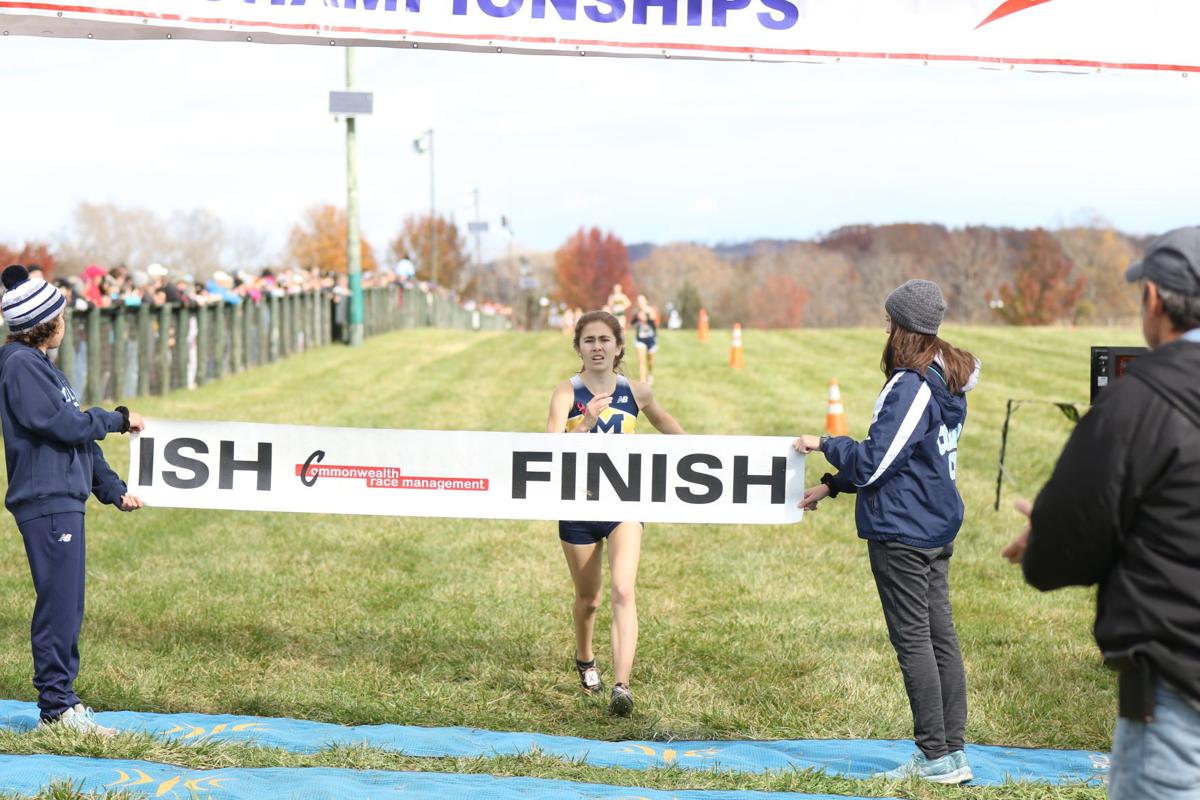 Midlothian senior Gabriella Garcia entered Saturday's Class 5 state cross country meet with the goal of a championship. She also entered the day with a heavy heart.
This same weekend last year, Garcia's mom, Kathleen, passed away from multiple myeloma, a form of blood cancer. She had been battling the illness since Garcia was a sophomore at Midlothian.
As Garcia prepared for her race, she spoke to her coach, Stan Morgan, about what she was feeling. Morgan, who has coached Midlo's cross country team for 32 years, gave her a piece of advice followed by a fist bump for good luck.
"I said, 'Gabriella, just realize your mom is going to be up there looking down on you, and she's going to help you get through this race,'" Morgan said.
Garcia, with a maroon ribbon pinned on her jersey, crossed the finish line after 18 minutes and 50 seconds on the course at Great Meadow in The Plains. Her pre-race fist bump was replaced by an emotional hug with her trusted mentor after she seized the Class 5 girls state title.
"It's really surreal for me," Garcia said, describing the cheers and congratulations she received from her coach, family, teammates and even runners and spectators she had never met. "It was such a special day for me on so many different levels. … All that support and love, it really warmed my heart."
Garcia's triumph was part of a banner day for Richmond-area runners at the Class 5 meet. Both team championships and individual races were claimed by local athletes.
Mills Godwin sophomore Berkley Nance took home the boys championship in 16:12, Glen Allen dominated en route to the boys team title and Deep Run edged its local rivals for the girls team title.
After transferring from Monacan, Garcia finished second in the state meet as a sophomore and third as a junior. Her parents weren't able to watch her 2019 race at Great Meadow in person. They had to watch from the hospital as her mother was receiving treatment.
Her mom's fight with cancer and eventual death in November 2020 weathered down Garcia's well-being. Particularly throughout the peak of the pandemic, Garcia said she felt isolated and struggled with an eating disorder as her mental health took its toll.
"That really destroyed me," she said. "I kinda had to rethink my whole perspective on life. My mom, she was always my biggest role model, my biggest support, my best friend. … I had to take a step back."
In the time she took off during last year's indoor track season, she struggled with her identity and purpose amid her family's hardships. But a pair of motivating forces kept her going as she re-assimilated herself back into running: her support system at Midlothian and the inspiration of her mother.
Those two things powered her during Saturday's race. She entered the final stretch with her family and the Midlothian community — her "second family" — lining the wall at Great Meadow while she channeled her mother's resilience.
"I was thinking, she had to go through so much and she was so strong," she said. "Her battle with cancer, it doesn't compare at all to a race. If she can stay positive through it all, I can do this race."
Maury's Lily Guinn paced the field for most of the race. Morgan estimated she was about 30 meters ahead of second-place heading into Great Meadow's final straightaway.
"That home stretch, it's so mentally grueling," Garcia said. "Coach Morgan talks about this all the time: When you enter the gate at Great Meadow, the last home stretch is like 600 meters to the finish. And he's like, 'That's where many championships are either won or lost.'"
Garcia began to hear the leader's breathing as she closed in. She caught up and made her move with about 200 meters left, and she powered through the finish line as hard as she could, nervous that someone else could chase her down.
She crossed the finish line with a 10-second gap behind her.
"She's an unbelievable young lady," Morgan said.