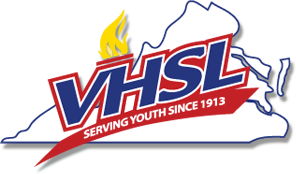 While there's still no timetable for the start of high school games in the fall, Virginia High School League executive director Billy Haun said the phased-in approach announced by Gov. Ralph Northam is a start.
"We've taken a big step forward, but we haven't gone all the way," Haun said. "That will be based on the [COVID-19] numbers."
Schools have been shut down since mid-March, with spring sports canceled and fall sports up in the air. Northam announced on Tuesday a plan for the phased reopening of schools, with sports starting to phase in with a lot of limitations.
Currently school districts are in the first of three phases, with no athletics or extracurricular activities permitted.
Phase II will allow individual and team-based practices and conditioning, and Phase III will allow athletics and extracurricular activities to continue with "some mitigation measures."
Phase III does not address when competitions can resume but says more guidance "will be forthcoming."
To get to Phase II or Phase III, public schools will be required to submit plans to the Virginia Department of Education to mitigate the risks of spreading COVID-19. Private schools will have to submit plans to the Virginia Council for Private Education.
In a release from the VHSL, Haun said the league will review the documents and "will move as quickly as possible to develop guidelines that will align" with the governor's plans.
"I really want to emphasize to people that they need to be patient, but they also don't need to be discouraged, because things change quickly," Haun said in an interview with The Times-Dispatch. "Think back to where we were eight weeks ago. Eight weeks ago we were in a very tough spot. … Eight weeks forward from now we could be in a very different place."
The VHSL executive committee is scheduled to meet June 25 to discuss the fall season and July's out-of-season practices.
In this year's calendar, teams are permitted to practice during the summer after a dead period from June 28 to July 4. The first day of in-season football practice can begin as early as July 30, with most other fall sports having an Aug. 3 date for first practices.
Haun said the VHSL will "just have to take whatever data we have at that point and move forward and see what decisions we can make. I think we'll be able to make some decisions but not all decisions."
"We may have to have more than one special-called meeting throughout the summer to keep things going and figure out where we need to go and what's the next step," he said.
"Athletics should be limited to individual or team-based practice, skill-building drills or conditioning activities that allow physical distancing at all times."
"The Virginia Department of Health recommends that no youth recreational/school sports competition take place in Phase II, unless physical distancing can be maintained at all times (e.g. individual swimmers showing up at scheduled times to have their event timed, etc). Competition that involves contact with other athletes should be avoided."
Clark Mercer, Northam's chief of staff, said that sports and activities with incidental contact — and not intentional contact — can be done, but that shared equipment should be prohibited.
"Baseball, when I was growing up, we all shared a helmet and we all shared baseball bats," he said. "That's not common protocol now. You have your own bat, you have your own helmet. There's not shared equipment in baseball. Certainly there is some incidental contact that we recognize.
"High school football, folks should be training right now, getting ready. I don't know what will happen with the high school season down the road, but certainly quarterbacks can be throwing to receivers, receivers are wearing gloves. That's kind of common sense. We're not doing tackle football during the summer anyway. There's certainly some weight training not using shared equipment, some drills that linemen can do that will accommodate the Phase II guidelines.
"Soccer, I coached high school soccer for six years. There's ways to train and structure your practices without having intentional contact."
"If socially distancing competitions are taking place, the following conditions must also be met:
"Outdoor recreational sports are allowable if 10 feet of physical distance can be maintained by all participants and spectators at all times and all shared items can be disinfected between uses. The total number of attendees (including both participants and spectators) cannot exceed the lesser of 50% of the occupancy load of the venue (if an occupancy load exists) or 50 persons.
"Indoor recreational sports (including practices and classes) may occur if 10 feet of physical distance can be maintained by all participants at all times and all shared items can be disinfected between uses. The total number of attendees (including participants, referees, coaches, etc.) cannot exceed the lesser of 30% of the occupancy load of the room in which the sport is being held or 50 persons. Spectators may not be present except parents or guardians who are supervising children. Spectators must wear face coverings consistent with any active executive orders and due to behaviors which may bring greater risk (e.g. cheering), it is recommended that spectators be separated by 10 feet of distance from other persons."
(804) 649-6965
@timpearrelltd