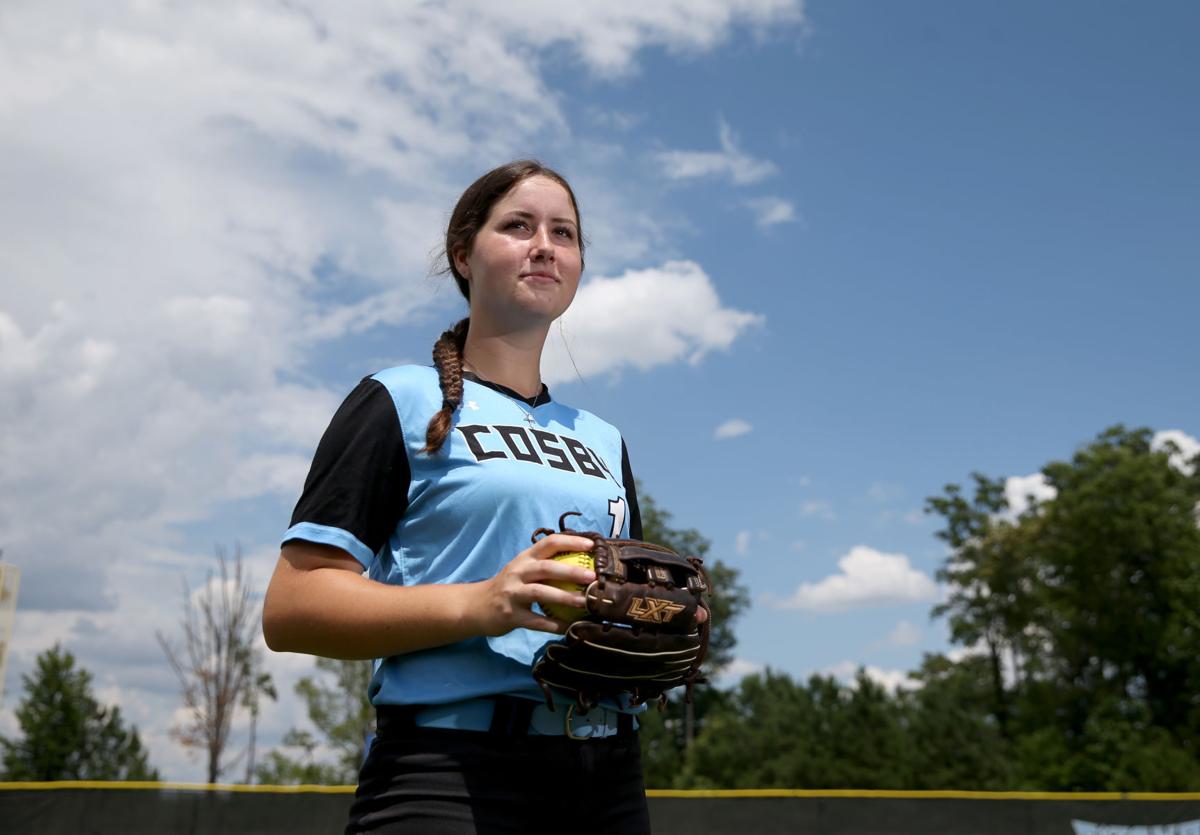 The roots of Cosby softball's unbeaten, Class 6 state championship run this spring can be found in the past of its core seniors, a group which traces its connections to childhood. 
Foremost among the Titans many key contributors in the Class of 2021 was pitcher, No. 3 hitter and All-Metro player of the year Taylor Norton.
A Villanova recruit, Norton lived in Williamsburg for much of her childhood. But she spent ample time in Richmond, training with pitching and hitting coaches here while playing travel softball. It was during those years of constant hour-plus trips up I-64 that Norton began to forge bonds with the teammates who would one day become her close friends -- catcher Leah Butts, second baseman Lauryn Richardson and outfielder Abby Conner, all fellow seniors on this year's Titans team. 
"I would have been a nervous wreck and super scared to move up here, but I knew I had Leah, Lauryn and Abby," said Norton, a four-year starter who moved to Richmond right before her freshman year. 
"It's definitely helpful, since the four of us have been together for so long, we've had our chemistry. And the other seniors we had on the team, our chemistry has built up through the four years."
Butts has caught Norton since the pair were nine years old. The former is a fiery, vocal leader, while the latter presents a stoic demeanor in the circle. Norton covets that contrast, and said she thinks of her battery mate as a sister. 
"Taylor has always been my rock and I've never trusted a pitcher more in a win-or-go-home situation," said Butts, who will player her college ball at Roanoke.
"After all these years, we have been best friends on and off the field and I wouldn't trade our friendship or connection for anything. She's taught me so many things about softball and life. I could always count on Taylor if there was anything I needed."
Though Norton never shows much emotion on the field, she had to work to keep it together during the final inning of the 6-3 win over South County in the Class 6 championship. Standing in the circle with the ball in her hand, she realized the clock was ticking on her high school career. She'd already graduated and had her last practice. All that remained was to hurl the final strikes to Butts. 
After fanning the final hitter, Norton tore her mask off and went straight for an embrace with her onrushing catcher. 
"That last inning, I was about to burst into tears, I was so upset," Norton said with a melancholic laugh. "The whole day I was sad because it was over. I was super happy that we won, but also upset that we were done."
The context surrounding Cosby's state title made that moment all the more emotional for a Titans team that has fought through ample adversity in recent years. On top of losing their junior season to the pandemic, the last time Cosby lost was a 17-inning, 1-0 defeat to South County in the 2019 Class 6 title game. Norton threw more than 200 pitches in that marathon of a contest, and said this season, it was championship or bust from the beginning. 
"We were the ones that wanted it the most," she said. "Losing in 17 innings was devastating, and then losing an entire season for another chance of a state championship was also devastating. We were really hungry."
Norton's heroes are her coaches, namely Titans head coach Ray Jeter, who Norton said has always told her to trust in herself and never give up. Jeter has called pitches for Norton since the latter was a freshman, and the two have built a strong bond over the years. 
"She worked hard to be the best," Jeter said of his senior ace. "I'm looking forward to her next chapter at Villanova."
Norton hopes to play softball as long as she can, and perhaps coach later in life. She plans to study computer science, and is fascinated by aviation and spaceships. She was drawn to Villanova by the school's combination of academic and athletic prowess. The Wildcats went 37-15 this season and won the Big East.
Visibility for women's sports is a cause that's important to Norton. She sees progress in recent years, but is still frequently frustrated by disparities between men's and women's sports. 
"Everything needs to be stepped up to being equal between boys and girls," she said, noting the controversy over weight room disparities at this year's NCAA basketball tournament, and the excitement of the Women's College World Series. 
Norton said she'll stay close friends with her Titans teammates throughout her adult life. The bonds forged in childhood travel ball and solidified in a state title celebration aren't liable to wear anytime soon. 
"I know she's going to do amazing things at Villanova," Butts said of Norton. "I'm always gonna be her biggest fan."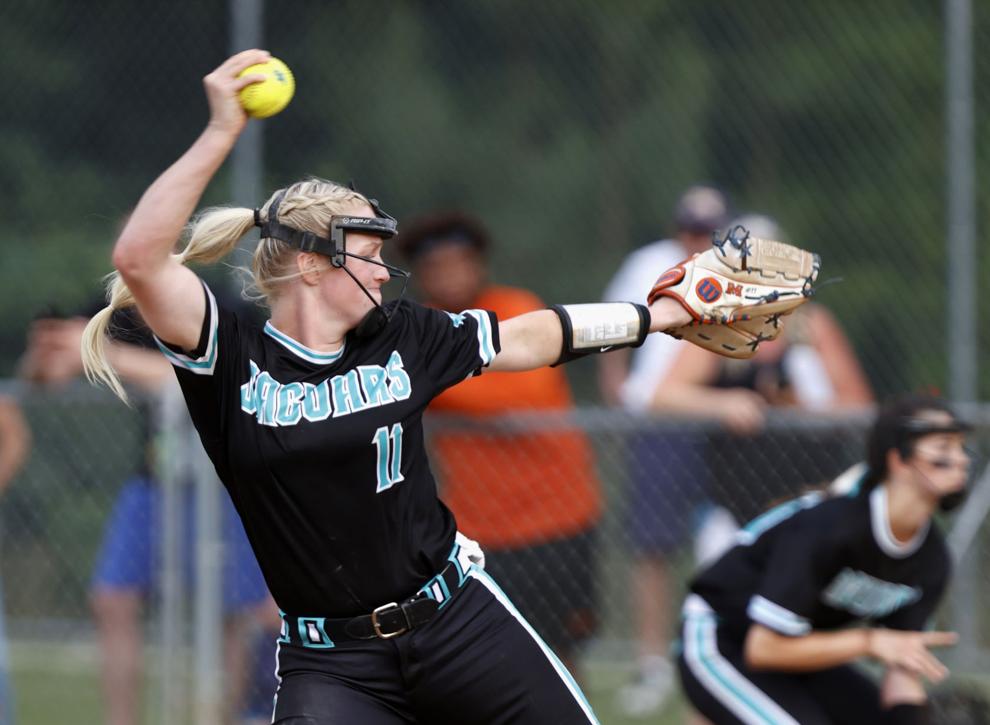 MEET THE REST OF THE FIRST TEAM
The skinny: The 2020 and 2021 Gatorade state player of the year for softball, Aiken led the Jaguars to the Class 5 semifinal after winning the Region 5B title 4-3 in eight innings over Midlothian. Through 12 games, she was absolutely dominant, going 11-0 with one perfect game and five no-hitters. Through 48 innings, she hadn't given up a run and struck out 119 hitters. Aiken, who will play her college ball at Michigan, also hit .500 with a pair of home runs. 
The skinny: A future Louisville Cardinal, Grizzard sported a 1.23 ERA with 123 strikeouts through 87 1/3 innings. The lefty hurler also hit .317 with a .920 OPS, nine doubles and nine RBIs. Against Norton and Aiken, she went 4 for 10 with two doubles, a run scored and two RBIs. Grizzard also struck out 26 opposing hitters with just two walks in three playoff games. Her Trojans went 11-3, with the three losses coming by a combined four runs — twice against Class 6 champion Cosby and once in extras to 5B winner Glen Allen. 
The skinny: The Region 3A player of the year, Ellis led the Trojans to a 14-2 record and a Class 3 runner-up finish. In 102 innings, she struck out 215 hitters and walked just nine. She allowed eight earned runs all season (0.618 ERA) while tossing nine shutouts, including a perfect game against Lafayette. At the plate, Ellis hit .471 with 11 extra-base hits, 13 RBIs and 13 runs scored. A three-year Captain at New Kent, Ellis finished with 545 strikeouts and 52 wins despite losing her junior season. She's set to stay around and pitch for Randolph-Macon.
The skinny: Despite missing the first four games of the season, Cuozzo led the Hawks to the Class 4 final and a Region 4B title. The underclassman allowed a single earned run in eight regular-season games (0.184 ERA) while striking out 62 hitters in 38 innings. Cuozzo also hit .412 with a pair of home runs, three doubles and seven RBIs. Her first game back, Cuozzo tossed a gem in a 1-0 win over a very good Atlee team. 
The skinny: It was a surprise to some when Campbell homered off Aiken in the first inning of the Region 5B title game, because the latter has been so dominant in the circle. But perhaps it shouldn't have been -- Campbell might boast the most formidable presence at the plate in the Richmond area. A James Madison signee, the shortstop hit .468 with a 1.468 OPS, 24 runs scored, 13 RBIs, seven doubles and four home runs. In three playoff games, she hit .556. And against Norton and Aiken, she went 3 for 9 with a double, homer, five runs scored and two RBIs.
The skinny: Also a standout basketball player for the Hawks, Mardigian has been Hanover's rock in the middle infield throughout her career. Through 12 games, she hit .421 with 12 RBIs, 11 runs scored, two home runs and three triples. Mardigian also came up clutch on a consistent basis -- she had a go-ahead or game-tying hit in six of 12 games. A savvy defender, she had a .972 fielding percentage this season at shortstop and finished her Hanover career with just three errors. The career .424 hitter will play at Lenoir-Rhyne University (North Carolina). 
The skinny: A UNC-Wilmington recruit, Richardson is a pillar of the Titans' loaded senior class. Through 11 games, she hit .359 with three doubles, a triple, one home run and 13 RBIs. Also a strong defensive player, Richardson didn't make an error at second base. She's played with Norton, Butts and other members of Cosby's state champion team since a young age. 
The skinny: Also a standout athlete on the basketball court for the Raiders, Ayer was the leadoff hitter and on-field leader for Atlee this season. She hit .625 through 12 games, with a .644 on-base percentage, .650 slugging percentage, eight RBIs, 20 stolen bases and 15 runs scored. Coach Tom McIntyre said she was key in every game and constantly set the tone for a Raider outfit that gave Midlothian everything it could handle in a 4-3 loss in regionals and played Hanover close multiple times. 
The skinny: The Indians' do-it-all standout pitched and played some first base and outfield while leading Powhatan to an 8-3 record with the only losses coming against Cosby and Midlothian. English hit .571 with 15 RBIs, nine runs scored, three doubles and five triples. She went 5-3 in the circle, and sported a .973 fielding percentage. A highly versatile defender, English provided several clutch hits this season. Powhatan coach Marie Crump, after her 40th season at the helm, said English is one of the best offensive players she's ever coached. 
The skinny: A strong defensive third baseman, Garner used timely hitting to open up games this season for the 5B champion Jaguars. An early home run in a win over Douglas Freeman started the hit parade for Glen Allen that day. It was one of multiple instances in which Garner sparked her team's offense this season, and one of five long balls. She hit .583 with a 1.884 OPS, three triples, two doubles, 20 runs scored and 20 RBIs while maintaining a perfect field percentage at the hot corner. 
The skinny: The Trojans' leading hitter with 28 base knocks on the season, Taggart hit .500 through 16 games with eight doubles, 21 RBIs and 18 runs scored. She had 10 multi-hit games and only struck out three times. Defensively, she allowed just five passed balls and five stolen bases behind the plate. The first team All-Region honoree also called Ellis' pitches this year for the Class 3 runners up. 
The skinny: A Roanoke recruit, Butts is dangerous at the plate -- she hit .407 with two doubles, a triple and seven RBIs in 12 regular-season games -- but where she's truly special is behind it. Norton's catcher since the two were nine years old, Butts is a wall defensively and sports a strong arm. She calls out defensive alignments and situations to her infield, and commanded the leadership mantle for the unbeaten state champions with a fiery competitiveness that fittingly contrasts the stoic nature of her battery mate. 
The skinny: Another future Randolph-Macon player, Hill was on fire at the plate all season. In 12 games, she hit .429 with four home runs, eight doubles, a triple and a .475 on-base percentage. She drove in 10 runs and scored 12 for the state finalist Hawks. Hill also played flawless defense, with no errors and two assists in 12 chances. 
The skinny: The leading vote-getter among outfielders on this year's 5B All-Region team, Blackwell has been a catalyst for the Eagles' high-powered offense throughout her career. Through 11 games this season, she sported a .519 average with 15 runs scored, 12 RBIs and a home run. The two-time first-team Region 5B honoree led Godwin to a 12-2 record this spring. A three-year starter, she's committed to play for George Mason. 
The skinny: The second leading vote-getter among outfielders on the 5B All-Region team, Lanyon had a jaw-dropping diving catch in the region final against Glen Allen and patrols center field with authority. Another Randolph-Macon recruit, she hit .385 with 13 RBIs, 16 runs scored and seven stolen bases. In three playoff games, she hit .455. Lanyon also produced against top opposition -- she went 3 for 11 with a double, two RBIs and a runs cored against Norton and Aiken. 
Pitchers: Ivy Ray, Mills Godwin; Hailey Butler, Varina; Kara Hammock, Atlee; Brianna Branch, Matoaca; Allie Hazlegrove, Douglas Freeman; Sadie Hudson, Dinwiddie; Brooke Hartman, Colonial Heights.
Infield: Laila Gwathmey, Collegiate; Grace Delice, St. Catherine's; Bella Pastore, Hanover; Maggie Hiatt, Mills Godwin; Lexi Washington, Mills Godwin; Meredith Collier, Glen Allen; Taylor Cochrane, Glen Allen; Sydney Flores, Deep Run; Ellie Herndon, Midlothian; Casey Stapleton, Hermitage; Emma Fredenburg, Mills Godwin; Sadie Dempster, Manchester; Charlotte Boswell, Deep Run; Jordan Wise, Cosby; Brooke Tortoriello, Cosby; Catherine Alderson, Colonial Heights.
Outfield: Lauren Parham, Dinwiddie; Alyssa Broaddus, Hanover; Cyann McDaniel, Cosby; Laurenne Gallagher, Cosby; Norah Murray, New Kent; McKenna Mueller, New Kent; Logan Dillon, Deep Run; Jailyn Myrick, Prince George; Chloie Bickhart, Matoaca; Addison Thompson, Clover Hill; Rhiannon Jones, Mills Godwin; Alexis Medlin, King William; Grace Tharp, Glen Allen; Elisa Smith, Deep Run; Alexandra DiNardo, Cosby.
Catchers: Morgan Tucker, Dinwiddie; Jenna Currie, Hanover; Keriann Slayton, Maggie Walker; Kiante Paige, Hopewell; Kayla Davis, Powhatan; Sydney Shaffer, Mills Godwin; Teagan Baulsir, Deep Run; Lena Happel, Manchester; Sam Horn, Glen Allen; Kristen Dungee, King William.
Utility: Leah Robinson, Saint Gertrude; Taylor Johnson, King William; Evelyn Hunter, Hopewell; Mykhl Young, Hermitage; Hannah Mahan, J.R. Tucker; Shelby Godfrey, Prince George; Madison Williams, Clover Hill; Candace Carter, Manchester; Carsen Sanders, Atlee; Ashlee Foster, King William; Ellie Mulligan, Midlothian; Madison Faries, Colonial Heights.
PREVIOUS ALL-METRO PLAYERS OF THE YEAR
2019: Molly Grube, Manchester
2018: Laura Thompson, Prince George
2017: Peyton St. George, Atlee
2016: Peyton St. George, Atlee
2015: Kayla Huffman, King William
2014: Chelsea Whitcomb, Cosby
2013: Chelsea Whitcomb, Cosby
2012: Chelsea Whitcomb, Cosby
2011: Kelly Heinz, Lee-Davis
2010: Heather Sink, Cosby
2009: Lauren Vinson, Prince George
2008: Courtney Long, Hanover
2007: Lauren Brummell, Hanover
2006: Julie Smith, Hanover
2005: Julie Smith, Hanover
2004: Carissa Conroy, Mills Godwin
2003: Erica Cifarell, Midlothian
2002: Casey Smith, Atlee; Katheryn Gannon, Atlee
2001: Jessica Worsham, Powhatan
2000: Catherine Gilliam, Mills Godwin; Jamie Gostyla, Midlothian
1999: Carmen Farmer, Varina
1998: Carmen Farmer, Varina
1997: Keisha Shepperson, Varina
1996: Natasha Johnson, Manchester
1995: Michelle Meadows, Monacan
1994: Jenny McIntyre, Midlothian
(804) 649-6555
Twitter: @ZachJoachim