At St. Christopher's football practice, every player lives in an imaginary box. At no point during the workout should one player violate another player's imaginary box. If they got too close, football coach Lance Clelland would call out, "Five yards apart. Five yards apart."
During a pandemic, high school football practice looks different. Players' temperatures are taken with a thermometer, and tackle pads are constantly sprayed with disinfectant. They don't touch. They don't tackle. They don't high-five.
"It's a little weird," rising junior Nikkos Kovanes said. "But it's nice being back out and getting work in."
It's unclear if there will be a high school football season this fall. Administrators have discussed pushing sports back to Jan. 2021. They've considered hosting lower-risk sports in the fall and higher-risk ones the following spring.
Because there's so little clarity about how the next few months will shake out, St. Christopher's prepares with the hope that there will be a fall season. The school is hosting voluntary practice for its football players twice a week, and a little less than half of the 90-player team has shown up. Some of its players are choosing to exercise with their club teams in other sports.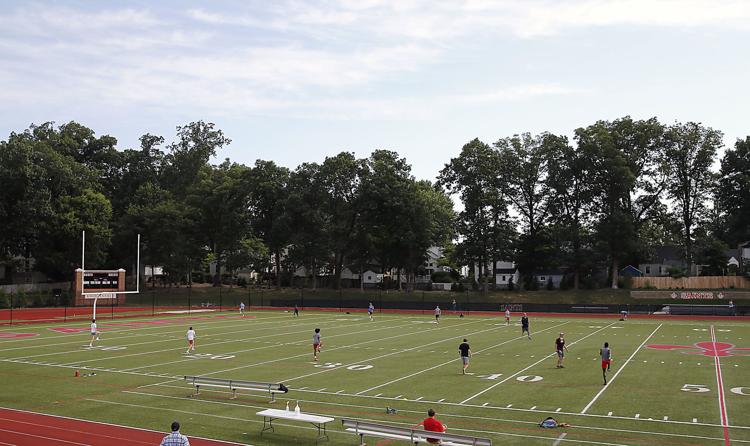 St. Christopher's is one of the few schools in the Richmond area that has restarted football practice. Most Richmond-area public schools are working to resume practice in the coming days.
Football and cross country are the school's only teams that have begun to meet. But the school is considering allowing basketball practice in which players are split into groups of six or fewer players. Each player gets his own ball and his own hoop and the ball is never passed. The wrestlers, who aren't allowed to grapple with one another, are planning to gather for cardiovascular exercise.
Before St. Christopher's could restart practices, it had to submit a plan to the Virginia Council for Private Education. The school's director of health services, Dr. Ann Vanichkachorn, spearheaded the effort. She looked at guidelines issued by the Virginia Department of Health, the Centers for Disease Control and Prevention and the Virginia High School League before submitting the school's proposal.
It requires participants wear masks when they come to the school, have their temperatures taken, answer questions for a health screening, maintain distance from one another and spray down the objects they touch. Cases of disinfectant were purchased, and the solution is applied liberally. Passing drills are allowed, but every player must wear gloves.
The school also is preparing its curriculum for the summer and fall. Some academic programs have restarted, and walls are being knocked down so students can better distance themselves when in-person classes resume, athletics director Ren O'Ferrall said.
St. Christopher's hasn't determined what kind of academic model it will offer in the fall. Many school districts are considering allowing students in the building only half the normal time. Fairfax County will allow students to stay home all day should their parents request it.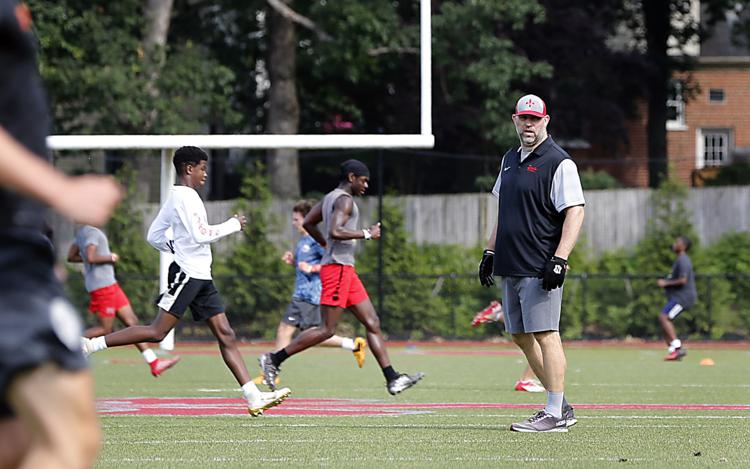 The St. Christopher's football team splits its players by position, and each position group works out together. The running backs and linebackers go at 8 a.m., followed by the quarterbacks, receivers and defensive backs at 9 and the linemen at 3 p.m. The coaches are split into groups, too. Because Clelland works with the quarterbacks, receivers and defensive backs, he can't take part in the other sessions. So for the 8 a.m. session, he stood off to the side holding a video camera on a 15-foot monopod, filming the players as they conducted drills.
Kovanes, Trent Hendrick and Joe Sullivan took turns shuffling their feet around tackle pads, hopping over the pads and then catching a pass. The drills are similar to what NFL combine participants perform, Clelland said, and it's the kind of thing college coaches want to see.
A downside of the pandemic is that players hoping to play in college are unable to attend camps to work out for college coaches. Kovanes said he would have attended five or six camps this summer had he been able. Clelland said it's a fear of his that kids will miss out on college opportunities because of the pandemic.
Kovanes stayed in shape during lockdown by working one on one with former Virginia Tech football player Kenny Younger. And Kovanes' mother got a large tractor tire for the back yard so Kovanes could flip it.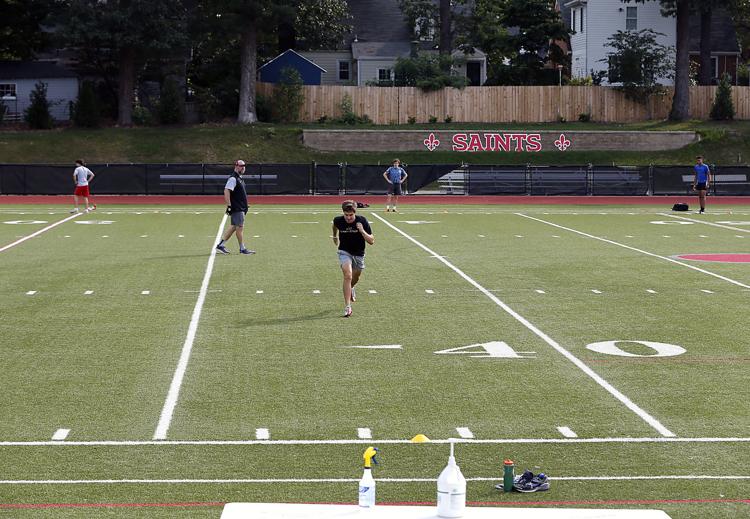 When one practice session ends and another begins, there's no fraternization allowed. The players from the first group must leave so that they don't accidentally expose players from another session.
At the 35-yard line, there's a plastic table with three big bottles of hand sanitizer that each player is supposed to visit before he leaves practice. Defensive coordinator Greg Tune offered a reminder as the players from the first session headed home.
"Don't forget to sanitize your hands on the way out," he yelled.