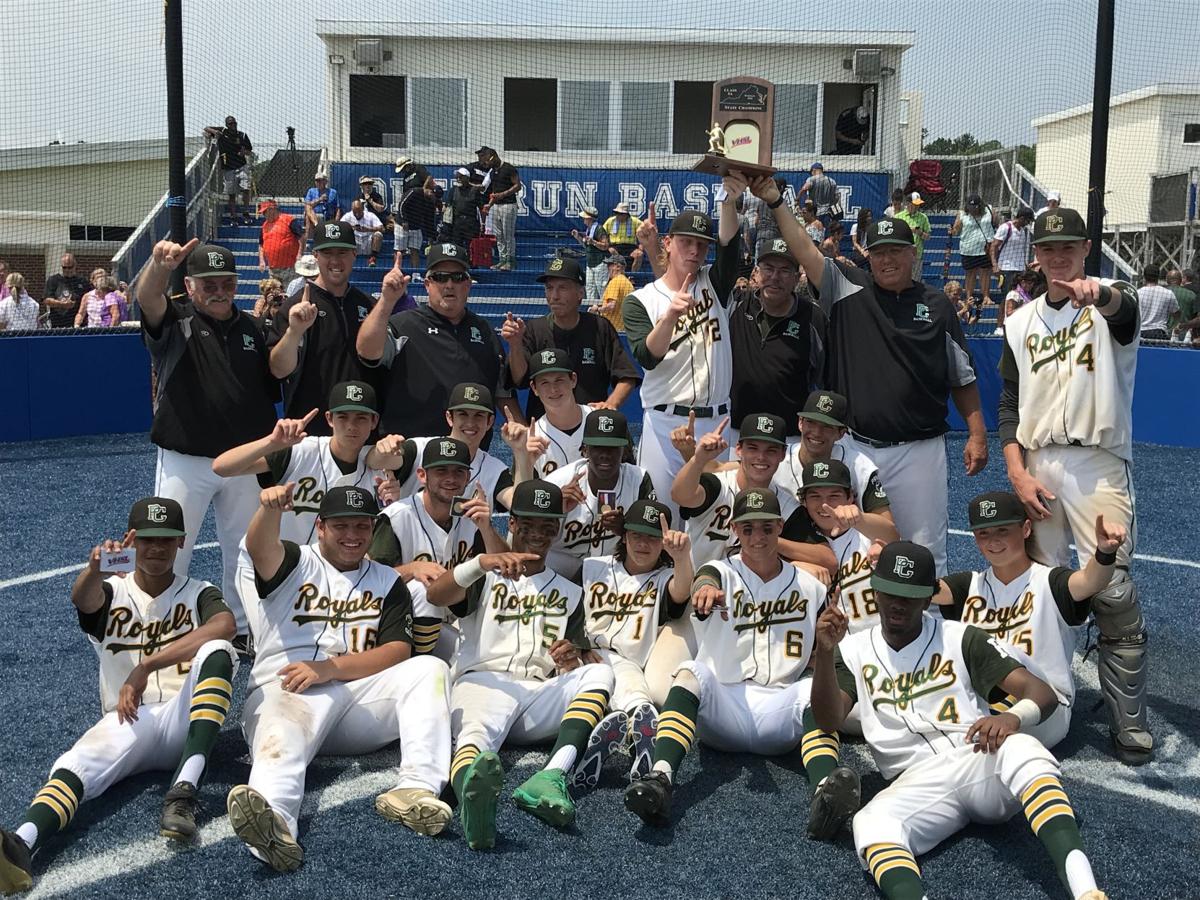 Buck Forbes used to throw a curveball, but he dropped it from his arsenal when he realized he was getting everything he needed from his slider.
The slider approaches the plate with higher velocity than the curve, and it makes a late break, cutting across the plate and settling on the edge of the strike zone.
Forbest used the pitch to perfection Saturday, throwing a 1-hitter, striking out seven batters and leading Prince George to an 8-0 victory over Potomac (Dumfries) in the Class 5 state final at Deep Run. The Royals (21-3) claimed their first state title in baseball.
Six miles away at Glen Allen High School, just minutes later, the Prince George softball team won its first state championship. They were the first two team state in school history.
"Buck Forbes has been tremendous on the mound," Royals coach Mickey Roberts said. "He's a strike-throwing machine."
The one hit Forbes allowed was a bunt single in the fourth inning. He walked none, faced one batter above the minimum and allowed just three balls to leave the infield the whole game.
Forbes called it the second best outing of his career. No. 1 came last year, when he took a perfect game into the seventh inning against Hopewell and ended up with a one-hitter.
He became the team's de facto ace after Johnny Walton missed a month of the season with an injury. The Royals rode his arm throughout the postseason, as Forbes threw 25 innings in six playoff games and allowed only four runs.
"He's been outstanding," senior shortstop Tevin Tucker said. "He stepped up and took the role of the ace."
On Saturday, Prince George pounded eight hits – the biggest of which was a solo home run from Evan Kozen in the third inning. It bunted, stole bases and played a nearly flawless game from beginning to end.
The Royals executed five successful bunts and stole four bases. In the seventh, Evan Kozen dropped a bunt with runners on first and second. Potomac pitcher Julian Cumba tried to make a play at third, but he fired the ball into left field, allowing Justin Starke to take third, get up and run safely home.
One batter later, Kozen attempted to steal second base and got caught in a run down. He darted back to first, and Potomac (18-7) tried to pick him off. The throw to first allowed Jacob Farrar scored from third.
Prince George's attempts to bunt and run resulted in chaos from the Potomac defense.
"Small ball – it's how we score runs," Tucker said.
The Royals have more speed and agility than power. The strategy of bunting and running fits the makeup of the roster, Roberts said.
All nine Prince George batters reached base on a hit or a walk. Starke finished with two runs and two RBIs. Tucker scored two runs and Quincy Sippio went 2 for 4.
"It was a great achievement from these guys today," Roberts said.