If former VCU baseball player Charles Whitlock could see the fruits of his arduous labor nurturing the program at The New Community School playing out on diamonds around Richmond this spring, he would surely beam with pride.
Whitlock died at the age of 66 in January after a brief illness. But the Sabers program that he spent about two decades building is humming along on the trajectory Whitlock set, buoyed by a group of upperclassmen that has played together since middle school, when simply fielding a team was a struggle.
New Community (9-8), a school for students with dyslexia and related learning challenges, is ranked No. 6 in VISAA Division III's baseball standings in the latest poll, with the top eight teams making the playoffs.
That is the highest any New Community sports team has ever been ranked in any VISAA poll, said director of athletics Eric Gobble. TNCS, on Hermitage Road in Richmond, has an enrollment of about 200 students in grades five through 12.
"For years, Charles Whitlock, because he was a baseball guy, was just determined to have it here," said Gobble, whose son Ben is an assistant coach and former player. Another son, Nate, is now a junior who has played since he was in fifth grade.
"So baseball existed at New Community for years when it had no business existing because there weren't enough adults, there weren't enough kids, there weren't enough facilities to have it. But he just made it happen because he loved it so much. He pieced it together.
"That was the magic of Charles."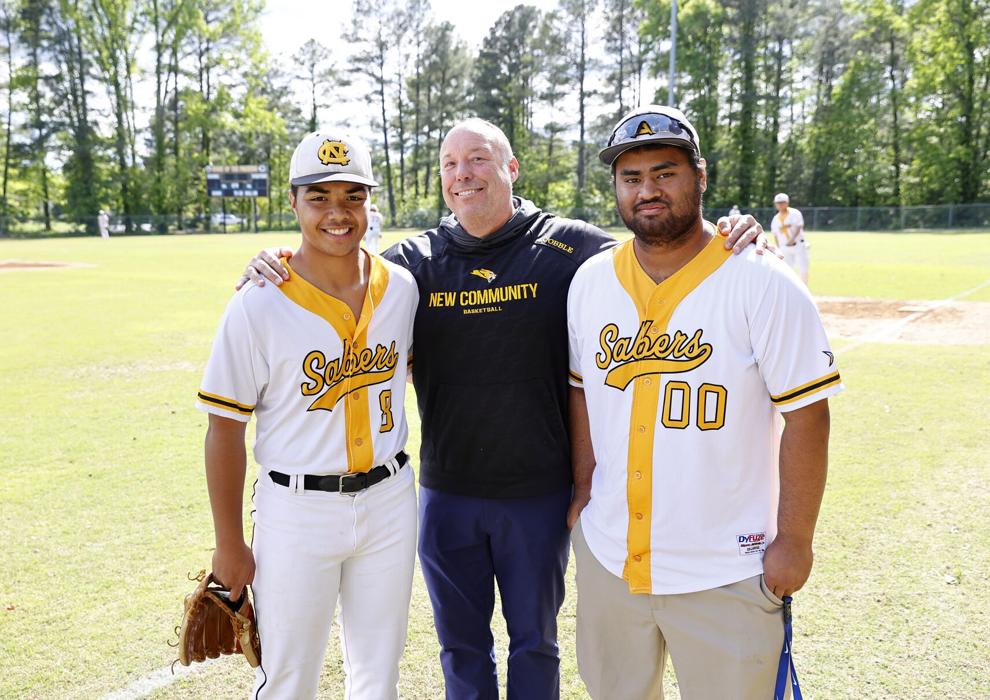 A passion to represent this school
Senior shortstop Wyatt Alridge hits second and pitches for a Sabers program he joined in eighth grade.
Last year, Alridge became New Community's first-ever all-state honoree for baseball when he made the Division III second team in the program's first full VISAA varsity season. He plays travel ball for the Virginia Spiders, and is the only player on the Sabers' roster who plays on a travel team.
Alridge will play Division III college baseball at Pitt-Greensburg, an accomplishment cherished by a TNCS program that has never sent a player to the college level.
He hopes his story can help bolster the confidence of other aspiring college athletes who may have learning differences.
"I want to be able to show that kids can go forward with anything they put their mind to," said Alridge, gazing out over his team's practice on a soccer field in the back of the school's campus on a sunny Wednesday afternoon, the same day he was accepted to Pitt-Greensburg.
"When I found out I had dyslexia, I had a goal in mind to make it to college to play baseball, and I knew it was going to be a little bit of a struggle with my dyslexia, having learning disabilities. Being able to say 'I did that,' it's a big thing to me. I hope the kids underneath me think the same thing when they find a goal for themselves."
Alridge described the Sabers group, which includes five seniors, five juniors, two sophomores, a freshman and an eighth-grader, as a brotherhood hard to come by at elite youth levels of the sport that may be more focused on individual development than collective growth.
"Some of these kids have worked their tails off," he said, nodding toward his teammates.
"It almost brings a tear to my eye, it really does. They have a passion for the game like no other."
Around 10th grade, college scouts and travel coaches told Alridge he had the talent to play in college.
The thought then crossed his mind — do I need to find a bigger high school program in order to play in college?"I grew a passion for wanting to represent this school as much as I can. After that day, I never really wanted to look back and think about going anywhere else," he said.
"My main goal was to show them I can do this having learning disabilities, these little challenges that are trying to hold me back. But I pushed through it. These boys have put in a lot of work, too. I can't thank them enough for it. Without them, I truly wouldn't be playing in college."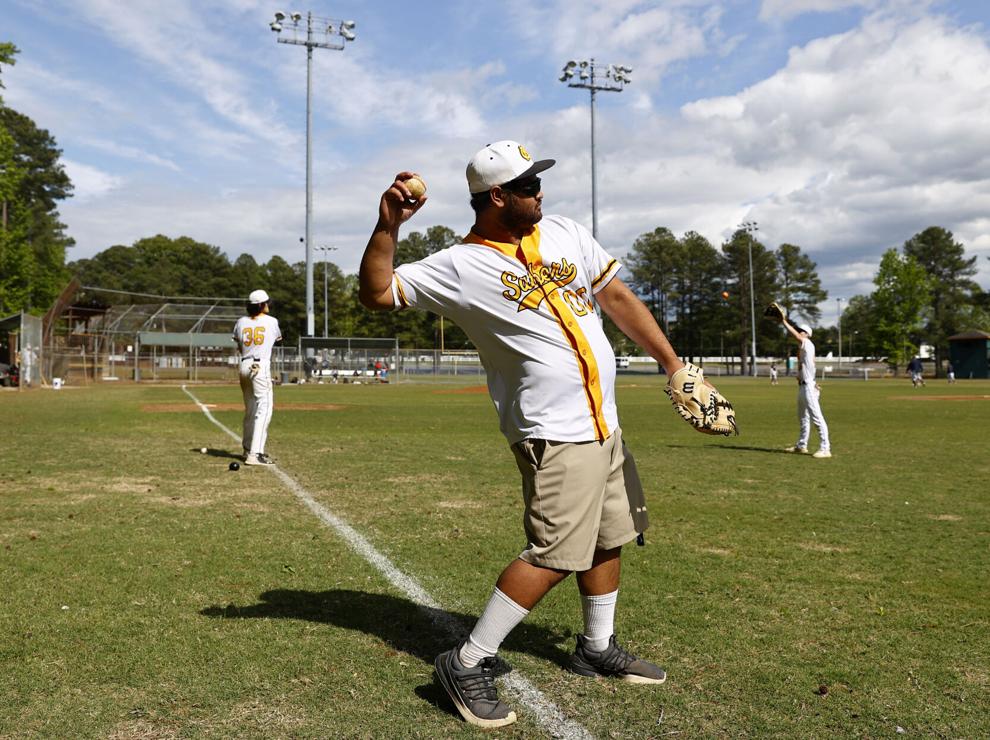 Last year, New Community volleyball standout Abigail Draper became the first Sabers athlete to sign a national letter of intent.
This year, three of TNCS' senior boys — Alridge, Elliott Kassab (swimming, Rider University) and Timmy Miller (track, Allegheny College) — are set to play sports in college.
The National Association of Academic Advisors for Athletics estimates that 2.7% of all college athletes have a learning difference (2017). But it is also theorized that the real number is higher because learning challenges can often go unreported due to perceived stigma.
When asked what athletics mean to the students at TNCS, Eric Gobble emphasizes their importance for confidence.
"Being competitive athletes can be a way for them to just be a kid, and not always a kid with dyslexia," he said.
"The ball is round, the hoop is 10 feet high, and the track is 400 meters around whether you're dyslexic or not. And when our students grow in athletic arenas, the accompanying confidence boost carries over into academics and social interactions in ways that may not otherwise happen."
Always about being a family
Seniors Julie Conn and Thomas Peters have seen New Community baseball grow from its infancy to where it is today.
When they joined six and seven years ago in early middle school, the team comprised mostly of middle schoolers but competed against high schoolers.
Some results were lopsided. They talk about those games with smiles on their faces now.
"Now, we're a legitimate high school team competing for high school playoffs," said a grinning Peters.
Much of the Sabers team, Conn and Peters included, play soccer in the fall and basketball in the winter. The year-round athletic schedule is a little exhausting, they said.
But it makes for a level of cohesion and chemistry rare to high school athletics in a day and age where specialization has pulled many top-level athletes away from competing in multiple sports. The New Community players spend most of their year together, in the classroom and on the pitch, court and diamond.
Coach Will Greene came to New Community in 2021 and had some experience coaching baseball. Gobble immediately pitched to him a unique opportunity to field a competitive team for a school typically focused on participation, and Greene joined the program soon after, along with fellow coach Ben Walters.
"Eric (Gobble) explained to me that this was a unique opportunity in which there was a little pile of baseball players that had been together for a while, were growing and had some talent, and that this was a unique opportunity in the school's history to be a competitive baseball team," Greene said.
"I've had the privilege of coming in on the back half of this cycle where these young men have grown up playing baseball and bonding together."
Conn and Peters played a few years under Whitlock, and likened those seasons to playing for a grandfather. Whitlock did everything for his Sabers, from throwing BP to hitting fungos, driving the bus and keeping stats.
Now, New Community has a coaching staff.
"He was the gym teacher, he was the athletic director, he was the baseball coach. He was everybody. It was always about being a family," Conn said of Whitlock.
"He would be very surprised about where (the program) is at now."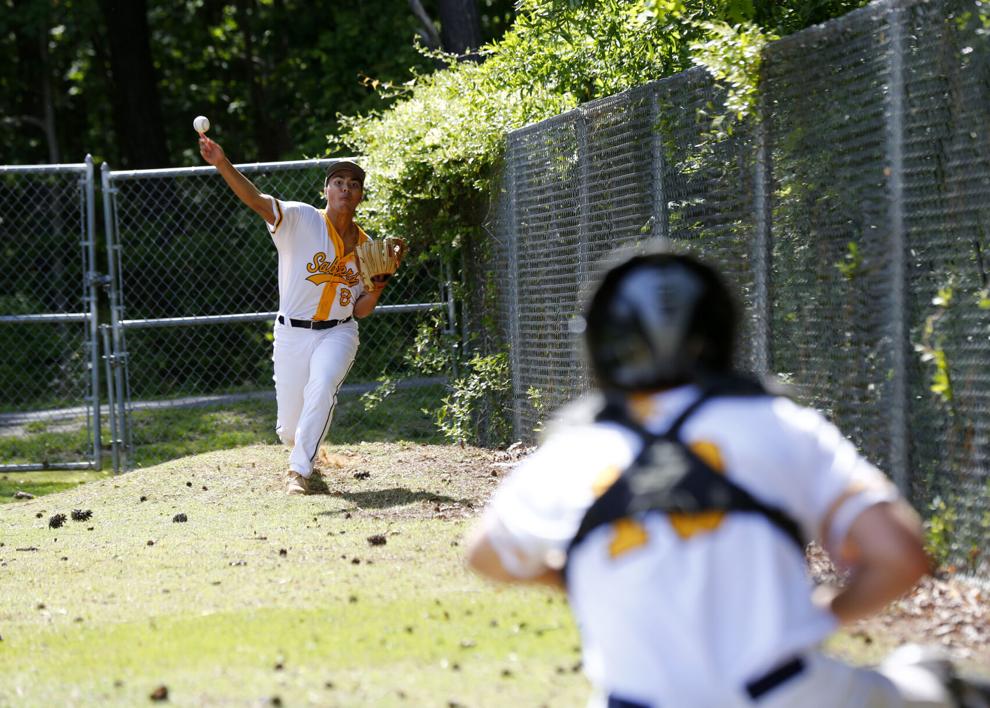 Ben Gobble, now an assistant coach, played under Whitlock, and returned to help coach a program that he said meant the world to his own development on and off the field.
In those early days, he was initially hesitant about joining the team, but fell in love with the culture Whitlock was fostering upon attending his first practice.
"He loved baseball. It was a struggle for him to get it started up, but once kids started to hear that Charles was coaching, had some fun, we started to believe in Charles," said Ben Gobble, sitting on the bleachers to the side of the field after finishing drills with his Sabers on Wednesday.
"It was such an honor to play for and be coached by him. He did a lot for this school, and it's shown throughout all the kids here."Gobble had surgery on his arm shortly after high school, which took him away from the game for a time.
But he missed it. And he missed his group at New Community. Now, he has the opportunity to coach his little brother and work with his dad.
Nate Gobble, a junior pitcher, utility player and the leadoff hitter for the Sabers, has been on the team since fifth grade. He remembers some rough years competitively when he first joined under Whitlock, but discusses them fondly, like Conn and Peters.
More importantly, he remembers the roots of the bonds that hold the current iteration of New Community baseball together.
"(Whitlock) really brought us all together as a team, kids of different ages. It was really just him, he did everything," said Nate Gobble, who honed his baseball IQ as a bat boy for the Richmond Flying Squirrels for a season in 2021.
"He loved us all; we really loved him, too. If he could see us today, he'd be really proud."
Zach Joachim (804) 649-6555
Twitter: @ZachJoachim