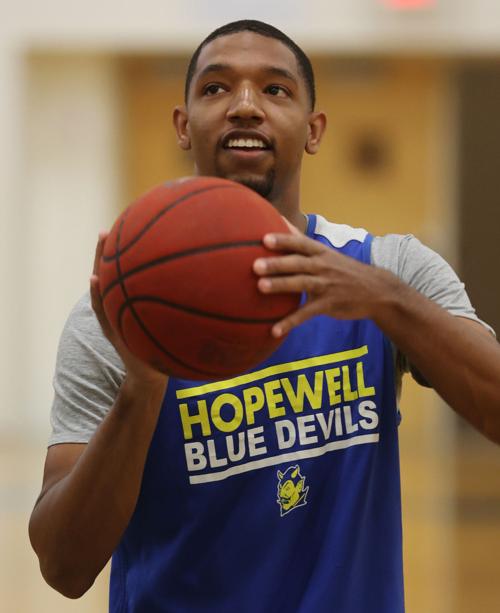 Hopewell High assistant basketball coach James Pelham got to watch the best of both worlds Wednesday.
Pelham was on the bench to watch his nephew, Hopewell's Elvin Edmonds IV, have another big night and break Pelham's school scoring record. He also got to watch his son, James, spark an intense, physical defensive effort and add scoring to boot.
The cousins had their hands all over Hopewell's 71-44 victory over Independence (Ashburn) in the Class 3 state semifinals. Edmonds poured in 30 points and had nine rebounds, seven assists and two steals. Pelham had 16 points and six steals, spearheading a defensive effort from the start that harassed ballhandlers and perimeter shooters.
"It runs in the family," said Edmonds, whose team (7-0) will play for the title Saturday at Abingdon (14-1), which beat Liberty Christian in the other semifinal.
His father, Elvin III, is Hopewell's coach. Coach Pelham is the brother of Edmonds' wife, Jackie, who is Hopewell's girls coach. He and his son had been at Fork Union several years before returning to Hopewell last year for James' junior season.
Edmonds IV, a 6-foot-2 guard who is headed to Bucknell, went into the shortened season with 1,455 points. Pelham knew Edmonds had a chance to break his record of 1,635 if Hopewell was able to play enough games during the pandemic.
Edmonds needed 24 points to surpass the mark going into Wednesday's game. He got that in the fourth quarter.
"He told he was proud of me, and keep working hard," Edmonds IV said. "I'm just blessed to show what I can do, that all my hard work is paying off."
Edmonds was coming off a 30-point game against Petersburg in the Region A final. After an overall cold perimeter effort by the Blue Devils against Independence's zone in the first half, Hopewell kept firing.
They nailed six treys in the third quarter, ballooning a 25-17 lead to 53-35. Hopewell made 12 3-pointers overall.
Independence (12-5) tried a box-and-one against Edmonds at one point, but it didn't faze him. The school record-holder for made 3-pointers finished with five. The younger Pelham had three, and freshman Cameron Mise had two.
While 3-pointers are a big part of Hopewell's game, so is generating turnovers on defense. Pelham was the ringleader on that front, hawking high-scoring sophomore Wesley Williams in the first half.
Pelham stole the ball on the first possession of the game and created several other steals and turnovers. During one sequence late in the third quarter with Hopewell leading by 12, Pelham (two) and Edmonds (one) turned three consecutive steals into layups.
"James came out to play tonight," coach Edmonds said. "They got after it. We've played like that in spurts for games, but never for four quarters. The guys played a complete game defensively tonight."
Pelham said he watched video of Independence's 107-102 triple-overtime victory over Skyline in the Region B final "about 100 times." He was well aware that Williams scored 40 points in that game.
Williams had 3 points at halftime against Hopewell before finishing with 19.
"Everybody on the team was like, 'He had 40? He ain't getting that against us,'" Pelham said.
"It's that Hopewell in us."
Independence 7 10 18 9 — 44
Independence — Coulthurst 4, B. Gagen 9, J. Gagen 7, Shah 3, Patterson 2, Williams 19. Totals 17 0-0 44
Hopewell — Mise 8, Edmonds 30, Pelham 16, Strickland 5, Ellis 6, Simmons 2, Raines 4. Totals 27 5-11 71
3-point goals: Independence — Williams 5, B. Gagen 3, J. Gagen, Shaw; Hopewell — Edmonds 5, Pelham 3, Mise 2, Strickland, Ellis.
(804) 649-6965
Twitter: @timpearrelltd