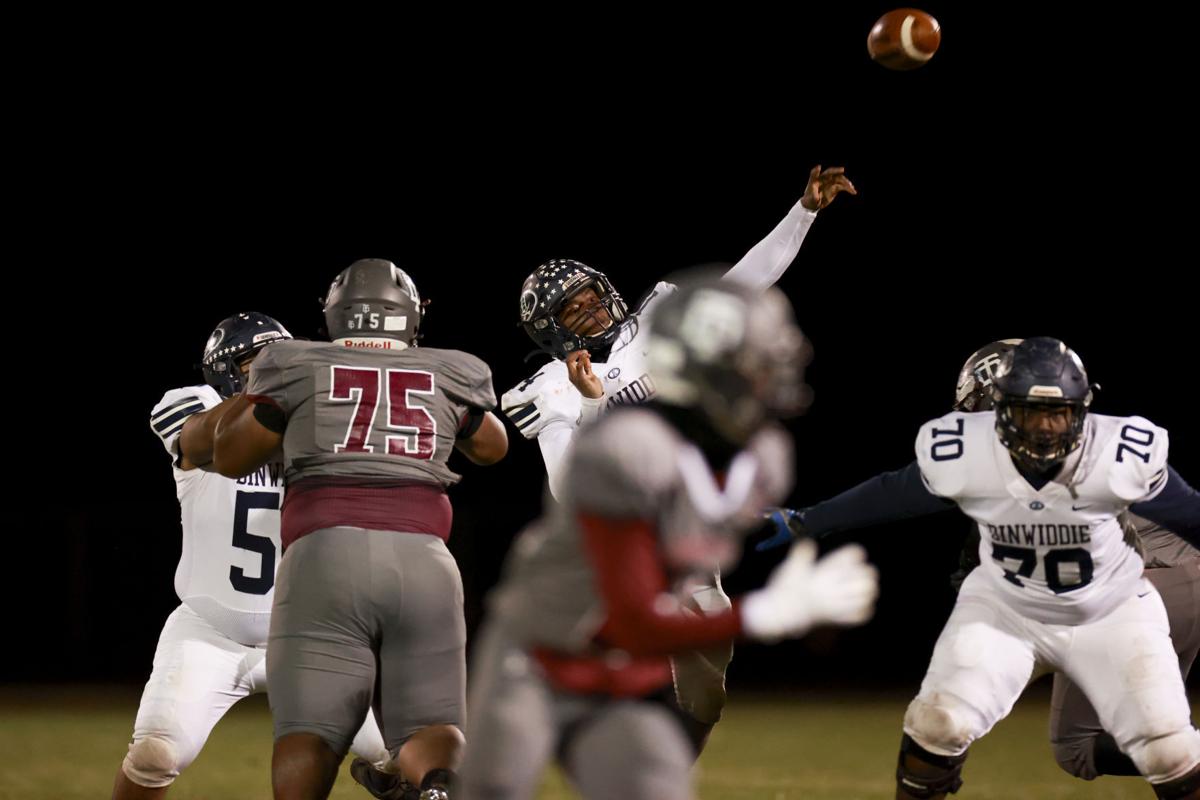 After an impressive victory last week, the Dinwiddie football team will have to wait for a chance to continue the momentum.
Friday's game against North Stafford was canceled because of COVID issues within Dinwiddie's program, coach Billy Mills said.
Dinwiddie is off next week but had a game scheduled for Tuesday, Sept 21 against George Washington. Most of his players won't return until Sept. 20, so Mills said the Generals are looking to reschedule the GW game, which was postponed from Aug. 27 because of COVID issues within GW's program.
Mills said last week's 52-12 victory over Heritage of Lynchburg was "probably about as complete of a game as we've played in a while." Heritage, which won the Class 3 state title in 2018 and lost to Hopewell in the championship game in 2017, had 137 yards offense. Dinwiddie, which won the Class 4 state title in 2013 and was the state runner-up in 2016, had 428 yards.
Senior quarterback Brenton Hilton certainly had a complete night: 121 yards rushing on eight carries and two TDs, 10 of 19 passing for 145 yards and a TD.
"He may have missed one read all night," Mills said. "He was on it. I just loved his swagger, loved his confidence.
"Last year he had such an incredible year but he had a rough second half in the last game of the year and it kind of left a bad taste in his mouth throughout the offseason. I just didn't want that to ruin his confidence. That's the big thing I was looking for out of him last Friday. When I saw him come off the field holding his head up, I got excited. He's a really good football player. As long as he's confident in what he's doing, he's going to take us far."
Freshman running back Harry Dalton also served notice. He had 110 yards on 10 carries and scored on runs of 5, 56 and 42 yards.
Dalton was a quarterback in middle school.
"We knew he had that ability," Mills said. "He's a grown man. He's 6-foot, 195 pounds …. can fly. He's probably the sixth strongest guy on the team as a freshman.
"He's definitely going to blow up. … We're looking for big things out of him."
Will Dalton move back to quarterback next year?
 "I don't know," Mills said. "I know that if he does go back to quarterback, that ain't going to change how many carries he gets."
(804) 649-6965
Twitter: @timpearrelltd