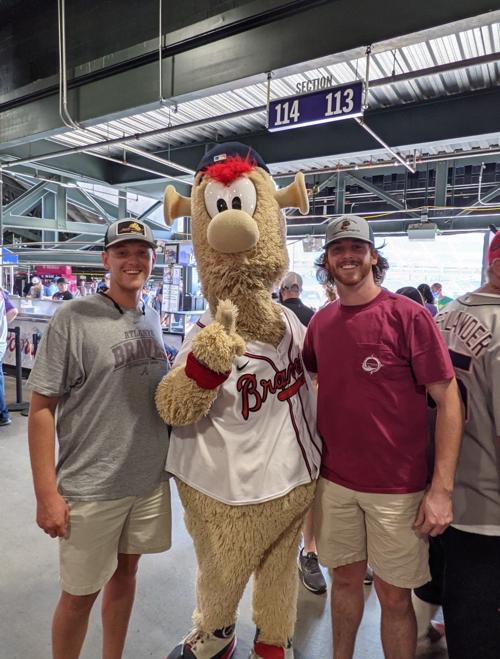 When Bennett Lloyd's parents secured him tickets for the MLB Home Run Derby and All-Star Game last week, he had no idea that he'd wind up going viral during the festivities at Coors Field in Denver.
Lloyd, a former baseball standout at Benedictine, had been in Denver for a summer job framing houses. It was his first time getting the chance to go to MLB All-Star Week events.
On Monday, he went to the Home Run Derby with his brother and stepfather. Their seats were in Coors Field Section 208, beyond the right field wall.
In the first round of the competition, Oakland Athletics first baseman Matt Olson sent a shot that way, the second deck. The trajectory of the ball brought it toward an exit tunnel in the vicinity.
Lloyd saw it coming toward him, and he wanted it. He leaned against a railing above the tunnel opening. But the ball's flight was a tad too high.
Lloyd extended the glove on his left hand as far as he could. But he lost his balance and fell head first into the passageway below. He did a front flip of sorts, his shoulders hitting the concrete and his legs hitting someone standing in the opening.
The ESPN cameras filming the Derby caught Lloyd's tumble, and commentator Eduardo Perez let out an, "Oh!"
The clip of the somersault soon hit social media and began taking off. Lloyd's seats were near where media members were sitting for the Derby, and he was interviewed by outlets that included MLB.com and Fox Sports.
In a phone interview Wednesday, Lloyd expressed that he's gotten a kick out of the slice of viral fame he's picked up since Monday.
"It's funny," Lloyd said. "People making different jokes. And it makes me laugh every time."
Lloyd, a 2020 Benedictine graduate, is rising sophomore at Hampden-Sydney, where he was a member of the baseball team as a freshman.
With the Cadets, Benedictine coach Sean Ryan described Lloyd as someone who was always willing to do whatever was asked of him. A four-year varsity player, Lloyd pitched, played first base and also some right field for Benedictine.
"In some of these interviews, he's having fun with it," Ryan said of the aftermath of Lloyd's viral video. "But that is his nature. He loves baseball. … He's just a very fun-loving guy, who really loves the game."
Ryan didn't catch the clip of Lloyd live Monday night. But Brock Carter, another 2020 Benedictine graduate and one of Lloyd's former teammates, who's now an assistant coach for the Cadets, texted him about it and said, "This is Bennett."
Meanwhile, in Denver, Lloyd's phone was blowing up. He was fortunate to avoid injury, escaping with minor cuts on his elbows and arms.
"Everybody was texting me like, 'Holy crap!' Like, 'Is that you?'" Lloyd said. "I was like, 'Yeah. I can't get out of that one.'"
Then some 10 minutes later, media members began coming down to talk to him.
And Lloyd didn't even get the ball. It tipped off the edge of his glove and down the concourse. Someone told Lloyd they saw someone walking by on the concourse grab it.
Lloyd, an Atlanta Braves fan, returned to Coors Field on Tuesday for the All-Star Game and will remain in Denver until next month before heading back to Hampden-Sydney for the start of the fall semester.
For now, he's continuing to have fun with his bit of internet fame.
"I think it's hilarious," he said.
(804) 649-6442
Twitter: @wayneeppsjr